This archived news story is available only for your personal, non-commercial use. Information in the story may be outdated or superseded by additional information. Reading or replaying the story in its archived form does not constitute a republication of the story.
TAYLORSVILLE — If 20-win and defending girls basketball state champion Fremont needed to find out how to respond to adversity, the Silver Wolves found out pretty early against Herriman.
Fremont trailed by six early in its quarterfinal, which was the first-ever quarterfinal in Herriman's program history.
But the Silver Wolves responded with flying colors, thanks to some help on the offensive boards and two big posts in Timea Gardiner and Emma Calvert.
Calvert had 15 points and eight rebounds, and Gardiner added 17 points and eight boards to help the Silver Wolves to a 56-39 win over Herriman in the Class 6A state quarterfinal Wednesday evening at Salt Lake Community College.
"I thought they played really mature at times, even beyond their years. I feel like they really grew up," said Fremont coach Lisa Dalebout, who started three underclassmen against the Mustangs.
"We're used to people going on runs, and we sometimes get down or have to get back to our execution and what we do. But I felt like that was a really important part of our game."
Halle Duft added 10 points, three assists and four steals for Fremont (21-1), the reigning 6A champions who advanced to the semifinals in back-to-back seasons.
Just as impressive, Duft — a 5-foot-7 sophomore with handles — never left the game, playing all 32 minutes.
"I've only started a sophomore point guard one time in my 15 years coaching. But she's a really special player," Dalebout said. "She handles the ball really nice and keeps the tempo on both ends of the floor. She plays really mature."
Kylee Chessman had eight points and three assists to lead Herriman (13-8), Jalyn Van Duke added seven points and three rebounds, and teammate Haley Stilson added six points.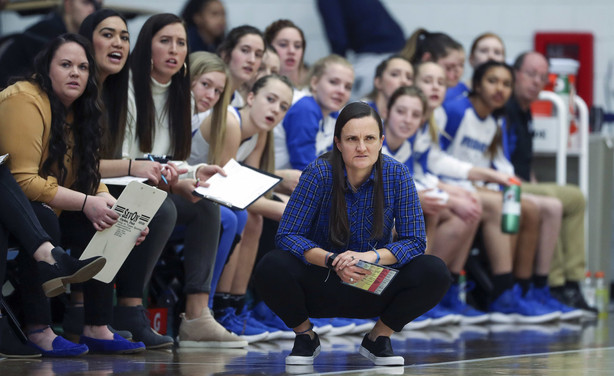 In the early portion of the game, it seemed like the Mustangs, who were playing in their first girls basketball quarterfinal in school history, had a decided advantage, too. But Fremont changed things in a flash.
The Silver Wolves used a 17-0 run to turn a 20-14 deficit into a 31-20 second-quarter lead with just over a minute left in the half.
Calvert had 10 points and five rebounds to lead the first-half charge, while freshman Gardiner added 10 points and six boards. The duo combined for seven of Fremont's nine offensive rebounds in the first half, and helped spur a 15-10 margin against the backboard.
"That was a big thing in this game, to get rebounds on the offensive end. We always try to get all the rebounds," Calvert said.
"Even our free throws weren't going in. But I promise we were trying to make them."
But the Mustangs refused to go away.
Herriman cut the deficit to seven, 37-30 with Stilson's corner three with just under three minutes to play in the third quarter.
But Gardiner scored back-to-back buckets less than two minutes after the quarter break, pushing the Silver Wolves' advantage back to double-digits a minute into the fourth quarter.
Fremont will face Bingham in Friday's semifinals. Tipoff is scheduled for 2:30 p.m. MT.
×
Photos
Related Stories