This archived news story is available only for your personal, non-commercial use. Information in the story may be outdated or superseded by additional information. Reading or replaying the story in its archived form does not constitute a republication of the story.
TAYLORSVILLE — To call Lone Peak's girls basketball team motivated before Wednesday afternoon's Class 6A girls basketball state quarterfinal might be a bit of an understatement.
The senior-laden Knights didn't take long to tear into Riverton, either.
Maddy Eaton scored 18 of her game-high 26 points in the first half, and Lone Peak held the Silverwolves to four first-quarter points en route to a 65-40 win to advance to Friday's semifinals at Salt Lake Community College.
Abby Conlee added 10 points and three rebounds, and Makale Easton scored 10 for the Knights (14-7), who will face No. 2-ranked Copper Hills in their first state semifinal since the turn of the century.
"We were super motivated. We didn't want to give them anything easy," said Conlee, who finished as the Knights No. 2 scorer and leading rebounder despite playing just 15 minutes because of foul trouble. "We were motivated to come out and show them what we were really made of."
Avalon Miller had 13 points and five rebounds to lead Riverton (12-10), and Edith Lutui chipped in six points and two assists.
If Lone Peak's offense didn't click right away, it's defense sure did.
The Knights held Riverton to single-digit scoring in each of the first two quarters, keeping the Silverwolves to just 17 percent shooting in building up a 35-12 halftime advantage.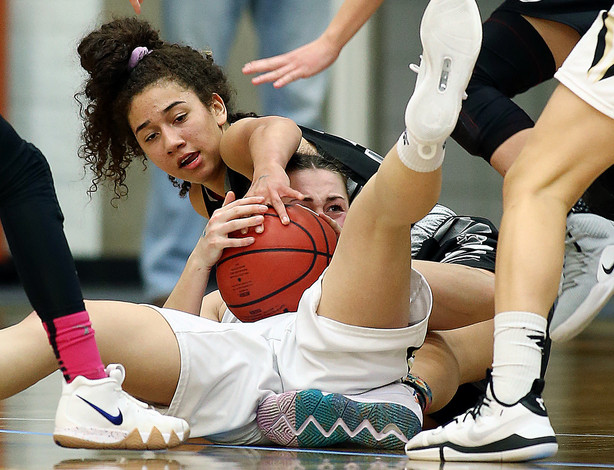 "It's always great to come out with a big start that way," Lone Peak coach Nancy Warner said. "Our focus has always been on the defensive end and to make a statement there first. That's what gets us going offensively.
"I think you saw that today."
After a slow start — Lone Peak led 13-4 after the first quarter — Eaton went to work to pace a 22-8 run through the second.
Riverton didn't top the Knights' 35 halftime points into the final third of the fourth quarter, when Lone Peak led by as much as 20 points.
The Knights scored 13 points off 16 turnovers, forced eight steals, and assisted on 12-of-18 made field goals.
The Grizzlies (22-2) dispatched Westlake in Wednesday's earlier quarterfinal, setting up Friday's 4:10 p.m. tipoff in Taylorsville.
If the Knights want to claim an underdog role Friday, it would be understandable. While Lone Peak is at a level virtually unseen since its state title in 1999, the Grizzlies have been to four-straight semifinals.
"We're ready to fight. We'll take on Copper Hills; they are a good team," Conlee said. "But we'll be ready and we'll just play our hardest."
×
Photos
Related Stories