SALT LAKE CITY — Utah's Parker Van Dyke hadn't made a shot for nearly 30 minutes, and UCLA looked poised to claim a blowout win over the visiting Utes.
That's when Utah trailed by as much as 22 points and when the senior guard from Salt Lake City came alive.
In the matter of three minutes, Van Dyke hit three 3-pointers and cut UCLA's lead to 14. The team would continue to chip away at the Bruins' lead until Van Dyke and freshman Both Gach hit a pair of 3-pointers to make it a one-point game. Both teams traded free throws in the finals seconds, leaving the Bruins with a two-point lead with 5.9 seconds remaining.
Utah senior guard Sedrick Barefield took the ball from the opposite end of the court, turned around and flicked the ball back to a rolling Van Dyke for the shot that would end it all.
Nothing but net. Ball game.
The shot would give Utah its first lead of the game and a 93-92 win over a silenced UCLA Bruins at home.
"I knew that it felt good leaving my hands," Van Dyke told media. "My mind was pretty clear and Sedrick made a great pass. I just kind of let it fly."
The come-from-behind victory extends Utah's road winning streak to four, and the first time in program history that Utah (13-10, 7-4) has swept all California schools on the road in the same season.
"My mind is a little overwhelmed, but like our friends with the Navy Seals talk about, you are never out of the fight," Utah head coach Larry Krystkowiak told media. "It was a crazy tale of two halves.
"I told our team in the timeouts, don't count us out," Krystkowiak said. "I said, 'You just have to believe.' That was a big-time pass in the end by Sedrick. Guys were on him and Parker was our trailer. It was pretty neat."
PVD for 👌👌👌 pic.twitter.com/QyU1lytNBF

— KSL.com Sports (@KSLcomSports) February 10, 2019
Van Dyke finished the game with 15 points, all of which came from behind the 3-point line. The Utes would finish with 14 made 3-pointers in the game, which ties the fourth all-time single-game 3-point record in program history.
Utah was led in scoring by freshman forward Timmy Allen, who finished the game with 22 points on 9-of-11 shooting, seven rebounds and three assists, and came up clutch in the final minutes of the game to grab offensive rebounds for putback points. Barefield added 19 points and seven assists, and freshman Riley Battin added 18 points and eight rebounds as the other two members of the team in double figures.
It was a game where the Bruins cruised to a 17-point lead at the half, shooting 70 percent from the field, and scoring 16 points off Utah's nine first-half turnovers. A porous interior defense by Utah in the first half allowed the Bruins to score at will in the paint, as UCLA scored 32 points in the paint on easy alley-oop dunks and uncontested layups at the rim.
But UCLA's hot hand cooled down in the second half as the Bruins shot 43.5 percent and were outscored 61-43. In the final five minutes, alone, Utah outscored UCLA 27-12 and exploited a Bruins defense that became more lackadaisical in its approach.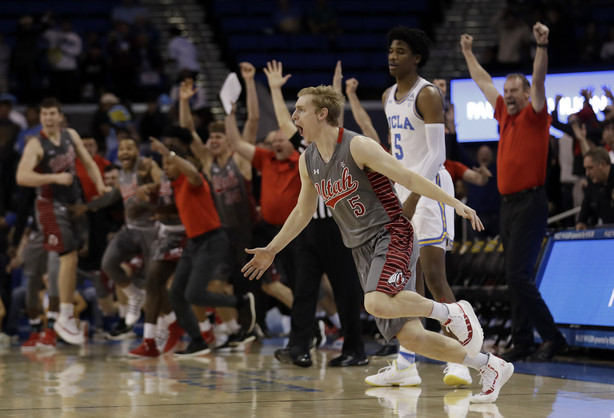 Jaylen Hands led UCLA in scoring, finishing the afternoon with 27 points on 8-of-12 shooting, including 4-of-6 from the 3-point line for a career high. Hands was perfect in the first half, scoring 12 points on 5-of-5 shooting. He was joined in scoring by three other Bruins players in double figures, including Kris Wilkes (17 points), Hill (12 points), Cody Riley (11 points) and Jules Bernard (11 points).
The Utes return home for a Valentine's Day game against the visiting Arizona Wildcats at the Huntsman Center at 7 p.m. MST. The game will be broadcast on ESPNU and on ESPN 700.
×