This archived news story is available only for your personal, non-commercial use. Information in the story may be outdated or superseded by additional information. Reading or replaying the story in its archived form does not constitute a republication of the story.
OREM — After five years in charge of the school's athletic department, Utah Valley athletic director Vince Otoupal has resigned his position with the university.
The school announced the resignation Friday, citing Otuopal's decision to "pursue other interests."
Jared Sumsion, who currently works as the senior associate athletic director at UVU, will guide the program as interim athletic director. In his current role, Sumsion, a native of Springville and Utah Valley alumnus, has been in charge of business operations within the UVU athletic department, as well as serving as the sport administrator for baseball, men's and women's soccer, men's and women's track and field, and wrestling.
Otoupal led the Wolverines for a half-decade, overseeing 16 sports on campus as they continued a transition from the junior college ranks to NCAA Division I.
"I have really enjoyed my time at UVU," Otoupal said in a statement. "The student-athletes at UVU are amazing people. I am proud of what we accomplished during my tenure here. It's time for me to pursue some things I have wanted to do for a long time, and, as such, I am resigning as director of athletics."
Otoupal took the job of director of athletics and associate vice president at Utah Valley in July 2013, right as the school was transitioning to the WAC. Prior to his time in Orem, Otoupal had been serving as the athletic director at Cal State Monterey Bay in Seaside, California, since 2008.
He also spent time at San Jose State and his alma mater Stanford.
A former linebacker for the Cardinal and infantryman in the United States Marine Corps., Otoupal was in charge of Utah Valley as it won 14 WAC championships, made five NCAA tournament appearances across all sports, and produced a 95-percent graduation rate amongst eligible student-athletes.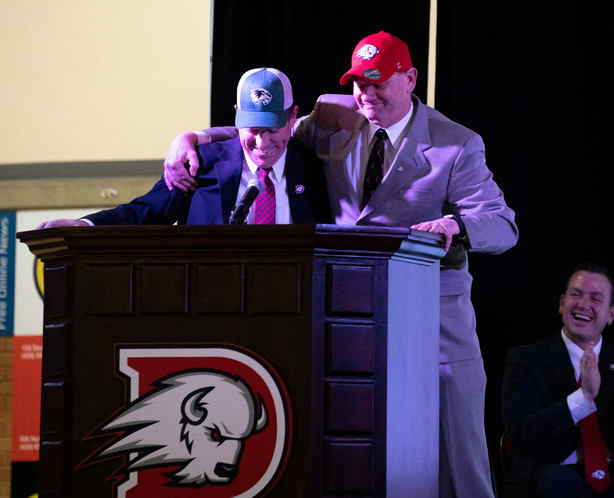 "We appreciate what Vince has done during his five-year tenure," said Val Peterson, UVU vice president for finance and administration, in a statement. "Vince helped the athletic program move forward, allowing our athletes not only to compete for championships, but also to succeed in the classroom."
Otuopal was a candidate for the Eastern Washington athletic director job a year ago, going so far as to tell the local Spokane-area newspaper that the Eagles were "on the precipice of greatness" as he was one of two finalists for the position. But the Eagles hired former Texas-San Antonio AD Lynn Hickey last April to fill that vacancy.
Among his recent accomplishments, Otoupal played a significant role in helping Dixie State earn an invitation from the WAC that will allow the Trailblazers to jump to NCAA Division I status in time for the 2020 season.
×
Related Stories