This archived news story is available only for your personal, non-commercial use. Information in the story may be outdated or superseded by additional information. Reading or replaying the story in its archived form does not constitute a republication of the story.
OREM — Orem offensive lineman Hunter Hill sat next to Utah State-bound quarterback Cooper Legas during an eight-student signing ceremony Wednesday in the fieldhouse at Orem High School.
Unlike his teammate, Hill had a decision to make. While Legas rolled out the Utah State swag to celebrate his recent commitment to the Aggies — a commitment he solidified by sending in a national letter of intent earlier that morning — Hill sat in front of five hats on a table: Utah State, Virginia, Washington State, Vanderbilt, and USC, the last of which being the big one.
But in the end, family and friends won out for Hill.
"Me and Cooper are inseparable. We're best friends," said Hill, the 6-foot-6, 275-pound offensive tackle. "I love that dude. The fact that we get to go together is really cool."
With that, Hunter Hill put on the Utah State hat — becoming the third-straight Aggie in his family's generational cycle, and following the footsteps of his father, Orem coach Jeremy Hill.
"My dad is an alum, I'm an alum, and he wanted to be close to family," Jeremy Hill said of Hunter's decision. "We don't fight much, but we've been fighting the last couple of days over the blessings and anxiety of this decision."
Legas' accomplishments are well-known. The dual-threat quarterback passed for 9,770 yards and 101 touchdowns in four seasons with the Tigers, including back-to-back Class 4A state titles the past two seasons.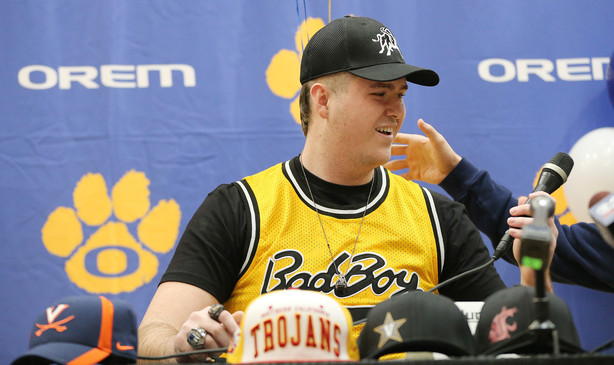 A national Blue-Grey All-American, Legas was well known on the recruiting trail, even while he picked up offers from BYU, Air Force, Army and Idaho.
But his lead blocker was a little less well known.
That's not a slight on Hill; it's just the life of an offensive lineman.
So when Utah State coach Gary Andersen arrived in Logan for his second stint with the Aggies in December, he immediately made two phone calls to Utah County — both in the Orem High vicinity.
"It was really cool, knowing that the day he had a chance to offer me, he did," Legas said. "I was one of the first guys he reached out to when he got the job. Then I went up and met the new quarterback coach Mike Sanford; he's probably the coolest college coach I've met.
"He's really cool, and he seems really stoked to help me improve as a person and a quarterback."
Even though the Aggies don't have a need for a quarterback — Jordan Love is still coming back for his junior season — Andersen knew upon taking the job that he wanted Legas in his quarterback room.
"Cooper brings an unbelievable ability to compete, to play at a high level, and he's a champion in everything he does," Andersen said of Legas, who also owns state titles in wrestling and the javelin throw. "The guy wakes up, drives to work, and he's a champion and he wins every day he goes to work. Everything he does, he takes first place. It seems like he's done it his whole life and that's impressive."
Related
Were it not for Andersen, there's likely no way the two Orem teammates would have wound up in the Aggies' recruiting class of 2019, one that consisted of 30 plays, including 16 that inked with Utah State on Wednesday.
In fact, coach Hill went so far as to definitively declare it.
"If Gary Andersen is not at Utah State, my son is not at Utah State," Hill said. "That's everything. Plain and simple."
Andersen made sure to get Hill — and a quarterback, while he was at it.
"I was a true believer in Hunter from the very beginning, and he knew that through the process," Andersen said. "While I was at Utah, he knew what I thought about him as a player and was extremely honest with him as we went through the process.
"We recruited him the right way in our time at Utah, and when we came here, it was very obvious. The first phone call I made was to Hunter to be able to say, "Hunter, get here. Cooper Legas was the same way."
And if Legas hadn't have paved the way, declaring his intentions to sign earlier this week? Well, maybe Hunter Hill's choice isn't quite as definitive. But it would've been a much more difficult sell.
"My main goal was to stay close to home," Hunter Hill said. "I won two state championships here, my family is here, and when coach Andersen got to Utah State, I was his first phone call. That was always in the back of my mind.
"To be able to sign with them is an absolute dream come true."
See the Aggies' complete 2019 recruiting class over on the Recruiting Central page on KSL.com.
Utah State Recruiting Class of 2019
| Name | Pos | Ht | Wt | Hometown/School |
| --- | --- | --- | --- | --- |
| Hunter Hill | OT | 6-6 | 275 | Orem HS |
| Oakley Hussey | ATH | 6-3 | 200 | Idaho Falls, Idaho |
| Kaleo Neves | LB | 6-2 | 215 | Timpview HS |
| Garrett Larsen | ATH | 6-4 | 185 | Davis HS |
| AJ Vongphachanh | LB | 6-3 | 230 | Pasco, Wash. |
| Bronson Olevao | DB | 6-1 | 185 | Highland HS |
| Cooper Legas | QB | 6-2 | 210 | Orem HS |
| Cash Gilliam | DB | 6-0 | 195 | Dayton, Ohio |
| Mo Manu | TE | 6-4 | 260 | Mt. San Antonio JC |
| Troy Lefeged | DB | 6-0 | 185 | Montgomery Village, Md. |
| Dominic Tatum | ATH | 6-3 | 180 | Culver City, Calif. |
| Jaylen Warren | RB | 5-8 | 225 | Snow College (East HS) |
| Sonny Makasini | OL | 6-3 | 300 | Timpview HS |
| Ajani Carter | WR | 6-2 | 175 | Houston, Texas |
| Dean Rice | OT | 6-4 | 280 | Yuba City, Calif. |
| Pierce Callister | P | 6-0 | 165 | Weber HS |
| Jesse Vasquez | S | 6-1 | 220 | Westlake Village, Calif. |
| Aaron Bredsguard | DE | 6-3 | 225 | Viewmont HS |
| Keith Harris | CB | 6-0 | 166 | Lawndale, Calif. |
| Ashton Adams | OG | 6-4 | 300 | Salem, Ore. |
| Josh Calvin | QB | 6-3 | 190 | Lakewood, Calif. |
| Simon Thompson | ATH | 6-3 | 190 | Salem, Ore. |
| Aric Davison | OG | 6-2 | 283 | Richland, Wash. |
| Jaymason Willingham | ATH | 6-3 | 215 | Steilacoom, Wash. |
| Cam Lampkin | CB | 5-10 | 165 | Mesquite, Texas |
| Christian LaValle | LB | 6-0 | 230 | Mission Viejo, Calif. |
| Sione Moa | LB | 6-1 | 175 | Weber HS |
×
Related Links
Related Stories