AROUND THE SHIELD — Have you had enough football for a Sunday that only included two NFL games?
Trick question: there is no such thing as too much football, even when both the NFC and AFC championships went to overtime.
With the extra periods, there were plenty of former local and high school football players from Utah making big plays, too.
Here's how our Locals in the NFL did on the final day before the Los Angeles Rams meet the New England Patriots at Super Bowl LIII in Atlanta.
New England Patriots 37, Kansas City Chiefs 31 (OT)
Former BYU linebacker Kyle Van Noy is going back to the Super Bowl.
Oh, and he got a little help from his quarterback.
Tom Brady threw for 348 yards and a touchdown, and the New England Patriots held off the Kansas City Chiefs to advance to their third straight Super Bowl appearance.
Van Noy led the Patriots in 10 tackles, including a 14-yard sack, a quarterback hurry, and another strip-sack that the Chiefs recovered — all in the first half.
His second sack of the half helped New England take a shutout into the break.
👀 @KVN_03#EverythingWeGot | #NEvsKCpic.twitter.com/BOygrShRhu

— New England Patriots (@Patriots) January 21, 2019
All told, the standout linebacker from Reno, Nevada had a 10 tackles (including eight solo stops), two sacks, a tackle for a loss, a quarterback hurry and a forced fumble in the Patriots' win that sent them back to the Super Bowl for the third-straight year and the fifth time in eight seasons.
Former BYU safety Daniel Sorensen had 14 tackles for the Chiefs, tied for the most on the team that included a game-high 11 solo stops.
The 28-year-old from Riverside, California had a key stop on a 4th-and-1 play by the Patriots, blitzing up the middle to hold off Rex Burkhead in the fourth quarter of a three-point game.
FOURTH DOWN STOP 🛑😤😤 pic.twitter.com/3PVDtzPtaI

— Kansas City Chiefs (@Chiefs) January 21, 2019
Moments later, Sorensen picked off Brady to set up a two-play, 10-second drive capped by Patrick Mahomes' 23-yard TD strike to Damien Williams.
It was the Chiefs' first lead of the game, 21-17 with 7:45 left to play.
⛏ OUR BALL pic.twitter.com/Hjv8jP6vaD

— Kansas City Chiefs (@Chiefs) January 21, 2019
Of course, there was plenty of time left for Brady to retaliate. The best quarterback in the NFL who also may or may not have an AARP membership led a 10-play, 75-yard scoring drive capped by Sony Michel's 10-yard score that put New England back in front, 24-21 with 4:13 left.
Williams busted up the middle for a 2-yard touchdown that put the Chiefs back in front, 28-24 with 1:29 left.
But did they leave Brady too much time?
Indeed, the Chiefs did.
Burkhead barreled into the end zone with 39 seconds left, capping a six-play, 65-yard drive that put New England ahead for the final time, 31-28. A Chiefs field goal in the last seconds eventually led to overtime. The Patriots won the coin toss and scored the touchdown that set up the Super Bowl that few on the Wasatch Front were hoping to see (sorry, Pats fans).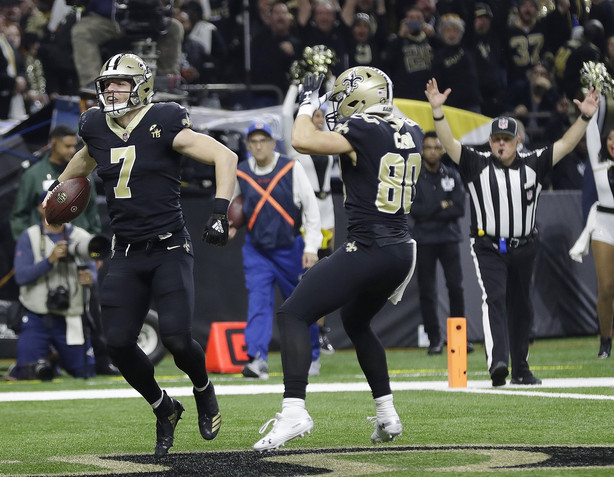 LA Rams 26, New Orleans Saints 23 (OT)
Los Angeles never led in regulation, but Greg Zuerlein's 57-yards field goal in overtime lifted the Rams to Super Bowl LIII, 26-23, over the New Orleans Saints.
Ex-Utah State wide receiver JoJo Natson was the starting returner for the Rams. He returned one kickoff for 17 yards for Los Angeles, which also five touchbacks and two fair-catch punt returns.
Former BYU quarterback Taysom Hillhauled in a 2-yard touchdown pass from Drew Brees on the Saints' first drive of the second half. The TD came one play after Saints coach Sean Payton put Hill in at quarterback and flexed Brees out wide. That pass attempt to Alvin Kamara was dropped.
The touchdown capped a 12-play, 71-yard drive over the first 5:31 of the half that gave New Orleans a 20-10 lead in the third quarter.
QB to QB: TOUCHDOWN! #HomeInTheDomepic.twitter.com/PKRzX1VueW

— New Orleans Saints (@Saints) January 20, 2019
Hill, who also played on special teams for the Saints, was the 15th receiver to catch a touchdown pass from Brees on the season, which broke an NFL record. The Pocatello, Idaho native finished with one pass attempt, one catch and one rush on the day, giving him a pass, run, reception, TD catch, tackle, fumble, interception thrown, fumbled run, blocked punt, kickoff return, punt return and fake punt conversion on the season.
Former Utah safety Marcus Williams had had five tackles for the Saints, including one solo stop.
Three more players with local ties will feature on the two Super Bowl rosters: former Utah cornerback Eric Rowe plays for the Patriots, but he was placed on injured reserve on Oct. 31 with a groin injury; former Utah cornerback Dominique Hatfield has been on IR with the Rams since Week 14; and former Utah offensive lineman and second-year pro J.J. Dielman signed with the Rams' practice squad Nov. 7.
×
Photos
Related Stories