PROVO — Gabi Garcia Fernandez set himself up for it.
No, not the huddle of media or cameras waiting to talk to him after the BYU men's volleyball team finished its final practices before Thursday's season opener against No. 7 Ohio State.
No, Fernandez set himself up for a bigger role this year than during his freshman campaign. But maybe he should have expected the press, too.
The reigning AVCA national newcomer of the year burst on the scene for the BYU men's volleyball team in 2018, striking a .274 hitting percentage for 387 kills and 87 blocks last year, including a career-high 23 kills in one of his first collegiate volleyball matches on Jan. 15, 2018, against Loyola Chicago and a Mountain Pacific Sports Federation tournament title.
But there's another level Fernandez can hit in his sophomore season.
Another gear.
A different role, even.
The 6-foot-7 native of San Juan, Puerto Rico, knows the 2018 season — just his second full year in Provo — will be his year to be a leader for the No. 5-ranked Cougars.
And he's ready to embrace the challenge of leading — both vocally and by example.
So he stepped up to the microphones, to the cameras, and to the post-practice huddle in much the same way he stepped up to the service line before pounding out 51 aces in 2018.
With confidence.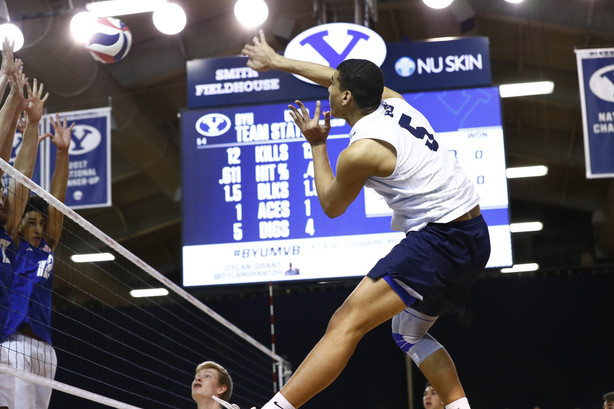 "We lost great players last year, and great leaders like Price (Jarman), Leo (Durkin) and big leaders. We need to fill those shoes up, and I believe I can be a good example for those who want to follow," Fernandez said. "Most of the freshmen look up to me, but I was in their shoes last year. I didn't know what I was doing.
"I just asked a lot of questions, and was dialed into the team. Be ready to learn."
Fernandez is expected to start at opposite, filling the star pin hitter role of departed seniors like Jake Langlois, Tim Dobbert and Brenden Sander, who is now playing with Italian super club Lube Civitanova.
"Last year, we all saw what Gabi is capable of," said BYU coach Shawn Olmstead, who has compiled a 75-16 record in four seasons with the Cougars' men's team. "But this year, it's fun to watch him come in and be more vocal and more comfortable in taking that leadership. He saw the progression that he went through, and he's got goals in mind for him and his career.
"He loves being here at BYU, and sees the value in everything we are doing here. We're really fortunate to have him."
He won't be the only one filling big shoes, either.
Junior setter Wil Stanley has big-game experience, but he'll fill a position full-time left vacant by the departure of Durkin, a former walk-on who went on to an all-MPSF career and national setter of the year honors by Off the Block as a senior.
Then there are other newcomers taking a big step forward, like junior college transfer Cyrus Fa'alogo and freshman Davide Gardini, the son of former Italian volleyball star and three-time Olympian Andrea Gardini.
Not everyone is new, either; Felipe Ferreira de Brito is back as a starting middle blocker, a year after earning freshman All-American honors, as is Miki Jauhiainen, the 6-foot-8 native of Tampere, Finland, who had 110 blocks and 81 kills as a sophomore in 2018.
In addition to their own progression, their job is to make their teammates better, too, Fernandez said.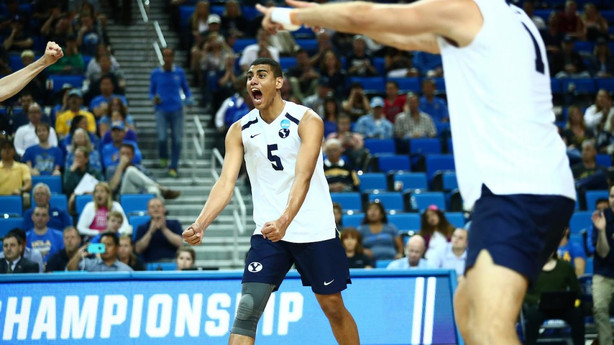 "We've got freshmen coming in who are doing a great job," he added. "We are preparing ourselves for another great season, like we did last year. Everyone is just doing their job and coming in really strong this year."
The goal of any program at the start of a season is to win a conference title, an NCAA Tournament berth and a national championship.
BYU, a three-time national champion itself with the most recent coming in 2004, is no different in that regard. But the Cougars didn't open the season boasting of titles and trophies and adding to the program's storied legacy.
The Cougars were picked fifth in the preseason AVCA coaches' poll, well behind national title favorite Long Beach State, and second in the Mountain Pacific Sports Federation behind conference rival UCLA.
But BYU has enough to worry about during opening week, which includes Thursday night's opener against the No. 7 Buckeyes, followed by Saturday's 7 p.m. first-serve against No. 14 Ball State, and before a six-match road swing that starts at Penn State.
"Ohio State is a great team," Fernandez said. "We all know that. But we also have a great program. Yes, our first match is against a tough team, but that is what we work for.
"No team this year will be easy. Every team will give their best, and we will give our best."
×
Photos
Related Stories