MILWAUKEE — If you ask the Jazz, they were right there.
Right there against the team with the best record in the league on the last game of a four-game road trip that has kept them out of Utah for over a week. Right there without their two top point guards and against one of the favorites for MVP.
"They have the best record in the league, and we were basically all the way there," Donovan Mitchell said. "We have a lot of stuff we can build on. One stretch hurt us. If we hit shots and get stops, it's a totally different game."
That one stretch: A 24-10 run by the Bucks to end the game to help Milwaukee to a 114-102 win Monday at Fiserv Forum.
During that pivotal, the Jazz missed shots, made poor turnovers and their defense faltered. That allowed a two-point lead to turn into a 12-point loss.
"I think we just lost track on defense," Mitchell said. "I think that's what it is."
But with how much was going against the Jazz on Monday, there wasn't too much heartbreak. In fact, you could say the locker room was downright optimistic about the performance.
"I like where we are," Rudy Gobert said. "Tonight, through three quarters, they got the best of us at the end. That's the best team in the league right now and at home. … I liked our mindset tonight. Just got to be better at the simple things — one-on-one defense, rebounds, and offensively, keep sharing the ball. We did for three quarters, three and a half, I would say. We are in a good place."
For those three-plus quarters, Gobert's matchup with Giannis Antetokounmpo took center stage — or at least center paint. The Jazz opted to cross-match Gobert onto the Bucks star power forward and it made for an intriguing battle all night.
"It was fun," Gobert said. "He was going at me, and I had to guard him. It was fun."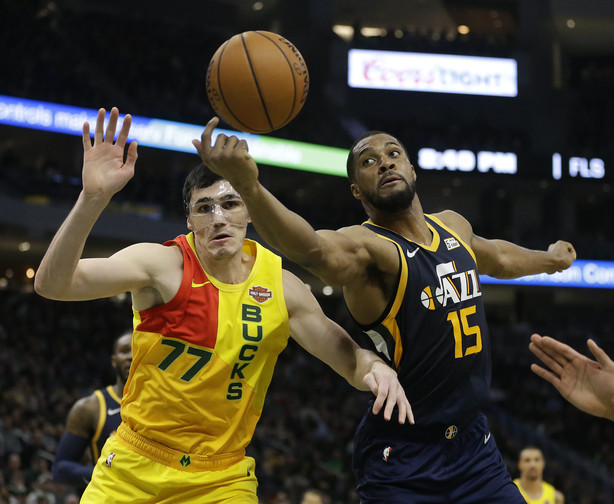 Gobert didn't elaborate too much, but the battle featured Antetokounmpo rim-shaking dunks, Gobert blocks and the two men trying to overpower each other. It was Antetokounmpo, the most prolific paint scorer since Shaquille O'Neal, vs. Gobert, the league's elite rim protector.
"I was surprised the first couple plays down," Milwaukee's Khris Middleton said. "They were cross-matching with him. I can see why, but I think Giannis did a great job of just trying to play around his length and try to use his teammates to get involved."
Antetokounmpo finished with a game-high 30 points on 13-for-30 shooting. But it was a tough 30 points. Outside of transition plays, where Antetokounmpo exhales, Gobert made the "Greek Freak" work, and that made for one entertaining battle. Gobert finished with 14 points and 15 rebounds.
But as good as the first three quarters were for Utah, it was clear it ran out of gas at the end. And Mitchell exemplified that. The Jazz took an 11-point lead in the third quarter with a surge that was led by Mitchell.
He had 26 points through three quarters and hit six 3-pointers. But with Ricky Rubio going down in the first quarter with a right hamstring injury, Mitchell was forced to play heavy minutes and couldn't get going in the fourth. Mitchell didn't score in the closing period, missed his last eight shots and committed 7 turnovers. He played 40 minutes.
"I try my best to keep the mindset," Mitchell said about playing point guard. "When you start to overthink, that leads to 7 turnovers. I think being able to go and making reads is what helped me out and got me to where I am."
The Jazz didn't announce the severity of Rubio's injury, but they displayed confidence in Raul Neto. He scored 10 points and had 5 assists in 29 minutes.
"We've got guys (that can play)," Jazz coach Quin Snyder said. "Raul came in and he's got a big heart and he's a good player. We have confidence in the guys we have."
×