This archived news story is available only for your personal, non-commercial use. Information in the story may be outdated or superseded by additional information. Reading or replaying the story in its archived form does not constitute a republication of the story.
Everyone knows how adorable newborns can be, with their soft skin and sweet little coos. But things can get serious all too quickly when an infant becomes sick so early in life. Winter is a particularly dangerous time for infants, as families get together more often to share memories (and germs) and illnesses are more commonplace.
Here are some precautions to take to keep your baby from coming down with something nasty this winter, so you both can enjoy the season all the more.
Keep warm
Dress your baby in layers. Many buildings and homes are heated to a point that an infant can easily become overheated, so one unexpected danger for infants during the winter is that of over-bundling, says Health & Parenting. This is where carefully layered clothing becomes important. You can dress baby in long-sleeved onesies with snug leggings, along with another layer of loose pants and a long-sleeved shirt. A jacket, hat, mittens and booties will also go a long way in keeping baby warm.
Blankets are also a great idea, but remember to check that the fabrics are breathable so baby does not become overheated. Take off layers as needed — if baby is fussy and her skin is warm and/or red, she is probably overheated. If she is fussy and teary-eyed with cool skin, she likely is too cold. Watch closely for signs that your baby is uncomfortable, and adjust layers as needed.
Learn car seat safety
Car seats cannot properly restrain children or infants when puffy coats or other thick outerwear is worn. Materials (including thick outerwear) will compress during an accident, says Consumer Reports. This means your child's restraints will be too loose, leaving a higher chance of injury.
Instead, dress infants and all children using a car seat in fitted layers that don't cause you to loosen the normal tightness of their straps. Then, once the child is securely buckled, lay a blanket or coat over the top to keep them warm. Many infant car seats come with aftermarket car seat covers, but be sure to choose one that only covers the lower part of the baby to avoid covering their face and restricting airflow.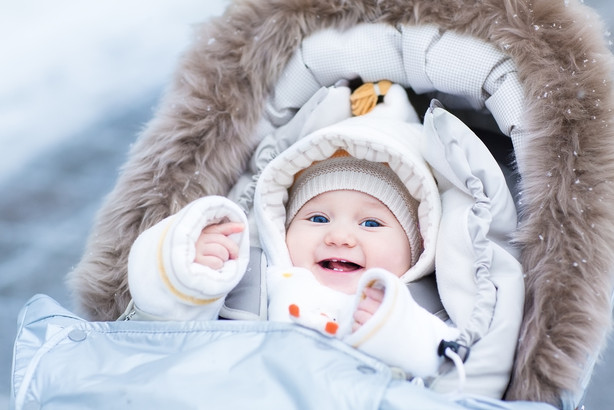 Get outside
Getting outside can be an important aspect of breaking the isolation of life with a little one. This becomes difficult when temperatures dip below what's pleasant.
"Babies and new parents need fresh air," says Dr. Erika Landau, a New York pediatrician quoted by Parents.com. "Unless it's dangerously cold, being outdoors helps infants acclimate to the seasons and the day-and-night cycle, and it often calms fussiness."
However, once the temperature drops below freezing, you shouldn't take baby out other than back and forth to the car. Although getting outside is a good thing, newborns don't yet have the ability to regulate their core temperature, which makes cold weather exposure dangerous. In chilly temperatures above freezing, limit outdoor exposure to a few minutes, remembering to watch for any signs of discomfort in your baby.
Limit bath time
There's no reason to bathe an infant more than once every couple of days, as they are not yet crawling or eating solid foods. Baths can be a time when infants lose much of their body heat, but here's how to do it without causing problems.
Before you even draw baby's bath, ensure the bathroom is at a warm and comfortable temperature. A space heater may even help, but keep it out of reach and away from flammable items. Next, draw a bath that is warm and comfortable, but not hot — about body temperature, according to Baby Center. If it feels good on your elbow or the skin of your inner wrist, it should be fine.
Next, bring baby into the water. The actual bath should only last between five and 10 minutes. Quickly dry baby off by gently patting her skin dry, and remember to replenish with a pediatrician-approved lotion or moisturizing cream. As long as you keep baths short and don't do them every day, they will remain a pleasant and positive part of your routine.
Avoid illness
Cold weather can reduce the immune system's effectiveness, and with family gatherings and people spending more time indoors, germs are far more likely to spread. You can keep your baby safe by following these tips and common sense:
Wash your hands. Every person in your household should practice good hand hygiene. Those wanting to hold or be near baby should be asked to wash their hands, and such visits should only be permitted if the visitor is perfectly healthy.
Stay away from sickness and public places. A baby's first three months are a vulnerable time for germs and infection, so limit exposure whenever possible.
Establish rules. Visitors may not touch the baby's face or hands, but if they must touch your baby, the feet are a safer area while the baby is young. Don't let your baby be passed around, either. Wearing the baby can help you regulate who gets to touch the baby.
Keep hand sanitizer handy. Disinfect before feeding baby, as well as after diaper changes, or when you get home from an outing.
The most common illnesses that affect young babies range from colds and flu (both stomach flu and normal influenza) to croup and RSV, says Childrens MD. These can all be dangerous to a young baby's health, so be vigilant about your rules and perhaps spend more time in the safety of your own home until the weather warms up again.
Be confident in your health providers
Take these precautions so you and your baby can enjoy the season to the fullest. Parenthood has a steep learning curve, but it's one that many have weathered before. If you're expecting a baby, it's important to find the right fit in your doctor and hospital. At Steward Health Care, hospitals offer comfortable birthing suites as well as prebirth tours for expectant couples, so find a Steward hospital near you at www.steward.org today.
×