HERRIMAN — It was a fairly innocuous tackle from Albert Rusnak.
In the 26th minute of Real Salt Lake's 1-1 draw against Sporting Kansas City in a Western Conference semifinal, the RSL midfielder slid in to de-possess the ball away during Sporting's foray deep into the home side's territory.
An experienced professional who grew up in the Manchester City system and also spent time in the top league in The Netherlands, Rusnak was careful. He slid under the player, made some contact with the ball after striking the ball, and made sure not to reveal his studs in an act that could have been perceived as malicious.
But head referee Baldomero Toledo wasn't buying it. The equally experienced MLS official blew his whistle, reached for his pocket, and flashed a yellow card to the Slovakian international.
It was just Rusnak's first foul — but it will play a critical role as Real Salt Lake looks to finish a trip to the Western Conference finals Sunday at 1 p.m. MST (ESPN) at Children's Mercy Park.
Rusnak won't be eligible to play in that game, the result of a pair of yellow cards earned last Thursday against Los Angeles FC and last Sunday against Sporting. He's barely been called for any other fouls — but he won't be on the field Sunday.
Your first look at Sunday's match in KC pic.twitter.com/AQhgLNgCnj

— Real Salt Lake (@realsaltlake) November 8, 2018
"It was my first foul of the game. I didn't even catch him with my studs," Rusnak explained after Sunday's match. "You see these kinds of tackles all over the world that are not getting booked.
"But here, for some reasons, these kinds of fouls are getting yellow cards. … For me, that's unacceptable. But at the end of the day, referees can make mistakes as well."
If RSL coach Mike Petke were concerned about his team allowing a goal off a rare miscue by goalkeeper Nick Rimando in Sunday's draw, he didn't show it.
Petke, an experience MLS standout with stops at New York, Colorado and D.C. United in his playing career, knows there is still a lot of soccer to be played.
At least 90 minutes, to be exact.
"It's halftime right now," Petke said. "I will give my players credit because they were a little tired. Kansas City is top of the West for a reason."
But with Rusnak suspended for the match, and center back Marcelo Silva questionable after coming off in the 41st minute with an injury, RSL's lineup is looking thin.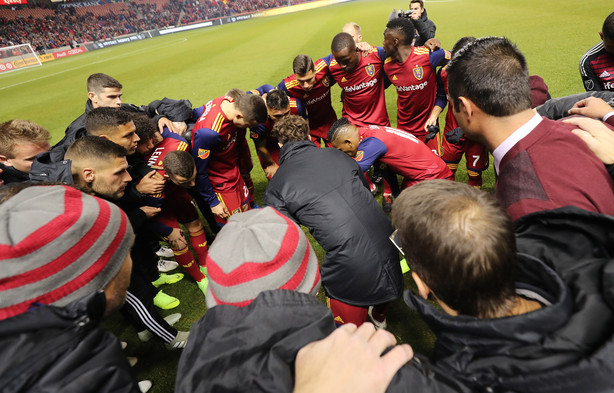 Who starts in Rusnak's attacking midfielder role on the weekend is anyone's guess. Team MVP Damir Kreilach has played that position before. RSL played a midfield trio of Kreilach, Kyle Beckerman and Stephen Sunday when the club last went to Kansas City and pulled out a 1-1 draw on a day Rusnak didn't make the trip as he was reportedly in the middle of new contract negotiations.
That game saw a key goal from Corey Baird, the first-year breakout sensation in Salt Lake who was named MLS Rookie of the Year earlier this week.
"We're going to be missing him," Beckerman said of Rusnak following Wednesday's training. "He's one of our core guys, and a special player. Of course, that's a tough knock for us to take. But we don't have a choice. We're going to have to adjust.
"We just hope that we can get it done, advance and then have Albert back."
Petke could even modify his formation, switching from the preferred 4-3-3 / 4-5-1 hybrid to a more static 4-4-2 — or he could even play three defenders in the back, as he's shown in spot moments throughout the season, which could make the attacking mid role seem less important.
But Rusnak's role with the club is far from unimportant.
"It's tough because he is one of the main players on our team," Kreilach said of Rusnak, who has 10 goals and seven assists. "But at the end of the day, we have a big roster and every one of us put in work this season. I'm sure the player who will come in for Albert will give it his best."
Of course, RSL won't be the only team making "halftime adjustments" before Sunday. Sporting Kansas City came into the match as the top team in the West — but had all but one of its 12 shots kept out of the back of the net, either by Herculean efforts by Rimando or his back line, primarily Silva, Justen Glad and newcomer Nedum Onuoha.
There will be other adjustments RSL will need to prepare against, as well.
"It's halftime. There is a lot of work to be done," Sporting defender Matt Besler said. "We know that, we understand that. The guys put in a lot, but we have our heads down and are focused on our mission.
"That is to go home and win the game."
Naturally, RSL hopes to do the same.
"It's going to be a completely different game," Petke said. "It's going to be on the road in Kansas City, a place where we got a result earlier this year, but it's going to be against a team that is going to play a bit differently."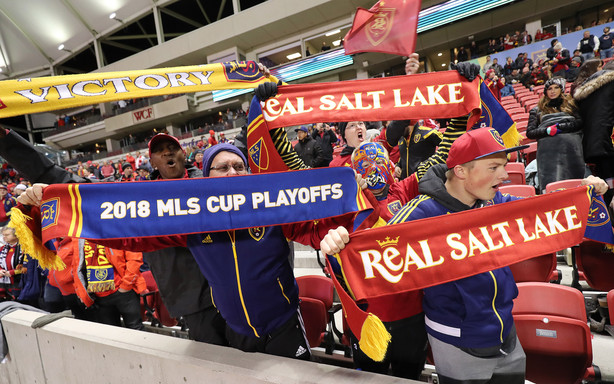 ×
Related Stories