PROVO — Chances to knock off — or even play — a Top 10 college basketball team don't happen often at BYU.
In fact, based on Associated Press preseason predictions, there will only be two this year — one when West Coast Conference play begins and the Cougars host Gonzaga on Jan. 31; the other, though, is Tuesday.
BYU basketball will tip off the 2018-19 season at Lawlor Events Center in Reno, Nevada, against No. 7 Nevada, a team fresh off a Mountain West title, a Sweet 16 run, and one returning with almost every player from last year's breakout season under head coach Eric Musselman.
"I think that is what college basketball is all about: going to play in a fun environment, playing against a Top 10 team," BYU guard TJ Haws said. "I would love to play that every single week.
"I think it will be a good challenge for us and a good measurement to see where we are at."
Tuesday's game will tip at 9 p.m. MST on CBS Sports Network. Due to Tuesday's midterm election coverage on KSL Newsradio, the radio broadcast will be available on FM 100.3 and KSL.com/listen.
"I'm sure every team that you talk to is anxious to start playing this time of year, and our guys are that way," said BYU's Dave Rose, who enters his 14th season as head coach of the Cougars. "But we are still getting a lot done, and I think we're improving as a group."
The Cougars took a pair of exhibition victories over Division II opponents, including last Thursday's 72-43 win over Westminster that saw the return of freshman Kolby Lee from a preseason injury.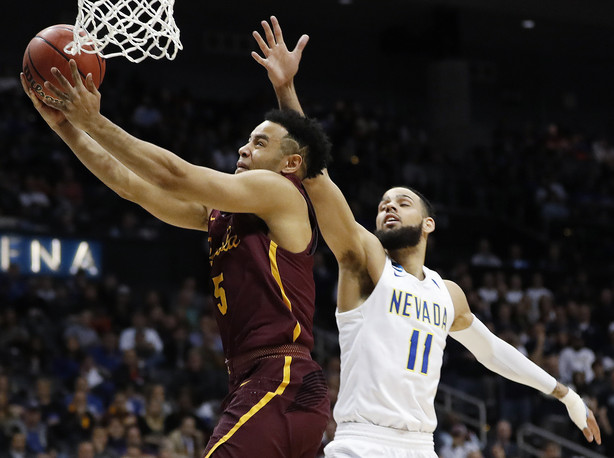 After preseason injury struggles that include the loss of big man Ryan Andrus to a medical retirement, the Cougars should be at full strength for Tuesday's season-opener — save, of course, for scout-team guards Jesse Wade, a Gonzaga transfer, and Nick Emery, who will miss the first nine games of the season after an offseason investigation into his eligibility status.
But the return of 6-foot-9, 240-pound Lee? That's a big one.
"First, it gets some of the bigs some rest. They get a break now," BYU guard Jahshire Hardnett said. "But having Kolby is big time; he can shoot it, he can pop it, he can slide and screen. He's a freshman, so he's needed a lot of reps. It's been a big thing."
In addition to a trio of high-octane returning talent, the Wolfpack also add Division I transfers Tre'Shawn Thurman, Corey Hanson, Nizre Zouzoua and Jazz Johnson, who all sat out last season. Graduate transfer Trey Porter is also a new face, being immediately eligible after averaging 13.2 points and 6.2 rebounds a year ago at Old Dominion.
Nevada also adds freshman Jordan Brown, a five-star recruit and McDonald's All-American Prolific Prep from Roseville, California.
Caleb Martin is the ringleader of the Wolfpack's talent core. The 6-foot-7 NC State transfer highlighted the AP and ESPN Preseason All-American squad, a list that includes Purdue's Carsen Edwards, Syracuse's Tyus Battle, Duke's RJ Barrett and North Carolina's Luke Made.
Syracuse, Duke, UNC … and Nevada?
Yeah, this isn't your Wolfpack squad of yore.
Related Story
Martin averaged 18.9 points, 5.4 rebounds and 2.6 assists per game last year, all while shooting a cool 49.3 percent from 3-point range — as a 6-foot-7 shot blocker.
Martin makes up a dynamic trio of talent alongside his twin brother Cody Martin and Jordan Caroline, the Nevada wing in last season's Sweet 16 team that was an all-Mountain West and all-district honoree before testing the NBA draft waters.
"It's a good thing for us," Hardnett said of playing Nevada in the season opener. "We've been playing and practicing with each other, so being able to play against a Top 10 team is good to see if we are on that type of level.
"I feel like everybody is excited and ready for that game."
×
Related Stories