This archived news story is available only for your personal, non-commercial use. Information in the story may be outdated or superseded by additional information. Reading or replaying the story in its archived form does not constitute a republication of the story.
TEMPE, Ariz. — Quarterback Tyler Huntley is likely done for the season after suffering an injury to his shoulder in Utah's 38-20 loss to Arizona State Saturday.
The junior from Florida took a hard hit midway through the third quarter, injuring his non-throwing shoulder. After the hit, Huntley lay still on the ground before Utah's training staff attended to him on the field. He was later seen kicking his leg as if in severe pain as trainers looked at his shoulder.
Huntley was later carted off the field and taken to the locker room where he reportedly learned that he had a broken collarbone, according to ESPN 700. Head coach Kyle Whittingham said after the game that they'll know for sure Sunday whether Huntley will be out, but "early indication is that it's probably something that will linger or last the rest of the season."
"It means Jason Shelley is our quarterback, and he's got to rise up and make plays — next man up," Whittingham said. "No one in the country or the conference or anywhere will feel sorry for us, so we don't feel sorry for ourselves. We just move forward and J's got to take command and get it done for us."
Whittingham said he's got full confidence in Shelley under center and believes the offensive scheme shouldn't change all that much with the redshirt freshman calling plays. He added that Shelley has "complete command of the offense" and will start to get first-team reps this week as Utah prepares for Oregon at Rice-Eccles Stadium Saturday.
Shelley said he feels confident in his ability to fill Huntley's shoes and is confident in his game.
"I've always prepared as if I was going to go in there as a starter because you never know what's going to happen, just like today, so I'm always going to be out there preparing like I'm going to be out there for the first snap," he said. "It's not going to be something new, I'm just going to be ready."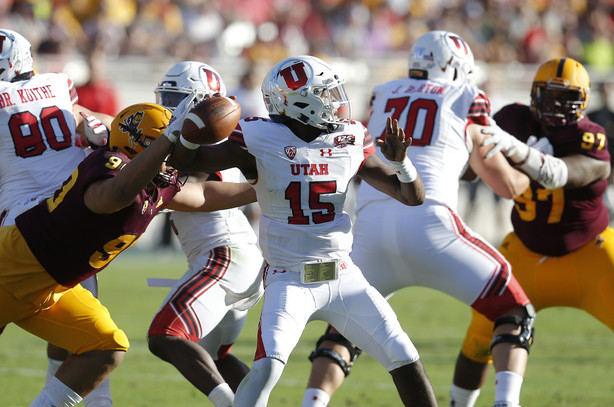 With Shelley as the likely starter for the rest of the season, former walk-on Drew Lisk will be Utah's backup at quarterback. The former Jordan High School quarterback earned a scholarship over the summer ahead of his sophomore season.
Whittingham said that barring some sort of "emergency," the two quarterbacks should be enough; however, he added that receiver Britain Covey and linebacker Chase Hansen could potentially fill the role in a "limited package" offense. Hansen was recruited to the program as a quarterback and would be the most likely addition to the offense, but would take away a vital component to the defense.
Huntley finished the game throwing for 88 yards on 7-of-15 passing. He also had two interceptions and a touchdown pass in Utah's loss. He finished the season throwing for 1,788 yards and 12 touchdowns, while completing 64.1 percent of his passes on the season. In his stint against Arizona State, Shelley threw for 59 yards and an interception on 4-of-11 passing.
×