This archived news story is available only for your personal, non-commercial use. Information in the story may be outdated or superseded by additional information. Reading or replaying the story in its archived form does not constitute a republication of the story.
PROVO — When BYU football renews its longstanding rivalry with Hawaii at 8:15 p.m. MDT Saturday night, one player will have a large section of support in LaVell Edwards Stadium.
But they won't be wearing BYU blue.
Former Cedar High star John Ursua makes his long-awaited return to the Beehive State this weekend (ESPN2, KSL Newsradio), and he's on pace to have a big impact for the Rainbow Warriors (6-1).
Ursua, who has caught 55 passes for 801 yards and 12 touchdowns as a redshirt junior in 2018, was injured a year ago when the Cougars finished the 2017 season in the islands.
But playing in Provo was always his dream growing up. The 5-foot-10, 175-pound receiver was a star quarterback at Westlake High School in Utah County before finishing his high school career in Cedar City while living with several family members.
"This is a dream game for me," Ursua told KHON in Hawaii. "To play in LaVell Edwards Stadium was always a dream of mine since I went to high school in Utah.
"I got all my best friends coming up, my family coming up, and to be able to play in that environment where I know a lot of people will be fun and exciting for me."
One of those friends is former Hawaii receiver Dylan Collie, a graduate transfer at BYU who praised his former teammate on the football field and off it.
"He's a good dude, and he wants the best from everybody," Collie said. "When you get a guy like that who can lead, it's hard to find someone that wants the best for everyone like he does. It reflects in his personality, and in his attitude from week-to-week."
He's also dangerous on the field — something else the Cougars know well.
"He is dangerous, and he's really good at finding places to get the ball," said BYU defensive end Corbin Kaufusi, who prepped at Timpview. "They are good at getting him the ball."
Originally from Kailua-Kona, Hawaii, Ursua moved to Utah after leading Kealakehe High to a state championship as a freshman.
Ursua bounced around with various family members in three years of high school football in the Beehive State. He ended his career in Cedar City, where he lived with older brother Jared, now an assistant coach at Southern Utah.
As a senior, John Ursua threw for 1,005 yards and 10 touchdowns and ran for 1,539 yards and 16 scores en route to Region 9 Offensive MVP and Class 3A all-state first-team honors at Cedar High.
His older brother was coached by BYU head coach Kalani Sitake at Southern Utah, and Jared Ursua is also close friends with Fesi Sitake, now BYU's wide receiver coach.
Ursua even flirted with the idea of playing football at BYU; he committed to the Cougars as an underclassman before de-committing and signing with the Warriors in 2012.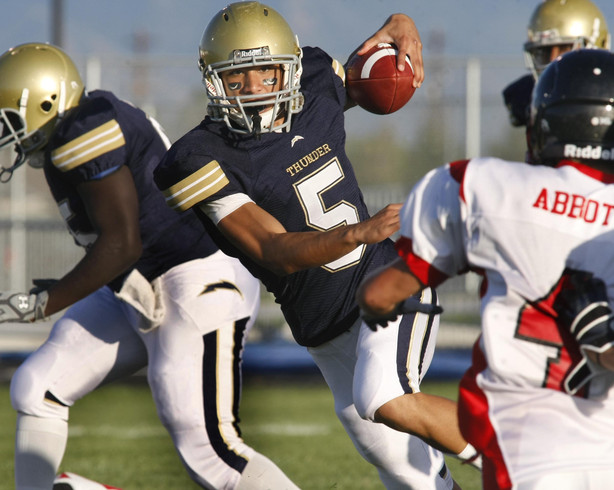 Kalani Sitake wasn't at BYU when Ursua de-committed. But if he had been, he would've seen a high-level player eager to get a chance at Division I football — and who is proving he can make a difference for the Warriors.
"Coming off injury, I'm really impressed with what he's been able to do on the field," Sitake said Monday during his weekly media briefing. "He's scary, and we have to defend him. It's a great family, and I'm really looking forward to the challenge."
Ursua knows the importance of Saturday's game. The Cougars and Warriors have a longstanding rivalry — one valued perhaps more in the islands than on the mainland — that dates back to 1930 in Hawaii.
BYU is 22-8 all-time in the series, including last year's 30-20 win in the final game of the regular season. BYU is 9-0 against Hawaii all-time in Provo — and the chance to break that losing streak is not one former Utah high school star Ursua takes lightly.
"This game went away for a long time, and I don't think it should have ever done that; this rivalry is too big for us to not play this game," Ursua said.
"To be back on track to play them again is huge. I think we are very capable of going up and getting that first win in Provo … but we've got to play our game. We aren't overthinking it, or overdoing it.
"We've just got to believe."
×
Photos
Related Links
Related Stories