This archived news story is available only for your personal, non-commercial use. Information in the story may be outdated or superseded by additional information. Reading or replaying the story in its archived form does not constitute a republication of the story.
SALT LAKE CITY — Highland High threatened Olympus' bid at an undefeated regular season when the Rams punched in a 1-yard TD plunge through quarterback Trajan Benson in the fourth quarter.
To make matters worse for the Titans, quarterback Jackson Frank threw an interception on their next drive.
But poise was the name of the game for Olympus' seniors.
Frank threw for 103 yards and a touchdown with an interception, and Tommy Poulton scored the game-winner on a 2-yard carry with 46 seconds left to help Olympus survive the Rams, 13-12, Friday night in Salt Lake City.
"Our senior class has been in this position many times — going down and needing to march and drive and score," Frank said. "We've been in the position before, and although we've beaten teams by a lot this season, we knew what needed to be done.
"I just love these boys so much."
Poulton finished with 29 yards on six carries for the Titans (7-0), who seized control of the Region 6 race with a 3-0 start to league play.
But it almost didn't happen.
Led by a massive offensive line, Benson completed the Rams' fourth-straight run at the goal line to pull ahead, 12-7, with 9:39 remaining. But Highland, which had a point-after touchdown blocked in the first half, failed on the two-point conversion that left the door open for a Titan-sized comeback.
Still, Frank threw an interception on Olympus' next drive, and even after the Titans forced Highland to punt, things looked grim.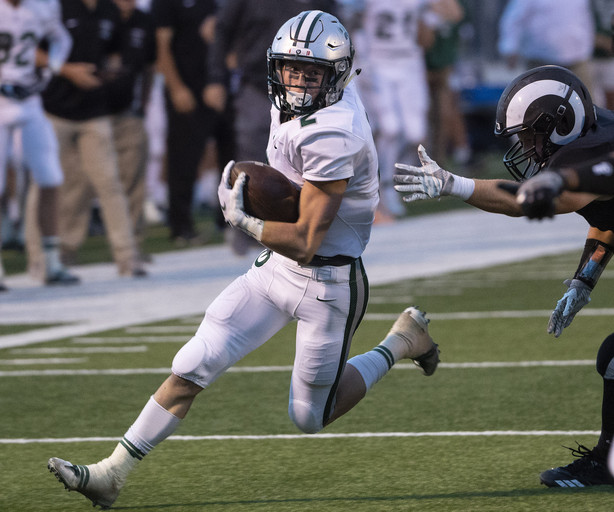 But Frank, whose father John was a two-time All-Mountain West defensive end at Utah, led one final drive with just over four minutes remaining, capped by Poulton's short scamper to the far corner.
"We talked about the importance of poise," Olympus coach Aaron Whitehead said. "But the thing about this group is that they were calm; they needed to calm us down. This is a great group.
"Jackson has such poise, and that's a great word to describe this team. They have such a quiet confidence."
The drive almost died on the play before, but Noah Bennee drew a pass interference that reset the chains inside the 5 and helped the Titans cap their seventh-straight win.
"That PI definitely helped us," Frank said. "Then we just ran the play we've run so much, and executed it well. It works every time, and we got that game-winning touchdown from it."
After a scoreless first quarter, Olympus took the first lead on the Titans' opening drive of the second. With his second pass of the game, Frank rolled out and hit Bennee in stride for a 45-yard touchdown that gave Olympus a 7-0 lead with 10:06 left in the half.
But the Rams came right back.
With just 23 seconds on the clock, Highland's Jackson Hawes hauled in his second catch of the half, pulling the Rams within an extra-point of tying the game at halftime.
But the Titans blocked the conversion kick, and Olympus led 7-6 at the break.
Hawes caught two passes for 34 yards in the first half, and Bronson Olevao ran for 41 yards on six carries to lead Highland, which had seven different ball carriers.
But Olympus matched the Rams in the trenches, running the ball 30 times with seven rushers to open up Frank's pass game.
"We knew they would run a lot, because they've got a big O-line," Frank said. "Our O-line isn't the biggest, but I know they execute each play. They'll block who they need to block, and the running backs will always find that hole."
×
Related Stories