Estimated read time: 7-8 minutes
This archived news story is available only for your personal, non-commercial use. Information in the story may be outdated or superseded by additional information. Reading or replaying the story in its archived form does not constitute a republication of the story.
SALT LAKE CITY — The Utah Jazz season is officially underway, with their annual media day Monday signaling the beginning of the NBA year.
While last season's media day was focused on the departure of Gordon Hayward, this year was about building on a surprising 2017-18 campaign.
In the words of Dennis Lindsey, instead of adding any major pieces this offseason, "we were gonna err toward continuity." Here's a breakdown of the Jazz key players ahead of the coming season.
The Stars
Donovan Mitchell was the league's surprise rookie, finishing second in Rookie of the Year rankings, despite being drafted late in the lottery. He was the only rookie last season to average 20 points per game, and is now poised for an All-Star run in just his second season in the league.
Rudy Gobert is coming off a Defensive Player of the Year campaign and should be the favorite to win it again entering the season. Many of the questions surrounding Gobert going into last season revolved around whether he could maintain his offensive efficiency without Hayward on the roster as an offensive focus.
With the addition of Mitchell, and the steadying play of Ricky Rubio in the second half of the season, Gobert's production remained similar to his previous season, with slight drops in offensive efficiency, and points and rebounds per game averages.
Those numbers should return if Gobert is able to stay healthier than he did last season, appearing in just 56 games.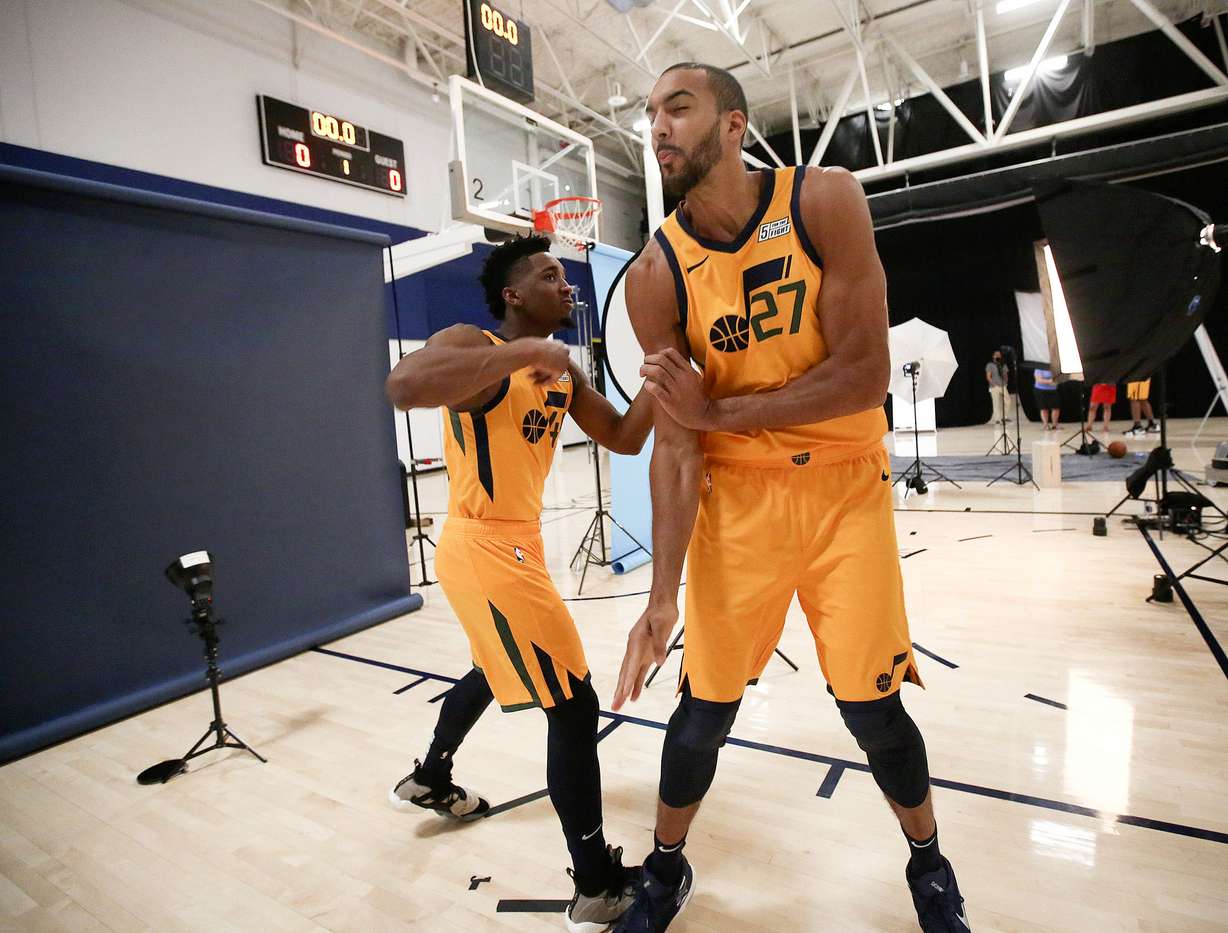 The Starters
Joe Ingles saw a dramatic spike in his offensive production as one of the Jazz go-to wing scorers last season, with his points, rebounds, and assists per game all climbing. This was a promising development fresh off of the signing of a four-year, $52 million contract last summer.
At Ingles' age (he'll turn 31 in early October), continued growth statistically shouldn't be expected, but as a limited athlete who gets by more on his understanding of the game than he does on his physical tools, Ingles production should hover around similar levels to last season.
Ricky Rubio was named one of Zach Lowe's six most interesting players to watch this season. After a very sluggish start to his Jazz career, Rubio rebounded and played like one of the 10 best point guards in the NBA. Rubio averaged over 15 points, five rebounds and five assists in the second half of the season, and had a staggering +14 net rating.
Rubio shot over 40 percent from the floor and the 3-point line, and helped lead the Jazz to a first-round series victory over the Oklahoma City Thunder, including a game three triple-double. If Rubio maintains that type of production through the season, he will be due for a large contract, one the Jazz will be happy to provide.
Derrick Favors signed a two-year, $33 million contract this summer, with only one year guaranteed. There is a good chance this is Favors' final year in a Jazz uniform, and it will be worth monitoring whether he keeps his starting job or not.
The Jazz net rating exploded after acquiring Jae Crowder at the trade deadline, largely because of their ability to play one big and four wings offensively. Favors has been working on his 3-point jump shot, and if it becomes a legitimate weapon, he will open up interesting options for the offense.
The Bench
Jae Crowder will be the Jazz's sixth man, after averaging starters minutes despite being acquired at the trade deadline for Rodney Hood. Crowder is inconsistent as a shooter, but could see his numbers improve now that he has a better grasp of the Jazz offense.
He's not a star on either side of the ball, but is better than adequate wherever you line him up. As a result, he's valuable for the Jazz and their desire to switch positions regularly on offense and defense.
Dante Exum, a former top-five pick who is now entering his fifth NBA season, has a production level that would indicate this would likely be his make or break season. But with a three-year, $33 million contract under his belt, Exum doesn't have anything to prove to earn anything other than playing time.
Exum had a handful of highlight-worthy moments in the final 16 games of the regular season when he re-entered the lineup. Most impressively was Exum's defense in the playoffs, specifically against MVP James Harden.
If Exum can show better play-making skills and improve his shooting, he can be a dangerous offensive weapon. But those flashes have been few and far between so far in his career. Still, Exum's defense is an asset, and anything the Jazz get offensively will be a bonus.
Thabo Sefolosha is returning off a serious knee injury that caused him to miss the second half of the season last year. Now, alongside Crowder, the Jazz have one of the more intriguing pairings of combo forwards coming off their bench.
Truthfully, Sefolosha is a more complete player than Crowder, but is older and on the downside of his career. He may be more useful in spot minutes. Still, Sefolosha would have been a valuable asset in the playoffs, and the Jazz will be happy to have him back in the lineup.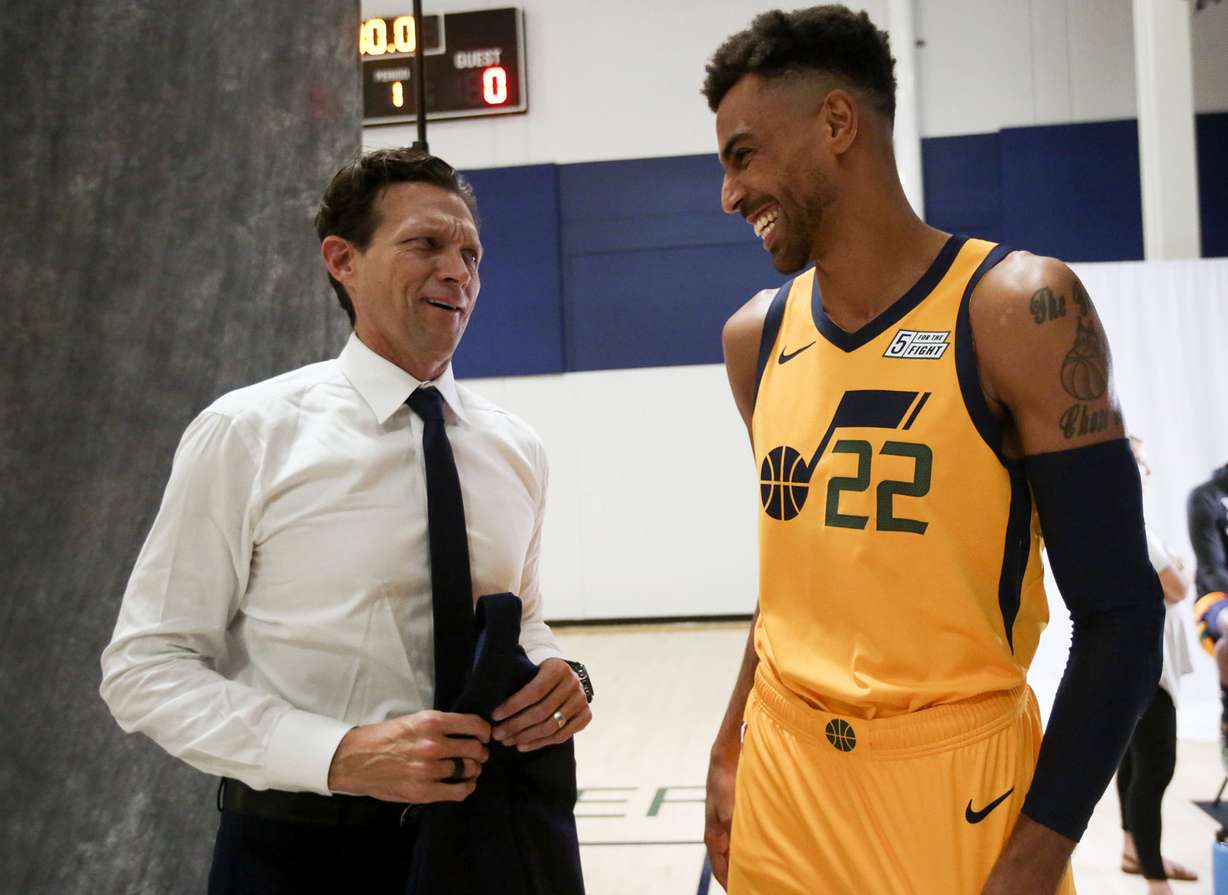 Royce O'Neale may be the forgotten man this offseason, after an under-the-radar rookie season next to Mitchell. O'Neale is a high-level defensive player, a good athlete in transition, and showed signs of his offensive potential as a shooter.
O'Neale is a legit NBA player, and has one of the best contracts in the league with two years remaining and only $3 million owed. He'll be a handy bench player for the Jazz for the foreseeable future.
Ekpe Udoh is one of the league's best shot blockers, and is a high-level defensive center coming off the bench. He provides next to nothing offensively, but he plays hard and is great insurance should Gobert or Favors miss extended time. While he won't see many postseason minutes, he's great at providing the Jazz starting big men important rest without costing the Jazz wins.
Raul Neto is the ideal third-string point guard for a team like the Jazz. He's got a limited upside, but makes very few mistakes when asked to take on a bigger role in case of injury. His small size makes it hard to play him in a larger role, but with Rubio, Mitchell and Exum ahead of him, its unlikely he'll be needed much.
Alec Burks is entering the final year of a four-year contract he signed with the Jazz. Understanding there is little potential for him as a long-term Jazzman, there isn't much incentive for Quin Snyder to play him. Burks can provide change-of-pace minutes as a scorer, but shouldn't be a serious part of the rotation.
Tony Bradley enters his second season with the Jazz, spending the majority of his time last season with the Salt Lake Stars, the Jazz G-League affiliate. Bradley showed improvement in his second summer league, understanding how to use his plodding body to grab rebounds, finish through contact and fill space. With Gobert, Favors and Udoh ahead of him, he likely won't be used unless there is a string of injuries ahead of him.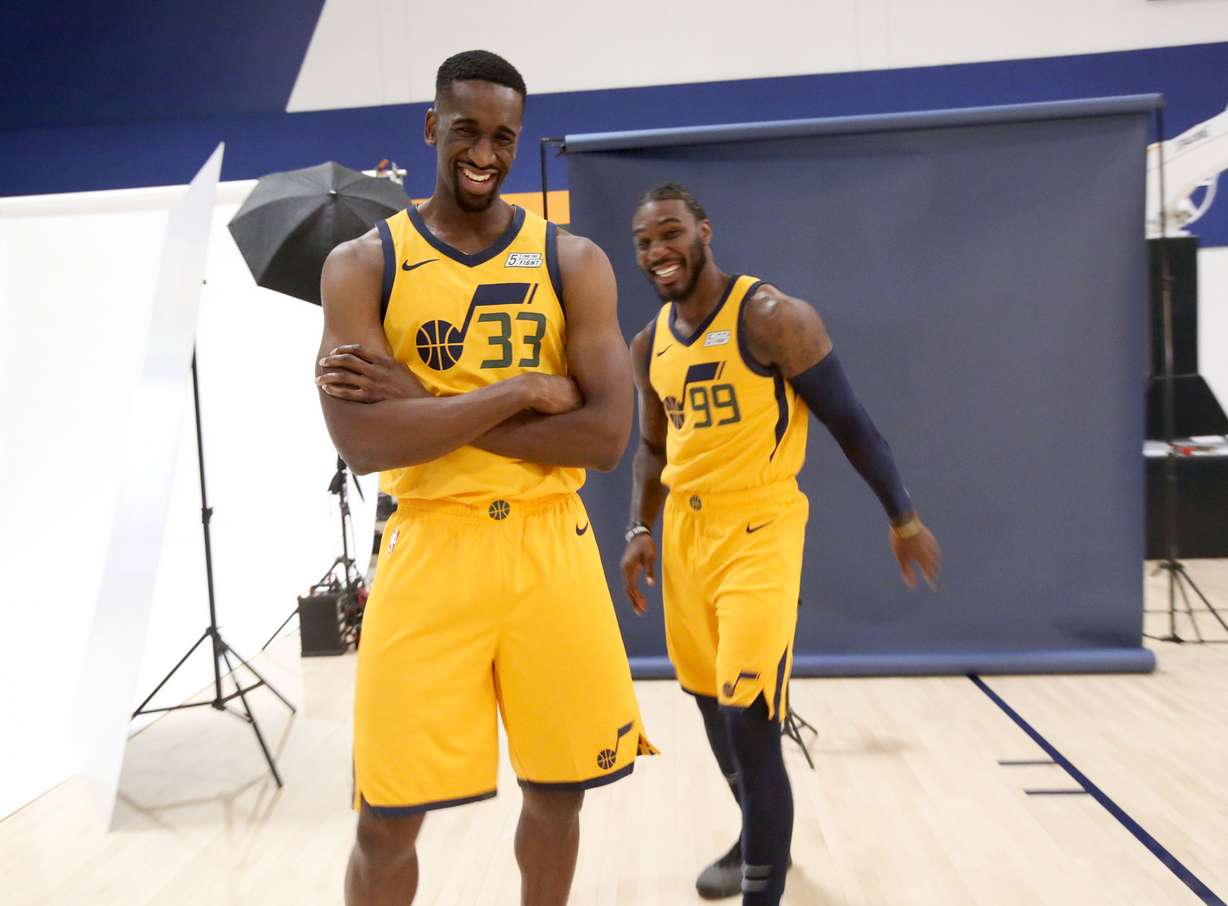 Newcomers
Grayson Allen is the Jazz first-round draft pick. But on a deep roster, he probably won't see playing time early in anything but blowouts. His development as a shooter will be key — an area where he struggled in the summer league. He's a high-level athlete, though, with a strong ability to fill gaps as a ball mover and a secondary ball handler.
Georges Niang technically isn't a new member of the Jazz, appearing in nine games with the team last season, but he now has a guaranteed contract for the season. Niang is a highly skilled, under-athletic power forward who can provide shooting and passing in reserve minutes. His low lateral quickness and under-the-rim play will make it a challenge for him to earn minutes over the other forwards, but he's a low-risk contract on the bench.
---
×
Most recent Utah Jazz stories