ST. GEORGE — Three homes were damaged Wednesday and several residents were startled out of their chairs after a student semitruck driver caught low hanging utility lines in downtown St. George.
At approximately 2 p.m. a Dixie Technical College training truck traveling north on 500 East between 400 and 500 South at normal speeds, caught some low hanging fiber-optic cable lines with the upper portion of his trailer, said Sgt. Jeremy Needles of the St. George Police department.
As a result of the accident, three power poles were shattered and two homes had significant damage to their roofs. A third home had an air conditioning unit nearly knocked off its stand.
Neighbor Karly Chew was the first to run out of the house and call the authorities when she heard what she initially thought was an earthquake.
"There was just a big, loud, huge boom and we're guessing it's because it just knocked the pole onto the air conditioning."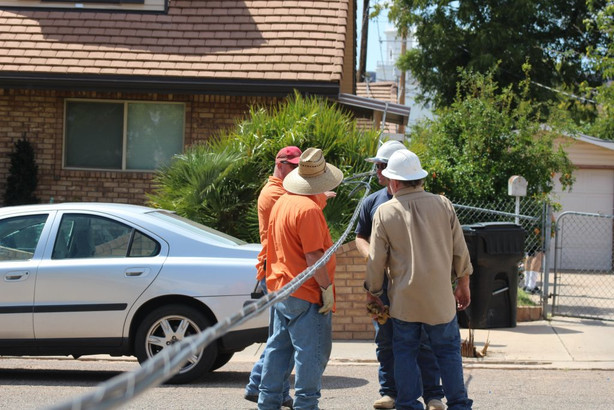 Homeowner Don Lowe said he had remarked to his wife that the utility lines looked a little low after watching a local garbage truck strike them earlier in the day.
"The wires were hanging down when they took the trashcans up," Lowe said. "They hit the wires."
To read the full story, visit St. George News.
×
Photos