This archived news story is available only for your personal, non-commercial use. Information in the story may be outdated or superseded by additional information. Reading or replaying the story in its archived form does not constitute a republication of the story.
SALT LAKE CITY — The pads were on for the first time this season and the aggression was out Friday in Utah's third practice of fall camp.
It was an outing again in favor of the defense, as coordinator Morgan Scalley threw all sorts of blitz packages and pressure defensive schemes at its opponent. The offense responded in a disjointed manner to counter the new defensive looks and struggled to advance the ball in 11-on-11 drills during the media observation period.
The stalwart effort on defense was highlighted by a Corrion Ballard interception against quarterback Tyler Huntley on a throw that was either off target or a result of receiver Jaylen Dixon misreading the route assignment.
But head coach Kyle Whittingham said there was nothing to read into the media portion of practice, as the offense shined in the first half of the practice. To the offense's credit, the defense traditionally has an upper hand in the first few practices and Scalley's defense brought a lot of pressure Friday.
"Yeah, the defense had the upper hand towards the end," Whittingham said. "The offense did some good things earlier on. So it's give and take, and that's how it will be all fall. But I like where we are as a team."
Freshman quarterback Jack Tuttle got a lot of two-string reps and looked good in the pocket, but sometimes held onto the ball too long and would have likely been sacked on multiple attempts. Had a starting offensive line been protecting him, he likely would have done better handling the pressure.
Although the quarterbacks were not live — they could not be hit — the defense would have been credited with several sacks in the practice
Redshirt freshman Jason Shelley got reps with the third-string players and showed well in the limited attempts he got during the media portion. Whittingham said Tuttle and Shelley remain locked for the No. 2 spot, and that it's still too early to determine who will be backing home Huntley.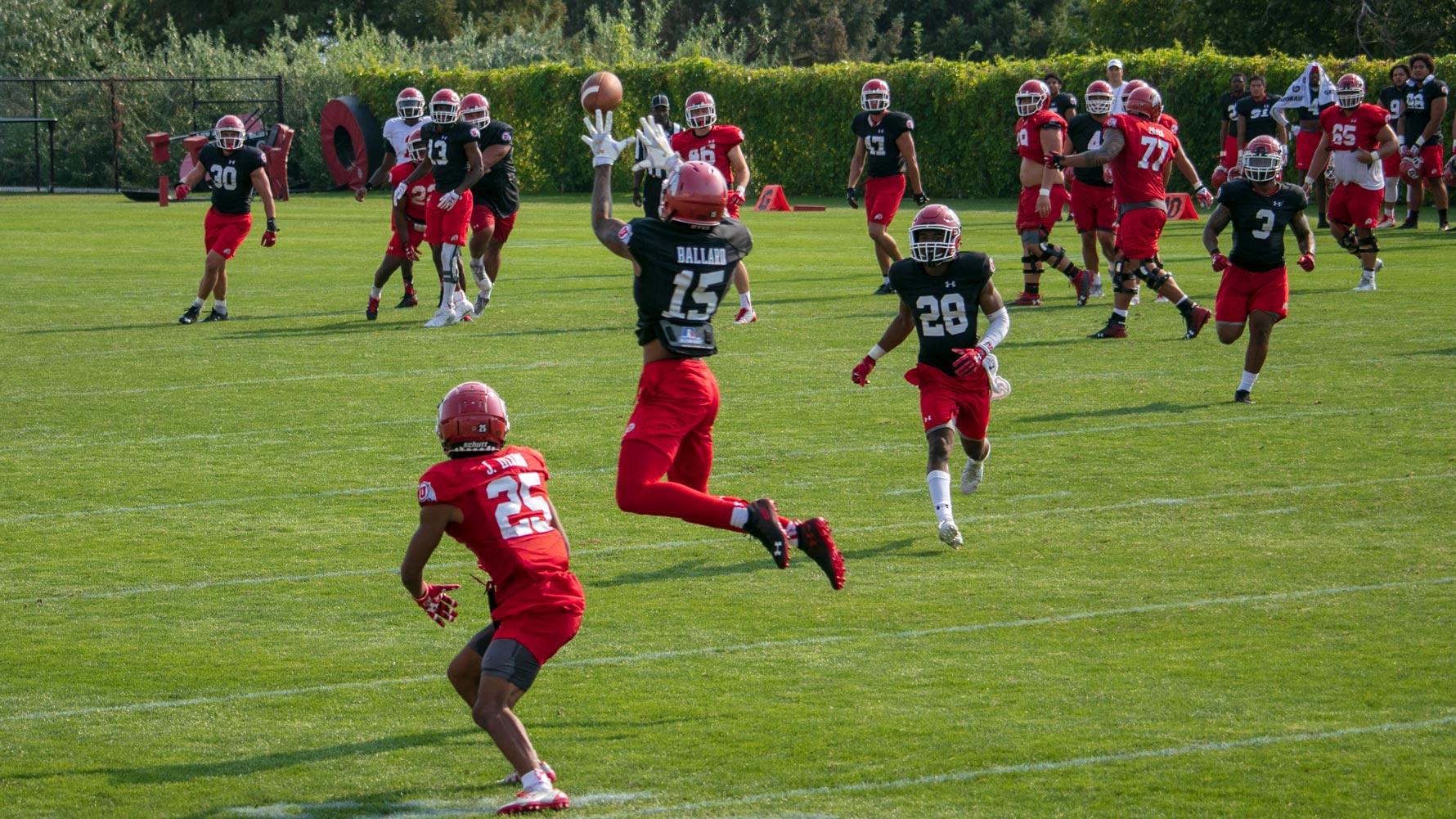 Safety Corrion Ballard intercepts a pass from quarterback Tyler Huntley intended for receiver Jaylen Dixon. The University of Utah concluded its third practice of fall camp Friday, Aug. 3, 2018. (Photo: Josh Furlong, KSL.com)
Both quarterbacks have their strengths. Shelley is more similarly aligned with the dual-threat capabilities of Huntley, whereas Tuttle is more of a pocket passer with limited running. Both QBs will have plenty of opportunities to showcase their talent in a Troy Taylor offense before a pecking order is finalized.
Highlighting the offense Friday was Zack Moss, who continues to get limited reps to preserve him for the season. His ability to break through defenses has only improved and looks more confident in his playing abilities. But it was the receivers that caught the praise of Whittingham Friday.
Freshman Solomon Enis continues to receive praise from Whittingham as a receiver having an immediate impact in camp. Enis was heralded as a top-level receiver from Arizona in the latest recruiting class, and is pushing for playing time among at least seven or eight receivers coaches have identified as potential starters.
Regardless of whether Enis gets much playing time this season, Whittingham is confident in his receiver corps and believes they're one of the most talented groups he's had while at Utah. He identified Siaosi Mariner, Britain Covey, Bronson Boyd, Demari Simpkins, Enis and Samson Nacua as some of the standout guys at the position.
"I mean, this is the deepest position group I've ever seen," sophomore Covey said. "We've got so many guys on this squad, and that's what I liked because you can't focus on anybody. I feel like this year we're not going to have one starter."
NOTES: Whittingham said he is aware of the Urban Meyer situation, but has no plans to talk to his friend until everything is settled and Meyer's had some time. … There were no new updates regarding incoming linebackers Bryant Pirtle and Francis Bernard.
×
Photos