Estimated read time: 4-5 minutes
This archived news story is available only for your personal, non-commercial use. Information in the story may be outdated or superseded by additional information. Reading or replaying the story in its archived form does not constitute a republication of the story.
HERRIMAN — A sign on the backdrop at Zions Bank Stadium in Herriman tells visiting teams all they need to know: "Elevation: 4,750 feet."
The Real Monarchs, the second-division squad of local MLS club Real Salt Lake, has turned the advantage into a fortress.
Sebastian Velasquez scored his team-high seventh goal of the season as the Monarchs ran out to a 4-1 win over the second-best team in the USL's Western Conference, Phoenix Rising FC, at home Saturday night.
But more importantly, they protected their home field, which has become their fortress since moving into the brand-new stadium on the campus of the club's Zions Bank Real Academy in May.
And the players know how important that is.
"They know," said interim head coach Jamison Olave, repeating himself for emphasis about a team that is also a respectable 5-5 on the road. "They know that when we play at home, things have to be different. You aren't allowed to lose at home. Hopefully it's still the same. By winning at home, we're going to be OK going into the playoffs."
The Monarchs (14-5-2, 44 points) entered Saturday's match against Phoenix Rising FC, clinging to a three-point advantage at the top of the second-division USL's Western Conference. A win over second-place Phoenix was important, not only because the Monarchs had won just two of their previous five matches.
Saturday was a chance to run their home record since moving to Zions Bank Stadium to an unbeaten 8-0-1. It was also a chance to make a statement — if anyone in the league doubted the Monarchs' grip as the best team in U.S. soccer's officially sanctioned second division, Saturday would go a long way toward reclaiming that mythical title.
"We had a tough stretch, but I think it says a lot about this group that when we go to places like Sacramento and Reno, everyone expects us to get three points," said Monarchs forward Chandler Hoffman, who scored a goal and set up an own goal in Saturday's 4-1 win over Phoenix. "I think that's great for our group. It shows the commitment and quality that we have.
"We were really disappointed that we dropped points (on the road). Now with these games coming up, we want to separate ourselves from the pack."
Consider the statement made — in the form of the second-best team in the West.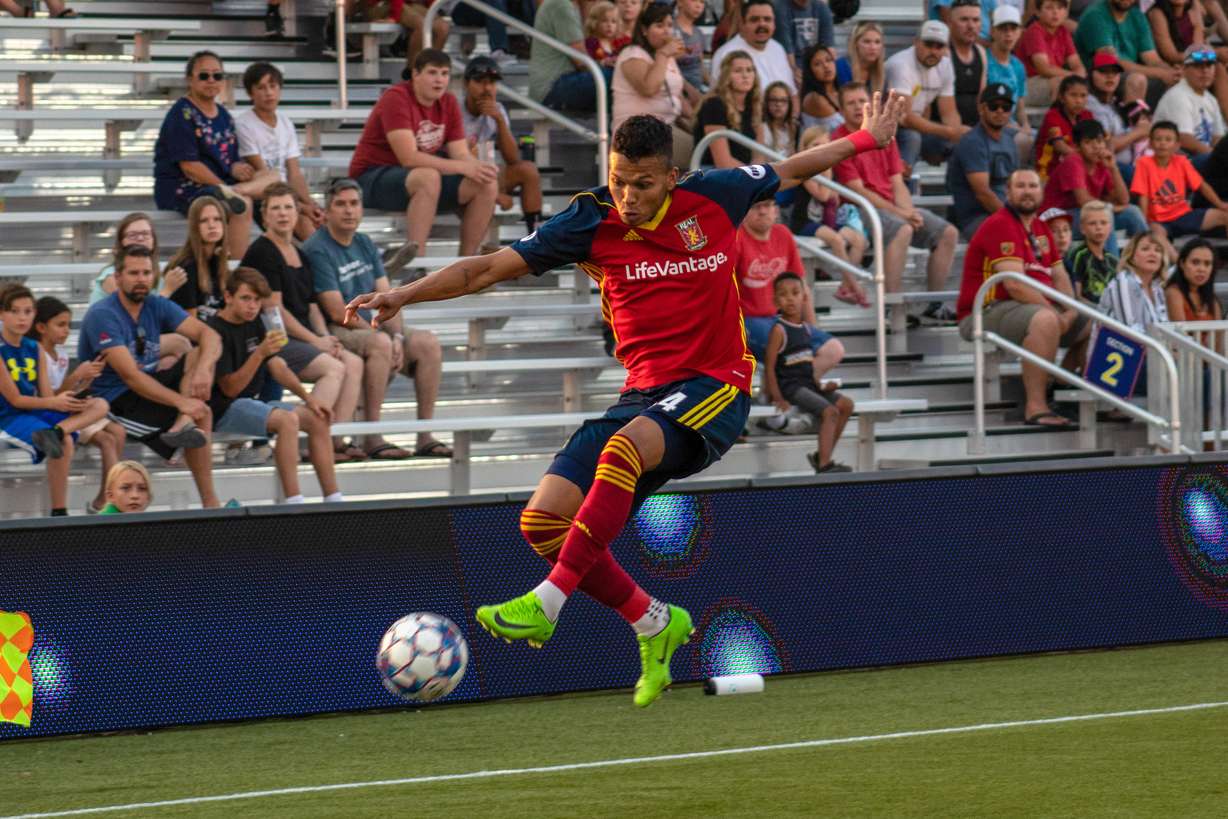 "I'm so proud of their response," Olave said. "After losing that game (at San Antonio FC), it was a long time, but they reacted the right way.
"We don't concede that many goals in every game," Olave added. "Losing four goals in San Antonio was painful. They felt it. But the reaction they showed today, how hard it was to lose to San Antonio."
The 1,743 fans who showed up — many of whom were likely lured by the free tickets to season-ticket holders for RSL and Utah Royals FC, which were both away on the road or on international break Saturday — were treated to a show, as well.
They saw Chandler Hoffman score what he thought was his 52nd goal of his electric career — only to be reversed into an own goal off a Phoenix defender. Hoffman took the mark back in the 65th minute to put the Monarchs up 3-0.
That wasn't even the best goal of the night for a remarkably deep Monarchs squad that is sending players on to first-team contracts at Rio Tinto Stadium in droves.
Brody, who scored for Real Salt Lake in a recent international friendly against Germany's Eintracht Frankfurt, ripped a no-look pass from Masta Kacher from the edge of the area into the underside of the crossbar, and the ball caromed behind the line for the fourth goal of the night against the 10-man Rising FC.
But that's how the Monarchs prefer to win, too — with multiple guys playing their part, leading to what has not just become arguably the best squad in USL, but also the deepest.
"Even the guys coming in off the bench had a bunch of chances to score," said Hoffman, who signed a pre-contract Monday to join USL expansion side Birmingham Legion FC in his hometown. "When people get their opportunities, they step up. I think it shows the quality we have in this group."
×
Photos
Related stories
Most recent Sports stories