Estimated read time: 5-6 minutes
This archived news story is available only for your personal, non-commercial use. Information in the story may be outdated or superseded by additional information. Reading or replaying the story in its archived form does not constitute a republication of the story.
SALT LAKE CITY — One of the first things Salt Lake Bees manager Keith Johnson does when his team makes a roster move is send a text to Kraig Williams.
Williams is the team's communications director, who relays that information to the Pacific Coast League, the league's teams and to the media. It's happened so often this year that Williams joked that he probably texts the Bees' skipper more than his wife.
That's because the team has made 203 roster moves at the Triple-A All-Star break, which began after the Bees game Sunday against El Paso. The Bees are well on pace to break the club record of 240 transactions set last season.
These transactions include anything that would adjust the team's active roster, such as a promotion to the big leagues, a demotion to Double-A Mobile, a trade or an injury.
"Sometimes I don't even know who is on the roster anymore," Williams said, with a chuckle. It's hard to blame him either.
There have been a lot of guys in Bees uniforms this season as a result of the roster moves. Tyler Stevens became the 62nd different player to suit up for the team when he made a relief appearance Saturday. That's enough players to fill 2 1/2 rosters.
However, no day has been more eye-popping than June 21. Six people were cleared from the team roster and five more were added that day in what looked more like a hockey line change.
That even caught the league's attention.
"The guy at the league office, (PCL public relations assistant) Matt Grilli, responds back and says 'I don't think I've ever seen 11 transactions in a day. That's gotta be a record,'" Williams recalled. "We make a lot of moves, but 11 in a day was a significant amount."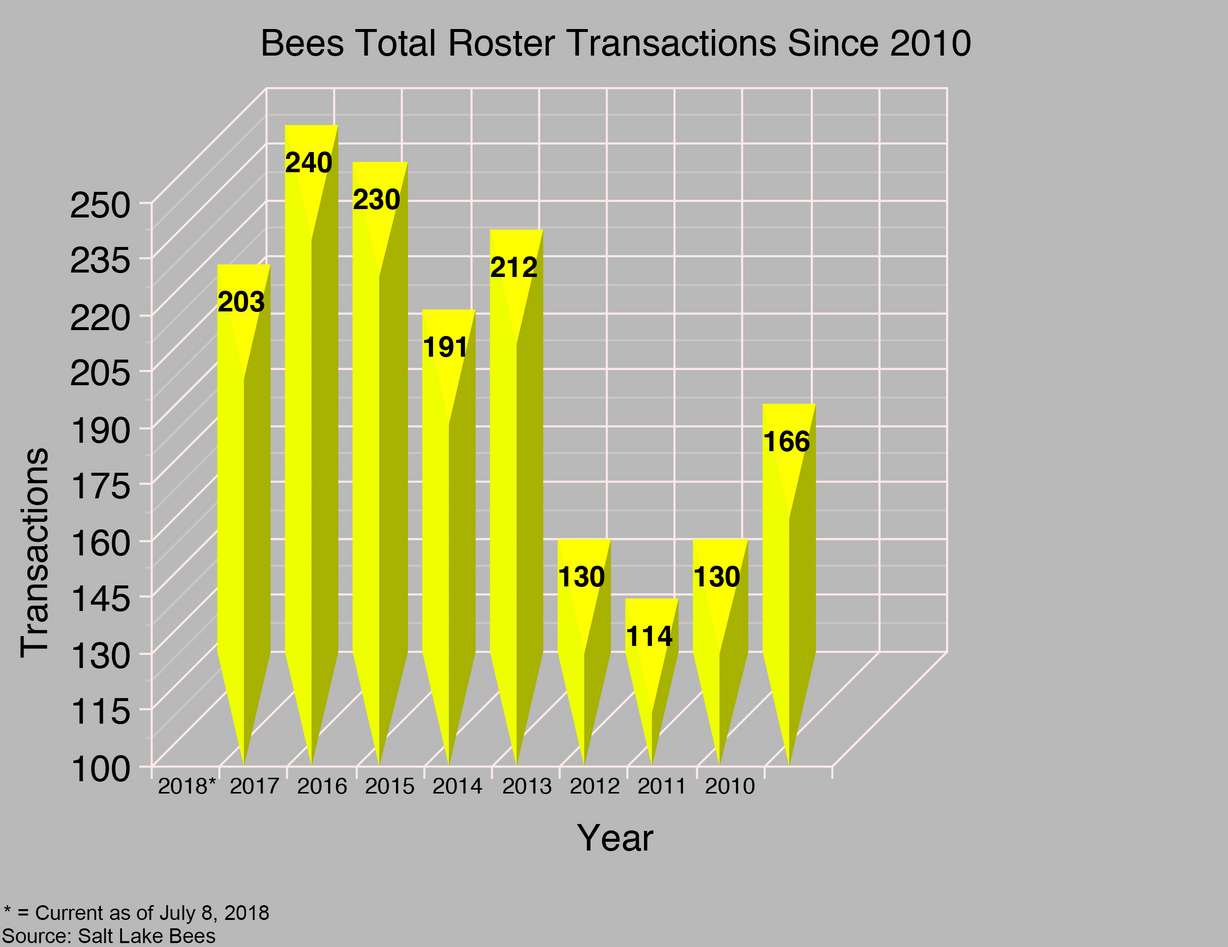 Of course, the Bees have to forge on with whoever is on the roster, which can be tricky for coaches and players alike. There's no telling who will be on the team any given day.
It's a task Johnson has grown accustomed to in his role as a minor league manager. His duty is to make many of the faces he sees in the Salt Lake dugout the faces Angels manager Mike Scioscia sees someday, and Scioscia has seen plenty of them this year.
Just two days after that massive 11-man roster overhaul on June 21, the Angels fielded a team that featured five of 10 starters who began the 2018 season in Salt Lake.
The game, like every Angels game, was plastered on the TVs inside the Bees press box that night; the "Anaheim Bees," someone in the room cracked as infielder David Fletcher approached the plate.
In return, many of the Angels' prospects who were in Double-A, like Matt Thaiss, Taylor Ward and Griffin Canning, have filled in holes in the Salt Lake roster. Johnson believes the current team is the youngest he's coached.
"It's difficult at times," he said. "There are times where guys come in and you try to get to know them and they're here for a short period of time, and then understanding the human aspect of what's going on (in their personal lives).
"It's a person, not just a baseball player," he added. "There might be things going on off the field that might affect their play or whatever, so you need to spend the time to get to know the person and understand who they are and what's going on."
The rotation of players coming and going can be confusing for the front office, coaches and fans, but also mentally and physically taxing for players.
"It's pretty much like you get the call and then you're on a flight to wherever you have to be," said Bees outfielder Michael Hermosillo, who has been recalled by the Angels three times and demoted three times this season.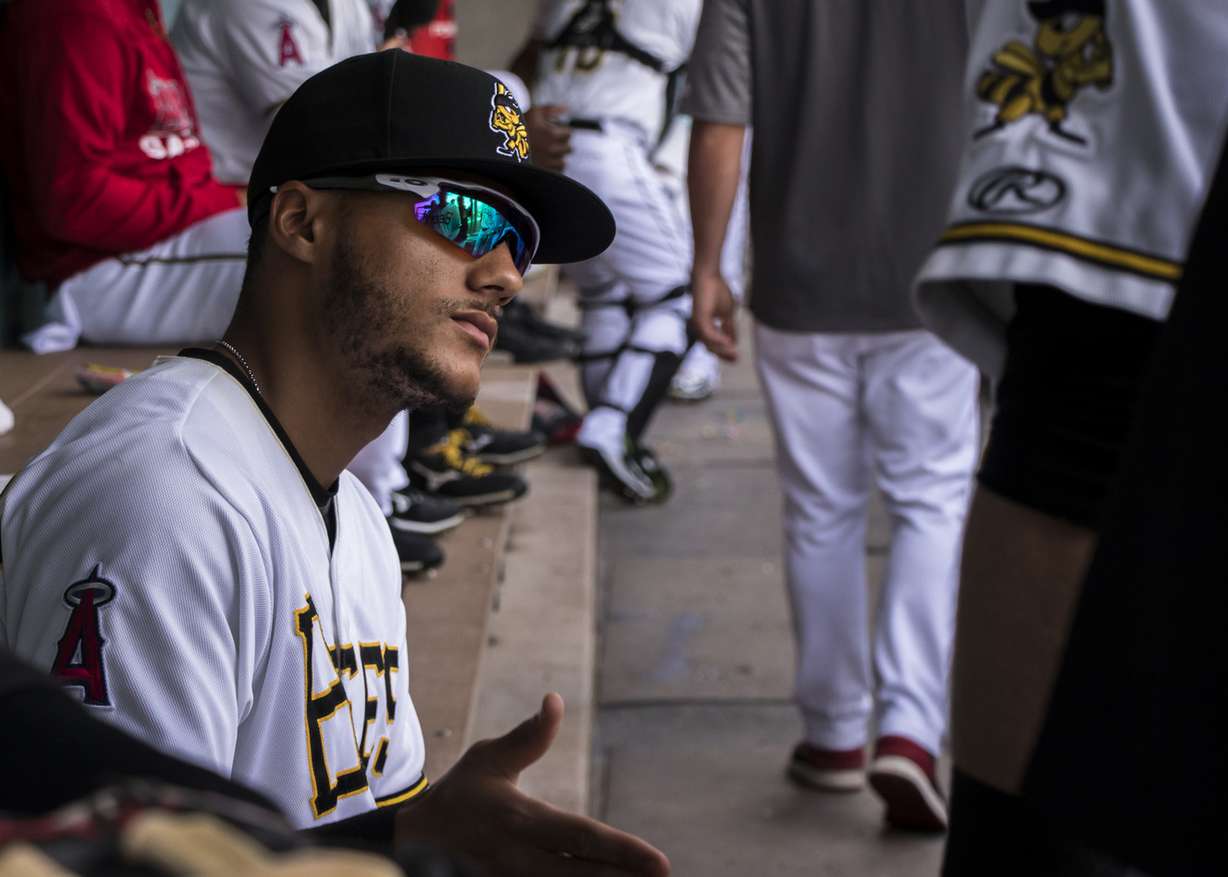 Pitcher Eduardo Paredes currently holds the clubhouse transaction lead this season with eight trips to the majors and eight flights back to Salt Lake. Infielder Kaleb Cowart has been a part of nearly a dozen Bees transactions since April 19.
Once, on June 5, Cowart was demoted to Salt Lake only to be told that night to return to Los Angeles in the morning. "He just sleeps, takes the first flight back to Anaheim — a nice round trip to just sleep in his own bed," Williams said.
Players learn quickly that they must remain in the moment at all times before the game eats them up.
"It's something you always battle with," Hermosillo said. "You want to have fun and enjoy all the perks of a big leaguer, but at the same time, it's still a job."
Despite all the roster moves, the Bees finished the first half of the season at .500, albeit losing nine of their last 10 games. Johnson said "it's a compliment to the players," especially those that have moved a lot and have "mental toughness to continue to produce."
There's no telling who will be on the Bees roster when they return to action Thursday. The only certainty appears that the team transaction record will be broken at some point before the year ends.
Williams crunched the numbers and projected more than 300 transactions will be made this year if the current trend continued.
That means more texts from Johnson and more calls to the league office. It means memorizing new faces and player numbers. It means more work. But he also knows it's a part of the game and what those in the organization, not on the ball diamond, root for.
"One of the best parts of this job is just watching guys get to go the big leagues," he said, noting that at one point this season, 11 players from the 2018 Bees team were up in Los Angeles at the same time. "Just seeing all of our guys in Anaheim is great. It's awesome."
×
Photos
Most recent Sports stories