Estimated read time: 5-6 minutes
This archived news story is available only for your personal, non-commercial use. Information in the story may be outdated or superseded by additional information. Reading or replaying the story in its archived form does not constitute a republication of the story.
IDAHO FALLS — When Tia Vargas began a hike Thursday morning in honor of her son, she had no idea a new member of the family would be coming home with her.
Vargas has a 17-year-old who is overcoming substance and mental health issues at a wellness camp in Arizona. As part of the program, Vargas was encouraged to participate in challenging activities to help relate to her son who is working on conquering his own difficulties.
"One of the things it said was to figure out how many miles you can walk and double it," she told EastIdahoNews.com. "So I decided I was going to hike Table Rock. We hike it every year but everybody in my family was injured or couldn't do it except my 76-year-old dad."
On July 5, Vargas and her father began the strenuous seven mile hike outside of Driggs around 8:40 a.m. Vargas says she would run some of the distance and then turn around to meet her father, who walked the trail, and then hike back up with him.
"I did that about six times before my legs were done. I was really tired so my dad and I continued our hike," Vargas recalls. "After a while, I saw some people walking a dog up and they asked if he was mine. He was limping so bad and a lot of times would just lay there and not want to move at all."
Vargas was unsure who the dog belonged to but his tag said Boomer. Fellow hikers mentioned a small note had been posted on a notice board at the bottom of the mountain mentioning the lost animal.
Others on the trail wanted to get to the top of the mountain and were not interested in taking care of an injured dog, so Vargas made a life-changing decision.
"I picked up the dog, put him on my shoulders and carried him down to where my dad was," she says. "He laughed and said, 'You don't think this hike is hard enough so you have to pick him up and carry him down?'"
Boomer, a 4-year-old English Springer Spaniel, weighed around 55 pounds and Vargas knew the task of carrying him to safety was all on her. There was nobody else to help.
"We had hiked up the face (of the mountain) but decided that the Huckleberry trail would be easier to go down because it's not as steep," she says. "But Huckleberry had snow that we have to walk over and there was debris and branches everywhere."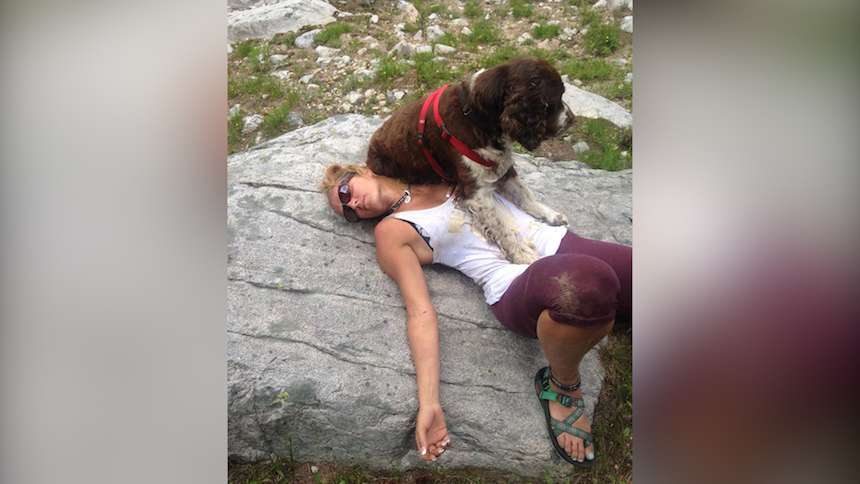 Vargas, her father and Boomer got lost twice, it started to rain, and tall, sharp weeds scratched their legs during portions of the journey. They ended up on the wrong side of a river and, at one point, had to slide down snow on their rear ends.
"There came a point where I was on the verge of tears thinking, 'I have to get this dog off. I can't do this anymore,'" Vargas says. "I had a headache, my neck hurt, my legs were in pain – I just didn't think I could go on."
"I said a prayer and literally felt that somebody walked up behind me and lifted the dog off my shoulders. I felt that my ancestors or God sent me angels to help me carry that dog because it's like the weight was gone off my neck. I kept looking behind me to see who had lifted the dog up but he was still there," she says.
Around 6 p.m., more than nine hours after she started the hike, Vargas, her father and Boomer arrived at their truck. She took the note from the board and drove the dog home for food and rest.
Vargas called Boomer's owners and learned they had been hiking on the Fourth of July when the dog wandered away.
"He walked out onto a snow crevice, lost his footing and fell 100 feet before rolling 200 feet," Vargas says. "They went to find him but he was gone. They assumed he had climbed under a bush and died because there's no way he could have survived that. He's a miracle dog."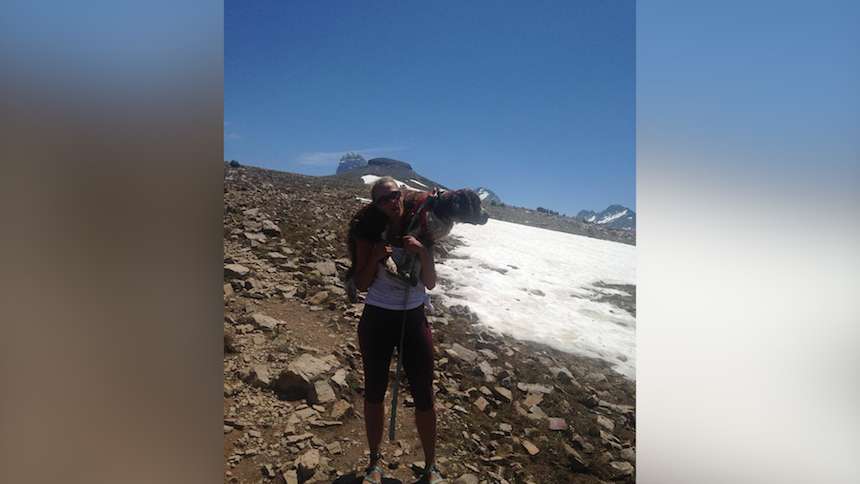 But Boomer did survive and a visit to the veterinarian revealed he only had a few torn ligaments.
Vargas believes there is a reason Boomer he's still alive, a reason why she was hiking that day and a reason she was able to carry the dog down the mountain even though she was physically exhausted.
"I have no doubt that God put me there. There's no doubt in my mind. That dog would have died," she says. "I was fatigued, my legs were shaky and felt like Jello and there's no way I could have gotten him off that mountain without divine help."
There's one more thing Vargas believes: that Boomer is meant to join her family.
In speaking with his owners, she learned he was recently sold as a hunting dog to a family in Boise but they likely wouldn't want him anymore with the torn ligaments. So she asked if she could keep him and they agreed.
"He's supposed to be in our family. He's not a quitter and I'm so glad I was there that day," Vargas says. "We're all here to help each other and I'm just glad I can help."
×
Photos
Most recent Idaho stories