Estimated read time: 6-7 minutes
This archived news story is available only for your personal, non-commercial use. Information in the story may be outdated or superseded by additional information. Reading or replaying the story in its archived form does not constitute a republication of the story.
SALT LAKE CITY — Three thoughts on the Utah Jazz's Summer League win over the Atlanta Hawks from KSL.com's Jazz beat writer, Andy Larsen.
1. Grayson Allen struggles with his shot, but brings everything else
It was another game in which Grayson Allen couldn't score the ball effectively. He made only two of his 13 shot attempts on the night, and missed both of his threes. Obviously, that was a large part of why the Jazz drafted him, so it's discouraging to see him struggle to that degree in his second game as well.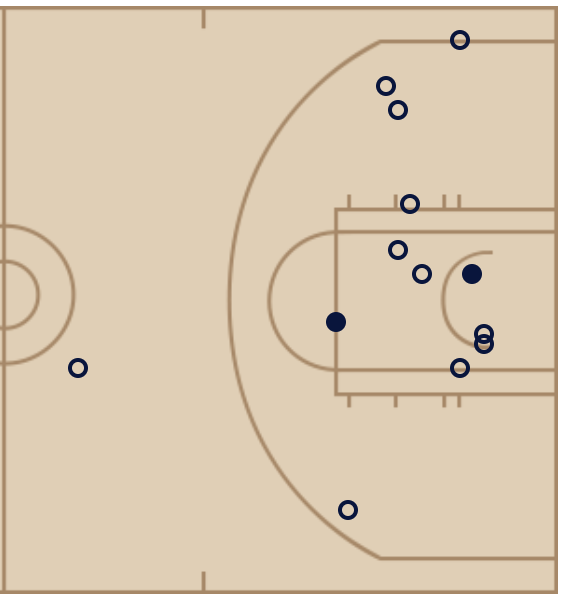 On the other hand, I liked the kinds of shots he took a lot more when compared to Monday's 4-16 shooting performance. On Monday, Allen attacked the rim with reckless abandon, resulting in drives into traffic and coughed-up layups that were ultimately blocked.

Tonight, he was a lot more in control. Allen kept the defender on his back in the pick and roll and made the right read out of it.

At the rim, Allen made space for himself by going straight up, rather than fading away from the basket. And while not all of those shots went in, they're the kinds of shots that he will be able to get and make against NBA competition.

And once again, Allen brought a really impressive game with his other skills. He tallied eight assists and six rebounds, finding his teammates in more of an on-ball point guard role. That playmaking, especially his connection with Georges Niang, was important for the Jazz.

He also brought the trademark Allen fire, including getting into a kerfuffle with Atlanta's Trae Young after picking up three steals and a block. I don't think this is anything malicious by either player, but it shows how physical the contest had gotten, and Allen was clearly bothering Young with his defense.

Allen is still out of shape. He explained that due to the adductor strain he suffered on June 8 during his final pre-draft workout, he hasn't been able to run or play basketball between that date and the beginning of summer league. So Allen came into summer league practices out of shape, and hasn't been able to regain that in the three practices the team had. He did look better than on Monday in this respect, and I'd expect him to be 100 percent at some point in the summer league in Las Vegas.
2. Stanton Kidd shows role-player skills
Stanton Kidd was a late addition to the Jazz's summer league roster, as miscommunication and time differences made it difficult for his international team, Darüşşafaka in Turkey, to give him the required FIBA clearance to play in summer league.

But the former Colorado State forward has been the Jazz's best newcomer so far of the summer league. Kidd had another good game on Thursday, shooting 6-11 from the field and scoring 15 points overall while playing some very good defense on the other end. The two steals and two blocks Kidd accrued show that, but he did much more.

And Kidd did it by playing within the flow of the offense. In his two games, he's taken the shots that he should, moving off the ball intelligently to find himself in open spots and then taking full advantage. This, for example, is just a great cut from an Allen feed.

One frequently-made mistake I see players on the fringe making is trying to do it all. They're so excited to show that they have a jump shot, for example, that they'll force mid-range jump shots outside of the flow of the offense. Or they want to average 20 points to draw the attention of basketball executives, so they'll take 20 shots to get it.

Most teams see right through that tactic. With Kidd, for example, he averaged just 6.4 points per game with his team in Turkey last year. It certainly doesn't jump off the page. But you look at his very good shooting percentages (shot 50/40/80 last year), and note that his team won the EuroCup, and you start to understand what he contributed.

That contribution caught the eye of Jazz executives, and they invited Kidd to their free-agent minicamp in June. He stood out there with his defensive effort, and so the Jazz invited him to summer league. Now, Kidd has caught the eye of an NBA team, despite scoring just six points per game in his league.
3. Trae Young struggles
Trae Young, the No. 5 pick in this year's NBA Draft and the consensus first-team All-American, has had a pretty rotten first three games of his NBA career. He shot only 12-52 from the field (23 percent) and only made three of his 24 3-point attempts during the summer league.
If it were just a case of a player missing open looks, that would be one thing: We know that Young can be a good shooter from his larger college sample. But his shot attempts themselves were nearly all bad, contested looks. Allen blocked one of Young's long 2-point attempts. And when Young ventured inside, it was nearly a guarantee that his shot would be blocked by one of the big men underneath.
While driving, Young got zero separation from his man, even when being guarded by slower big men on switches. It was ugly.
The good news is that Young's passing was at an elite level, and he frequently found open teammates after driving. He operated that aspect of the pick and roll well, so that's encouraging.
But overall, it's reminiscent of another iffy summer league performance: That of Trey Burke. Like his namesake, Burke had an excellent collegiate season leading into his first summer league, and then bombed in the step up to the NBA. Burke shot just 13-54 from the field in those four games in Orlando, nearly the same percentage as Young.
That's not to say that necessarily that Young's career will be as disappointing as Burke's. Young is younger and has more of a passing skill set to go on. But it's certainly not a good sign for what's to come. Summer league matters, and Young will have to work hard to find a way to adapt his game to the NBA.
×
Most recent Sports stories