This archived news story is available only for your personal, non-commercial use. Information in the story may be outdated or superseded by additional information. Reading or replaying the story in its archived form does not constitute a republication of the story.
PROVO — It may seem obvious, but everyone at BYU football media day last week wanted to rebound from the embarrassment of 2017.
Coaches. Staff. Players. Even some of those who weren't around in the fall can't wait to get the sour taste of a 4-9 season out of their mouths.
"We're doing everything so that stuff like that doesn't happen again," running back Squally Canada said during BYU media day. "As players, there are a lot of people doing extra work. You'll see that fire and passion, and that makes you want to go harder.
"Only greatness can come from that. Our motivation is to make sure that we don't have another 4-9 season."
But before the Cougars can think about opening the season Sept. 1 at Arizona, they need to decide on a signal caller.
Who's going to be the starting quarterback? Offensive coordinator Jeff Grimes said he wants to have the list narrowed down to two candidates by the second week of fall camp and potentially decide the full-time starter in advance of kickoff against the Wildcats.
Life doesn't always go as planned. But head coach Kalani Sitake trusts Grimes and quarterbacks coach/passing game coordinator Aaron Roderick to make the decision on their own timetable.
"I like that we have a quarterbacks coach who has made those decisions many times before," Sitake said. "I've been with him during those times. I have an offensive coordinator who has been in those decisions, too."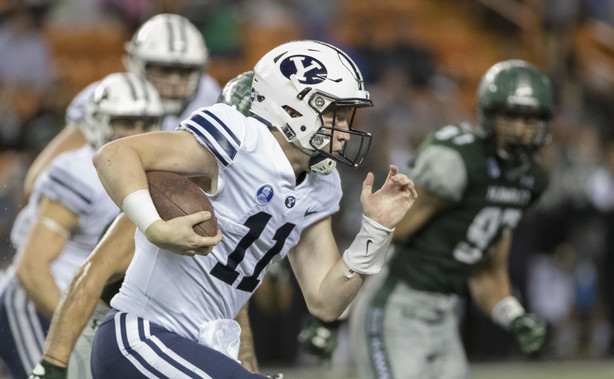 They've got plenty of options, too.
There's Joe Critchlow, the incumbent starter who finished 2-1 as a starter after taking over late in a season having barely returned from a two-year mission for The Church of Jesus Christ of Latter-day Saints in Montreal, Quebec.
Critchlow threw for 642 yards and three touchdowns with four interceptions, becoming the third true freshman all-time to win his first career start with a 31-21 victory at UNLV.
Then there's Beau Hoge, the son of former NFL running back Merrill Hoge, who may be the most athletic signal caller on the roster. Hoge has limited experience, as well, but the redshirt junior has thrown for 394 yards and four touchdowns in sparse playing time over two seasons, and he seemed capable in 2017 before suffering a myriad of injuries in a loss to Utah State that hampered the remainder of his season.
For new blood, true freshman Zach Wilson was the rave of spring camp. A lifelong Utes season-ticket holder and the son of former Utah defensive lineman Mike Wilson, Zach Wilson graduated early from Corner Canyon High School in Draper and enrolled at BYU so that he could fight for the starting quarterback job all spring.
It wasn't all sacrifice, though; Wilson was able to attend the Chargers' senior prom — albeit with a BYU cheerleader on each arm. A talented quarterback who led Corner Canyon to the 5A state semifinals while playing on an injured foot, Wilson was the No. 2-rated quarterback in Utah by 247 Sports and flipped to BYU from Boise State after also receiving offers from Cal, Oregon State and Iowa, among others.
Those three received the bulk of the team snaps during spring camp, while former Maple Mountain High standout Jaren Hall is set to join the quarterback room this summer after serving a two-year mission for the LDS Church in California.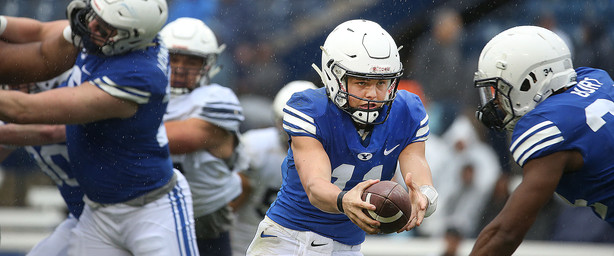 In all of his time as a quarterback coach, Aaron Roderick has never seen a competition as large as he has. He coached a three-man competition at Utah when Brian Johnson eventually won the job — but four, or even five players, is a lot, even for him.
"I think they are more similar than they are different," Roderick said of the QBs. "It's not a wildly different offense with each guy, and that's been nice. They are all good throwers, smart guys, similar in size; we range from 6-2 to 6-4, and right around 205-220 pounds. It's a pretty similar group, to be honest with you."
But who's that in the back of the quarterback room?
You may recognize him as the former star freshman quarterback from Eagle, Idaho, — the one who came off the bench at Memorial Stadium in Nebraska to win his first college game on a Hail Mary pass to the since-graduated Mitch Mathews.
The one who threw for a BYU freshman-record 3,377 yards and 23 touchdowns en route to Touchdown Club of Columbus national freshman of the year honors two years ago. The one who was an Elite 11 co-MVP in high school with current Tampa Bay Bucs quarterback Jameis Winston.
The one who also started just eight games in 2017, completing just 147 of 257 passes and missing the final five games with an Achilles' tendon injury.
Tanner Mangum has ditched his recovery scooter, lost 20 pounds, recovered from that injury that threatened to keep him out of fall camp, and has one final season to prove he can be the guy to help turn around BYU from the 4-9 team a year ago.
"We know what it's going to take: It's going to take a lot of hard work and determination," Mangum said. "But that's part of the beauty of the journey — that's what makes it worth it."
Mangum appeared a more mature, slimmed-down version of his injured self following the 2017 season. He's grown up since then, took on more of a leadership role while wheeling around the sidelines, and finished his degree in sociology last April.
Every day during spring, Mangum reported to practice. Every day, the athletic training staff gave him a recovery plan. And the coaches gave him a small piece of the offense to learn and to grow while he got back on his hobbled foot.
Every day, he excelled — then came back 24 hours later and asked for more, impressing his position coach.
"By the end of spring, he was getting a lot of work," Roderick said. "It was good to see him take those reps — and now the next step is to see how he does in the full-team stuff."
It may seem like typical preseason hype from the outside — unless you've tried to throw a 45-yard pass on a recently-shredded ankle, albeit with no pass rush or oversized defensive lineman rushing your field of vision.
But more important than the physical progression to return to the field is the mental progression.
Opinion
"What I've been more impressed with, though, is the way that his confidence and optimism has grown in the time that I've been here," said Grimes, who came to BYU from Louisiana State. "I see that eager, confident look in his eye.
"He looks great. He's a different guy than he was when I first got here six months ago, and I really like the guy I am seeing now."
With each practice, each throw, and each extra session to Micah Simon and the other returning wide receivers, Mangum was gaining confidence, and working for one final shot to be BYU's starting quarterback, to prove that he can overcome a lot of things in his collegiate career that seems to have run in reverse.
"I think it's easy when you are winning and are successful to keep that passion. But after a bad year, what are you going to do?" Mangum said.
"I would definitely say it's character-building. It's taught me the importance of maintaining that work ethic, that drive and that passion. I've been able to accept hard things as a stepping stone."
×
Photos