Estimated read time: 5-6 minutes
This archived news story is available only for your personal, non-commercial use. Information in the story may be outdated or superseded by additional information. Reading or replaying the story in its archived form does not constitute a republication of the story.
SALT LAKE CITY — President Donald Trump signed an executive order Wednesday that ended the separation of immigrant families at the border.
Reports of children being taken from their parents and held in facilities at the U.S.-Mexico border sparked outrage over the weekend, causing lawmakers from both sides of the political aisle to speak out.
As is common with controversial issues, misinformation and confusion circulated quickly. Here's what's been going on.
Did the Trump administration have a policy to separate families at the border?
Yes and no.
"We do not have a policy of separating families at the border. Period," Homeland Security Secretary Kirstjen Nielsen said in a tweet Sunday.
We do not have a policy of separating families at the border. Period.

— Sec. Kirstjen Nielsen (@SecNielsen) June 17, 2018
That's true. The Department of Homeland Security does not have a blanket policy of separating all families coming through the border. According to a fact sheet from the department, DHS separated children from their parents for one of four reasons:
There is reason to question the familial relationship between the adult and child. From October 2017 to February 2018, there was a 315 percent increase in the number of adults with minors posing as families to gain entry to the U.S., according to DHS.
There is reason to suspect that the "parents" of a family are involved in human trafficking or smuggling. DHS claims minors are often trafficked by unrelated adults and later abandoned after the adults gain entry to the U.S.
There is reason to believe that the parent or guardian of the child poses a safety risk to that child.
If an adult is taken into custody and referred for criminal prosecution. It is illegal for border patrol to detain minors with adults. If an adult is entering the country illegally, they will be taken into the custody of the U.S. Marshals Service. Children will be placed in the care of the Department of Health and Human Services.
These guidelines predate the Trump administration.

The reason everyone's hearing about them now is because Attorney General Jeff Sessions announced a "zero-tolerance" policy in April for immigrants entering the country illegally. He ordered federal prosecutors in border districts to put more emphasis on charging people with illegal entry, an offense that has generally been treated as a misdemeanor — except in the cases of smugglers and frequent offenders.

If a parent is detained for entering illegally, they're referred for criminal prosecution and separated from their children. Again, border patrol cannot detain minors with adults. So yes, there are policies in place that call for children to be separated from their parents in specific circumstances.

Those seeking asylum in the country will not be separated from their families if they come through the proper channels, DHS says, though some aren't given the chance before they're detained.

Since Sessions' announcement, nearly 2,000 children were separated from their families during a six-week period in April and May. HHS can only detain minors for 20 days during which time the department looks for a "sponsor" for the minor — usually a relative or foster family. Unaccompanied minors are then placed in the care of these sponsors until they can be reunited with parents.
What is the Trump administration doing that's different from past administrations?
Trump's "zero-tolerance" policy has resulted in more children being separated from their parents because more parents are being detained at the border and held for criminal prosecution.
Families were rarely detained before the early 2000s, according to the Bipartisan Policy Center.
Former President George W. Bush had a "zero-tolerance" policy too, but families with children were usually exempt from what was called "Operation Streamline" — a process where immigrants entering illegally were rapidly prosecuted and deported. In 2008, Bush signed a law that required unaccompanied minors to be released into the "least restrictive setting."
Under the Obama administration, families were sometimes detained together in Immigration and Customs Enforcement custody. Parents were split from their children if they were arrested, usually on a drug charge or outstanding warrant.
The Department of Homeland Security generally releases families now within 20 days, giving a "get out of jail free" card for families entering illegally and encouraging others to pose as families to take advantage of the loophole, the DHS says on its website.
The practice of separating parents from their children is not unprecedented in U.S. history. Here are several instances in history where children have been separated from their parents.
Did the Trump administration "lose" 1,500 children?
Not really.
The federal government did lose track of nearly 1,500 immigrant children, according to a New York Times report. But not quite in the way that most think.
From October 2017 to December 2017, HHS resettled nearly 8,000 children in the U.S., many of which were seeking safety from violence in El Salvador, Guatemala and Honduras, according to Steven Wagner, acting assistant secretary of the Administration for Children and Families at HHS. Wagner testified in front of a Senate subcommittee in April.
HHS will place children with family, even if that family entered illegally. The department called the parents or guardians of the resettled children to follow up after 30 days. In 1,500 cases, the parents or guardians didn't respond, possibly for fear of being deported themselves, Wagner said.
What about these pictures I've seen going around?
A picture of immigrant children being held in wire "cages" was recently circulated with false captions claiming the photo was taken recently. The photo was taken in 2014 during the Obama administration.
Trump tweeted, calling out the Democrats for circulating the photo.
Democrats mistakenly tweet 2014 pictures from Obama's term showing children from the Border in steel cages. They thought it was recent pictures in order to make us look bad, but backfires. Dems must agree to Wall and new Border Protection for good of country...Bipartisan Bill!

— Donald J. Trump (@realDonaldTrump) May 29, 2018
U.S. Custom and Border Protection released recent photos of children also being held in what could be described as wire "cages," causing further uproar.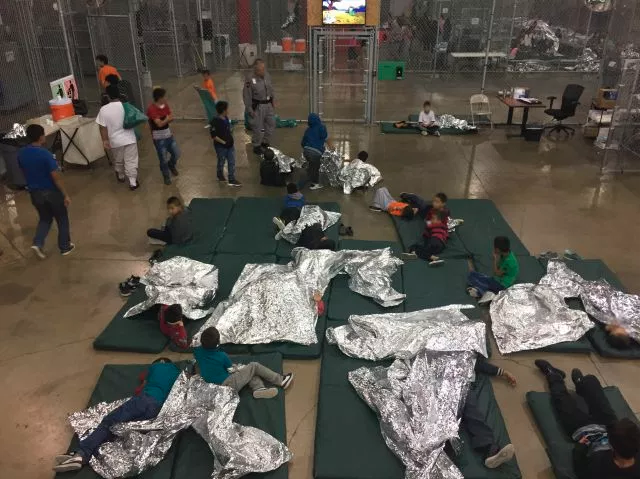 Trump signed an executive order Wednesday to "keep families together," but the "zero-tolerance" policy will continue, he said. Details surrounding the executive order were not immediately made available and it is unclear how the two policies will work together.
×
Related Stories