SALT LAKE CITY — Donovan Mitchell is adding another honor to his rapidly-growing resume.
Mitchell was unanimously named on Tuesday by 100 media voters to the NBA's All-Rookie First Team, joining Philadelphia's Ben Simmons as the only unanimous selections. Jazz teammate Royce O'Neale earned four second-team votes for his performance in the 2017-18 season.
Los Angeles Lakers forward and former University of Utah player Kyle Kuzma also made the first team.
The full voting: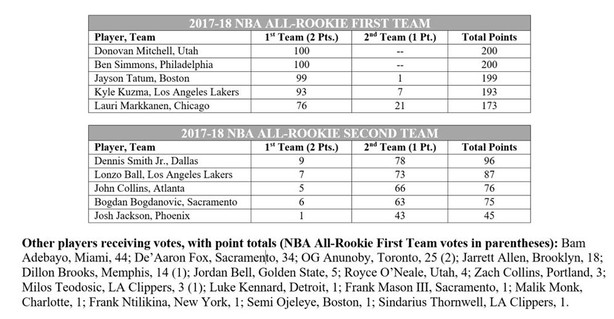 Kenneth Ogbe swapped in
George King, No. 90 on ESPN's Top 100 list, tried to fly into Salt Lake City last night, but his flight was canceled due to a storm at the airport. As a result, he couldn't make it into Salt Lake City in time to complete a Jazz pre-draft workout. Walt Perrin, Jazz vice president of player personnel, said they'll schedule a workout for him on another day.
Since the Jazz still wanted to play three-on-three during the workout, they needed an emergency substitute. Enter Utah Valley's Kenneth Ogbe. Ogbe's friend Austin Eastman literally knocked on his window Tuesday morning to help Ogbe get out of bed.
"I had no idea what was going on, to be honest. I thought I was still asleep. I was like 'Who's this guy knocking on my window?' I look out and it was Austin, and he's like 'Hey, come on man, let's go.'"
Ogbe said he had "about 30, 35 minutes" between when he heard about his chance and when he needed to be at the Zions Bank Basketball Center for the workout. Then, the Jazz gave him a jersey, stretched him out, and he got to play.
"He's intriguing because he's got a lively body, plays extremely hard and shot the ball really well. He's a guy that surprised me," Perrin said. "He's prepared to play whenever the opportunity arises.
Ogbe was named to the 2018 All-WAC first team, but due to his age and size, he's not going to be drafted. But Tuesday's opportunity is exactly the kind of thing that can make or break a summer league chance. Even if it doesn't get that far, basketball folks talk frequently, and it might find him a spot to play basketball professionally overseas.
Australian Jock Landale visits
Saint Mary's Jock Landale also encountered trouble flying into Salt Lake City but was able to find a way in time for Tuesday's workout. There, he tried to impress upon the Jazz's coaches that he's not just the traditional post big man that he was at Saint Mary's.
"I was confined to the post, and that was fine, that got us to win games and that's all anyone wants to do," Landale said. "But I like to think that I am more than just a post player. I pride myself on my passing, rebounding and setting hard screens. I can shoot the 3-ball. I can shoot the mid-range really well."
Landale took part in the Jazz 100 shooting test, where he took 100 shots from beyond the 3-point line in a row while moving around the perimeter between each shot. Perrin was impressed with his shooting ability, especially given that Landale had only made eight threes in his collegiate career.
He is also unlikely to be drafted, but Landale knows the Jazz well, thanks to Australian friends Dante Exum and Joe Ingles.
"Joe and Dante are awesome players, and they've made their mark here," Landale said. "If we keep pulling some Australians in here, that'd be pretty cool."
According to Landale, the Jazz are a "pretty hot property" back in Australia thanks to the multiple Aussie ties.
"It lets us know, if we can work hard enough and we can do the right things on the court because that's what Australians are taught, we can make it to this level," Landale said.
Other notes
Arkansas's Jaylen Barford, Nevada's Caleb Martin, Western Kentucky's Dwight Coleby, and Xavier's Trevon Bluiett were the other players who took part in the workout. Barford is currently No. 95 on ESPN's Top 100 list, and Martin is No. 99. Neither, though, were available to talk the media, as they've yet to hire agents and may still return to their respective schools.
The Jazz have multiple workouts scheduled for the rest of the week, including Wednesday. Most of the leaders in the front office traveled to Chicago last week for the NBA's Draft Combine, watching excellent performances from Kevin Huerter, Donte DiVincenzo and Josh Okogie.
×