This archived news story is available only for your personal, non-commercial use. Information in the story may be outdated or superseded by additional information. Reading or replaying the story in its archived form does not constitute a republication of the story.
BELGRADE, Serbia — Jaycee Carroll is at it again.
The former Utah State hoops star won his second European championship with Real Madrid, coming off the bench to score nine points Sunday in Real Madrid's 85-80 win over Fenerbahce Dogus Istanbul in front of 16,967 fans in the Euroleague final in Belgrade, Serbia.
With the win, the Spanish giants became the first team to win 10 Euroleague titles in the history of the competition, which dates back to 1958.
"How to describe it? Great, because it's not only today, but the whole year through," Real Madrid coach Pablo Laso said. "The way the team stayed together, people out, people in, a lot of problems during the year.
"We stayed together. We kept fighting. And right now, I'm very proud of my players to get this trophy."
Carroll averaged 9.4 points per game over 36 Euroleague contests in 2017-18.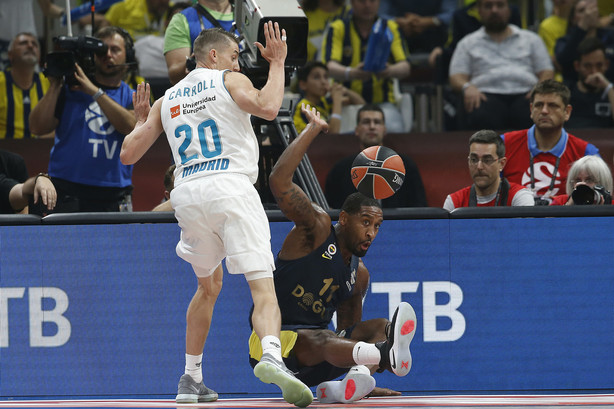 The 35-year-old wing from Laramie, Wyoming, has played with Real Madrid since 2011. He signed with Italian club Teramo Basket in 2008 following a record-breaking all-WAC career at Utah State, then moved to Spanish club Gran Canaria for two seasons before earning a contract with Liga ACB giant Madrid.
Luka Doncic, the No. 2-rated NBA draft prospect, scored 15 points with four assists and three rebounds en route to Euroleague MVP honors.
"Right now, I just want to celebrate with my team," Doncic told ESPN when asked about his next move after Sunday's title. "Soon I will tell."
Fenerbahce's Nicolo Melli led all scorers with 28 points to go along with six rebounds.
×