DRAPER — If consistency is the key to success, Brighton's boys lacrosse program has found it — even if it didn't always seem so consistent Wednesday night in the Class A state semifinals.
Chase Ebeling, Kyler Kehl and Easton Albert each scored two goals to help the Bengals pull past host Corner Canyon 13-9 and into a third-straight state championship match.
"Beyond the coaches and players, the parents, board, school and community are super supportive of this team," Brighton coach Gerrit Schafrath said. "We couldn't do that without all of those things working together.
"It's that community support behind it … at the end of the day, all we as players and coaches need to worry about is just playing lacrosse."
The Bengals will play Park City at 7 p.m. Saturday at Skyline High School.
Corner Canyon's Jacob Simpson had a hat trick with an assist to lead the Chargers.
Simpson had a goal and an assist in the first quarter to help Corner Canyon take a 4-3 edge.
But Bengals goalkeeper Houston Kraenbuhl shut out the Chargers in the second quarter, and Chase Ebeling scored back-to-back goals to lead a 4-0 charge that put Brighton up 7-4 at halftime, when Ebeling had two goals and an assist.
"We just trusted each other. The team trusted each other, offensively and defensively," Kraenbuhl said. "It's pure ecstasy. This is such a great feeling, the best in the world. It means all our hard work is paying off."
Brighton held Corner Canyon without a goal for the entire second quarter, and until Simpson scored his third goal of the match with 5:39 left in the third.
But the Chargers wouldn't die.
"My hat goes off to those Corner Canyon players. With all the injuries they had, it was next man up for them — and they didn't get as tired as we did," Schafrath said.
"They shut down our clears, gave themselves some second opportunities, and it really hurt us. It's unbelievable the amount of players injured they had and how well they did. Unbelievable job by their players and staff.
"But our guys kept fighting, too."
Tyler Walters scored a man-up with just under nine minutes remaining to pull Corner Canyon within three, 11-8. But Brighton's Albert responded with two goals in the final six minutes to help clinch the win and the Bengals' third-straight trip to the state championship.
"This is our third year going to the state championship, and it couldn't mean more to this group of guys," Albert said. "I didn't want my boys' season to end, just like they didn't want mine to end. I had to step up just like everybody else did."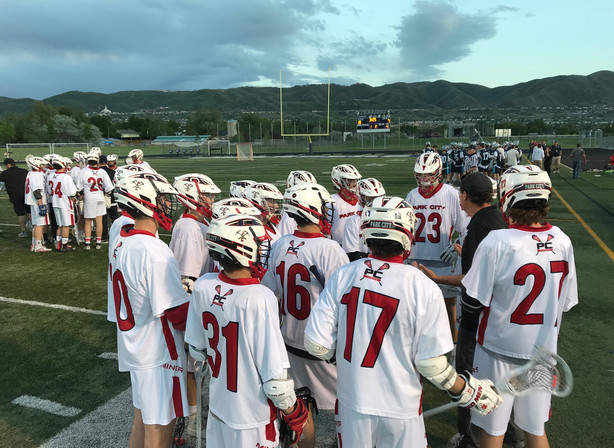 Park City 10, Juan Diego 8
At Corner Canyon, Beau Pederson scored five goals to help the Miners eliminate the defending Class A state champions.
Pederson scored four of the Miners' first five goals to lead Park City to a 6-3 lead at halftime. Pedersen also assisted on Conner Hales' goal with 30 seconds left in the half that gave the Miners the first-half advantage.
"That's a great team, and we knew if we could get on them early, our defense could lock it down," Pederson said. "That was the game plan: be super aggressive early, and then try to possess the ball later in the game."
Park City took an 8-3 lead just two minutes into the second half on Hales' second goal of the match. But the Soaring Eagle cut the lead to three on back-to-back goals, including Sam Burbank's second goal with 4:53 left in the third.
But Pederson's first goal of the second half propelled the Miners to a 10-5 advantage after three quarters to correct course.
Burbank finished with three goals and an assist to lead the Soaring Eagle.
"It means everything," Pederson said. "We've been working so hard, and have been so close for so many years. It's a good time to finally get back there and try to get a championship now."
Spanish Fork will play East in the Class B championship at 4:30 p.m. MT Saturday at Skyline.
×
Photos