SALT LAKE CITY — Three thoughts on the Utah Jazz's 115-102 win over the Oklahoma City Thunder from KSL.com's Jazz beat writer, Andy Larsen.
1. Ricky Rubio catches fire
I never thought Ricky Rubio would have a performance like that. The big question coming into the season regarding Rubio was whether he would be playable in the season's most important moments. Minnesota struggled mightily in the clutch, some blamed it on Rubio. And of course, he'd never played in a playoff game before.
The thought was that when opponents turn up their scouting and defensive pressure, Rubio would become a liability. They'd just leave Rubio open, helping on everything else, and would short-circuit a team's offense.
That couldn't be any further from the truth. In Game 3, Rubio dominated, bringing the Jazz back nearly singlehandedly in the second quarter from a 10-point deficit. He scored 26 points on 9-18 shooting, adding 11 rebounds and 10 assists. It's the first Jazz triple-double, regular season or playoff, since Carlos Boozer had one in 2008. To give you an idea of how long ago that was, Boozer's game came against the Seattle Supersonics.
Rubio held the Thunder defense in his hand, it seemed. Rubio's still incredible at making defenders think one thing is coming, and then dishing the ball somewhere else. Here, Rubio gets trapped on the baseline, and Rubio makes it seem like is only option is in the far left corner. But then he whips the ball around to find Joe Ingles for an open three.
Ricky Rubio on fire video 1: The whole world thinks Rubio is going baseline with this pass once he's trapped, so he slings it out to Ingles for an open three. pic.twitter.com/vVB7bnnRht

— Andy Larsen (@andyblarsen) April 22, 2018
Even more than that, the Thunder were repeatedly biting on Rubio's 3-point shot fakes, even as the guard started 1-8 from deep. Look how high Russell Westbrook jumps on this!
Ricky Rubio on fire video 2: making Westbrook jump like 15 feet in the air on 3-point shot fakes, then cooly nailing fading midrange twos pic.twitter.com/brrJYGFJqP

— Andy Larsen (@andyblarsen) April 22, 2018
If you're biting this hard on Rubio's outside game, he's officially in your head.
This was my favorite Rubio play, though. Thanks to a Thunder miscommunication, Rubio comes off the 3-point line with a wide-open shot, his favorite look. But he realized that the scrambling Thunder defense also left Ingles open on the wing. So he kicked it out, and even though Ingles missed it, Gobert got the rebound, and found Rubio for a buzzer-beating three:
Ricky Rubio on fire three: driving an open paint, turning down the midrange to kick it to Jingles for three, and then after the miss, getting the ball and hitting the one leg up 3-point shot on the move pic.twitter.com/oB59nKL6LI

— Andy Larsen (@andyblarsen) April 22, 2018
With how much Rubio was struggling in December, I never anticipated he was capable of a game like this. But he saved the best performance of his career for the playoffs, despite the doubters. He's absolutely outplayed last year's MVP, Westbrook, for the last two games.
2. Thunder forced to go small, Jazz stay big
The Thunder threw a screwball to the Jazz in the first quarter, substituting Steven Adams out early for Patrick Patterson. That gave the Jazz some trouble in the first quarter, as the Thunder actually went on a 18-2 run spurred by the look.
"It presented some problems for us, no question. I think that Rudy needs to be disciplined. His instinct is to help on penetration and then you give some of those space threes," Jazz head coach Quin Snyder said.
But later in the game, going small wasn't a choice for the Thunder: once again, the Jazz were able to get Adams in foul trouble. Adams picked up his third with nine minutes left in the second quarter, his fourth with eight minutes left in the third quarter. He only ended up playing 26 minutes, and during that time, the Thunder were only outscored by two.
After the early spurt, though, the Jazz seemed to solve the 5-out look. How? Basically, by playing solid man-to-man defense and then anticipating OKC's passes.
The first key of this: putting Donovan Mitchell on Westbrook. Mitchell is the only Jazz player who can approach Westbrook's athleticism, so by allowing him to guard Westbrook, the Jazz faced a pretty good chance of staying in front of him. From there, Westbrook kicked it out, usually to Gobert's man. But Patterson and Jerami Grant aren't skilled ballhandlers, and their passing is pretty easy to predict. Over and over again, the Jazz guessed correctly where those players were passing the ball.
At first, the Jazz reacted really poorly to the Thunder going 5-out. But they cleaned up their contests, and then forced guys like Patrick Patterson to make plays. It's usually pretty easy to guess what he'll do. pic.twitter.com/KpXhaCWdQk

— Andy Larsen (@andyblarsen) April 22, 2018
Facing a barrage of turnovers, the Thunder took some difficult shots in the fourth quarter; some of those went in, mostly by Paul George and Raymond Felton. Notably, Westbrook didn't take a single shot in the fourth.
The Thunder only took 19 shots in the restricted area all night; during the regular season, they averaged 30. Gobert seems to be in their heads, to be honest.
The other downside of playing small: losing the battle of the boards. The Thunder were the regular season's best offensive-rebounding team. Again, the Jazz heavily outrebounded them, getting 13 offensive rebounds to OKC's six. Every member of the Jazz's starting unit grabbed at least one; Gobert had five.
3. What an atmosphere
I think that was the single best atmosphere at a Jazz game since Stockton and Malone. The Jazz's gambit of giving out yellow, orange and red shirts and playing in the City uniforms and court worked wonderfully. It looked incredibly good in person, on TV and gave us terrific photos like this: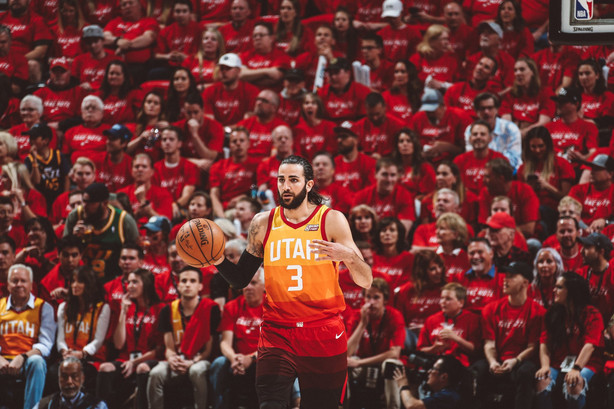 But it wasn't just a visual treat: that crowd was loud, impacting the game from the tip to the final buzzer. Fans taunted George with a "Pushoff P" chant, mocking his self-given nickname of "Playoff P" before the series began. When Rubio played his best ball, fans chanted "Ru-bi-o," so loudly that Mitchell actually asked the crowd to quiet down while Rubio shot three free throws. He made all three anyway.
Players on both sides loved the atmosphere — obviously, the Jazz did. Mitchell said it was the loudest crowd he's ever played in front of, and Snyder struggled to find the words to describe it.
"It was tremendous," he eventually said. "We're grateful for our fans, that they were that engaged. And it has an impact. I think it has an impact."
Even Carmelo Anthony liked playing in Vivint Arena Saturday night.
"To me, it was a great atmosphere. It was a fun game aside from the loss," Anthony said. "Everything else, the atmosphere, playing in front of these fans, on the road ... these are fun games."
There's no doubt: a tremendous night for Jazz fans, who had the privilege of watching a tremendous performance from their team.
×