Estimated read time: 4-5 minutes
This archived news story is available only for your personal, non-commercial use. Information in the story may be outdated or superseded by additional information. Reading or replaying the story in its archived form does not constitute a republication of the story.
PROVO — Former BYU standout Nick Emery let Cougar fans breathe a sigh of relief recently when he revealed his plans for next year.
"My plan is to be back in Cougar blue," he tweeted early Wednesday morning.
His head coach has the same plan—even if it's not official yet.
"If I were on Twitter, I would tweet that we have intentions to have Nick come back," BYU coach Dave Rose said Thursday morning on BYUtv. "If you were asking me if it's going to happen, I would say yes. But there are a lot of things still involved. We're really excited to get him back."
My plan is to be back in Cougar Blue .. we all have challenges in life but I believe strongly that God doesn't put us through a trial we can't handle! God Bless Everyone. If I can help anyone out in their struggles please visit https://t.co/9wfkQTmFl6 .. new video coming soon 🙃

— Nick Emery (@NickEmery04) April 11, 2018
The entire BYU athletic department appears to be on the same side as Emery, then. The former Lone Peak High star averaged 13.1 points, 3.0 rebounds and 2.4 assists per game as a sophomore in 2016-17 but left school prior to this past season at the height of an NCAA investigation that involved allegations of improper benefits.
In a statement at the time, Emery cited his recent divorce and other personal issues as the reason for his departure, and teammates were quick to jump to his aid in support of the Cougar shooter's leave of absence.
"That's been a very hard thing for Nick to go through," athletic director Tom Holmoe told reporters during a media roundtable in January. "We love Nick, and we're doing everything we can to make sure that we can bring him back and make it work.
"Everything needs to be taken care of and done in the right way to make sure that we can bring him back."
Emery isn't the only current player Rose is working to re-recruit to BYU, though. A potential change to the NCAA transfer policy could increase transfers across the nation, with one option reportedly giving a free-transfer waiver to student athletes who meet a minimum GPA requirement.
Just under 50 percent of Division I basketball players on current rosters are transfers, Rose said, and the final decision that will be made this year could dramatically impact the college basketball landscape—including his own program.
"Things are on the table, and I would imagine in the next couple of years, the transfer rules will change in college basketball," Rose said.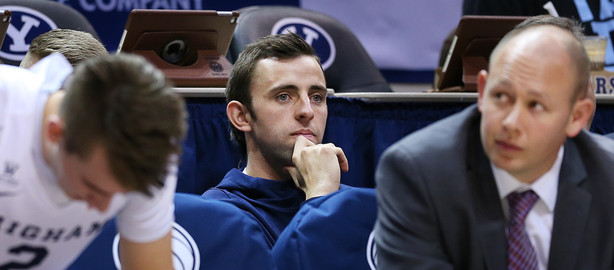 Elijah Bryant could become one of those graduate transfers as well. A senior academically who averaged 18.2 points and 6.3 rebounds in 2017-18, the 6-foot-5 redshirt junior from Gwinnett, Georgia, is set to graduate this semester, according to BYU.
Bryant played one season at Elon University in North Carolina, where he averaged 14.2 points, 4.2 rebounds and 2.7 assists en route to Colonial Athletic Association Rookie of the Year honors in 2014-15. He transferred to BYU a year later, sat out the 2015-16 season with a redshirt, and at least one source in Provo believes Bryant could test the NBA draft waters like his teammate Yoeli Childs.
By declaring for the draft without hiring an agent, college basketball players become eligible to be invited to NBA workouts beginning April 24. The same players have until May 30 to decide to stay in the draft and forfeit any remaining college eligibility, or return to school.
"They want to investigate it, see how it plays out," Rose said. "But the rules and the timelines are the difficult things. If your player decides to stay in, it's tough to make it up—and even more difficult at BYU because of admissions deadlines and qualifications."
BYU admissions also make transfers—and graduate transfers, in particular—difficult to bring in. Rose said the university wanted admission applications from graduate transfers with his team to be turned in by late January—before the Cougars (and most of the country) had been to the end-of-season West Coast Conference Tournament.
Rose's next task is finding a replacement for assistant coach Heath Schroyer, who left to take the head coaching job at McNeese State in Louisiana. Rose said he plans to begin interviewing candidates in the next 7-10 days.
"That's another challenge," he added. "Hiring at BYU is a lengthy process and extremely detailed and complicated."
Emery's return to BYU's roster would put the Cougars at 15 players; they didn't have a single senior on last year's squad, creating a unique bond among the players during the season.
"To the fans and to the media, you see a very small part of an entire seven-month season that we go through in those games. That's the most important part," Rose said. "But what these guys will remember is most important to me, how they stayed together through a lot of challenges and the team that we thought we'd have."
×
Related Stories