SANDY — Mike Petke, the native New Yorker who spent much of his days roughing up the streets of New Jersey, has been to the African savannah and stared into the face of lions.
But Real Salt Lake's second-year head coach has scarcely faced more soul-searching than he did after RSL's 5-1 thumping at the hands of expansion side Los Angeles FC in last Saturday's home opener at Rio Tinto Stadium.
"I had a tough 48 hours—but that's not an acceptable answer to the boss, the owner, the supporters who came out and supported us," Petke admitted during the first episode of the "Mike Petke Coach's Show" on the KSL TV app. "I take full responsibility because at the end of the day, it is my job to get the guys ready to play."
The best thing Real Salt Lake can do to repay the lost confidence in the squad is put in a better effort when the New York Red Bulls visit Sandy at 7 p.m. MDT Saturday.
"The supporters who came out did not deserve that; the front office who worked their butts off to get that stadium filled did not deserve it," Petke added. "The best we can do is move on."
Diego Rossi, who scored a brace in LAFC's rout Saturday, terrorized RSL's back line en route to MLS player of the week honors. But Petke insisted he has not lost the locker room or any confidence in his team following the thrashing—at least, not yet.
"I have not lost faith in this team, and this one result will not make me put five heads on the chopping block," he told RSL analyst Brian Dunseth. "However, how they respond to this could have a lot to do with that.
"They did not become bad players in just one game or because of one result. It's about getting over that as quickly as possible."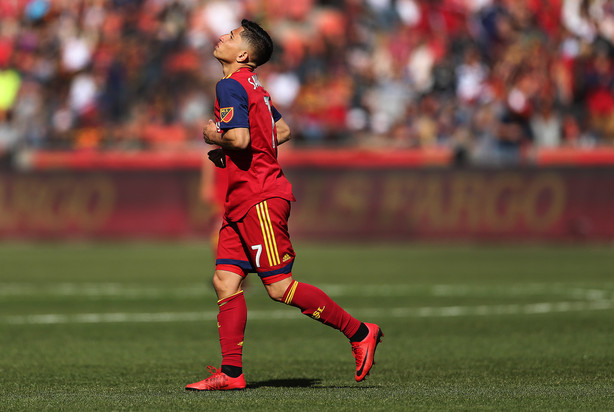 That doesn't mean that Real Salt Lake (0-1-1) is moving on with a "forgive-and-forget" mindset. There was that rough 48 hours Petke mentioned, and team captain Kyle Beckerman referenced a few players' meetings early in the week, as well.
"We had meetings, aired some things out, and now it's just about getting back to work and trying to get better and get ready for the next game," Beckerman said after training Tuesday.
Dunseth, an RSL original who has served as a radio and television analyst for the team since 2014, called the game an "anomaly"—insisting that it didn't represent Petke's philosophy, lack of coaching or strategic intervention.
The 42-year-old coach wants to prove it, though, as his team plays for pride this weekend against the Red Bulls—his former club, both as a player and coach.
"It's not just personal pride; it's pride in the organization," said Petke, who led the Red Bulls to the 2013 Supporters Shield. "We had a pretty pointed meeting, and the players are holding themselves accountable.
"Now is about showing the supporters and the organization that this was a one-off."
Honoring Wingert
Saturday's match will also serve as a tribute to former RSL defender Chris Wingert, a longtime defensive stalwart for the club who announced his retirement at the dawn of the 2018 preseason.
"He won't always be looked at as the big broad name that fans are pulled toward," Dunseth said of Wingert, a Long Island, New York, native. "But inside the locker room, he's kind of the Designated Player of the locker room; he holds players accountable, he brings his A-game, and in the locker room, there aren't many better than Chris Wingert."
Watch the entire "Mike Petke Coach's Show" on the KSL TV app.
×
Related Stories