Estimated read time: 4-5 minutes
This archived news story is available only for your personal, non-commercial use. Information in the story may be outdated or superseded by additional information. Reading or replaying the story in its archived form does not constitute a republication of the story.
LAS VEGAS — On Saturday night after a grueling 85-79 win over San Diego, BYU forward Yoeli Childs sat in the postgame interview room at Orleans Arena and made a declaration in favor of the Cougars winning the West Coast Conference tournament.
"Everyone has hope that they are going to win this whole thing," Childs said. "Nobody is going to back down."
He went on to say he wouldn't be surprised if the Cougars beat No. 20 Saint Mary's in the WCC tournament.
And he wasn't surprised Monday night.
Childs had a career-high 33 points to go with six rebounds and two steals to lead BYU to an 85-72 win over No. 20 Saint Mary's in a West Coast Conference semifinal Monday night at Orleans Arena in Las Vegas.
"I think we are built for this," Childs said after the stunning upset. "We feel like we are built to win these kind of tournaments."
Elijah Bryant added 25 points and five rebounds for the Cougars (24-9), who got 11 points and seven assists from TJ Haws as well as 10 points, six rebounds and four assists from Dalton Nixon.
"The fact that we won this game is what makes it so sweet," BYU coach Dave Rose said. "Our guys were on it. They played tough, they played together, they executed well and made big shots. It's how you win — a pretty good formula."
The Cougars, who advanced to face No. 6 Gonzaga after the Bulldogs' 88-60 win over San Francisco, limited Saint Mary's star Jock Landale to 23 points and four rebounds — with "limit" in full air-quotes by Rose and others who rate the Australian standout as the best player in the West Coast Conference.
"He was 9-for-13; I don't know if we really figured him out," Childs said. "He's an amazing player. He's just really tough to guard.
"Our guards did a good job of digging down and getting into rotations, so I think it was just a team effort. That's a guy who it takes five guys to guard."
On Monday night, Landale couldn't find much rhythm before he fouled out in the final moments.
"It's something I can't do. Every loss we've had, I've been in foul trouble," Landale said.
"There were a couple that didn't go my way tonight, and I've got to understand that in order for us to win, I can't be getting in foul trouble."
Landale was scoreless from the field until a dunk with 10 minutes left in the first half, and the 6-foot-8 big man from Australia drew his third foul Nixon's drive to the rim during BYU's 10-2 run in the final minutes before the break.
BYU, meanwhile, shot 61 percent from the field, while the Gaels (28-5) made 28-of-56 from the field.
"I don't think it was so much of what they did. We've just got to play a lot tougher than we did tonight," said Jordan Ford, who led Saint Mary's with 27 points.
"It starts with one stop at a time."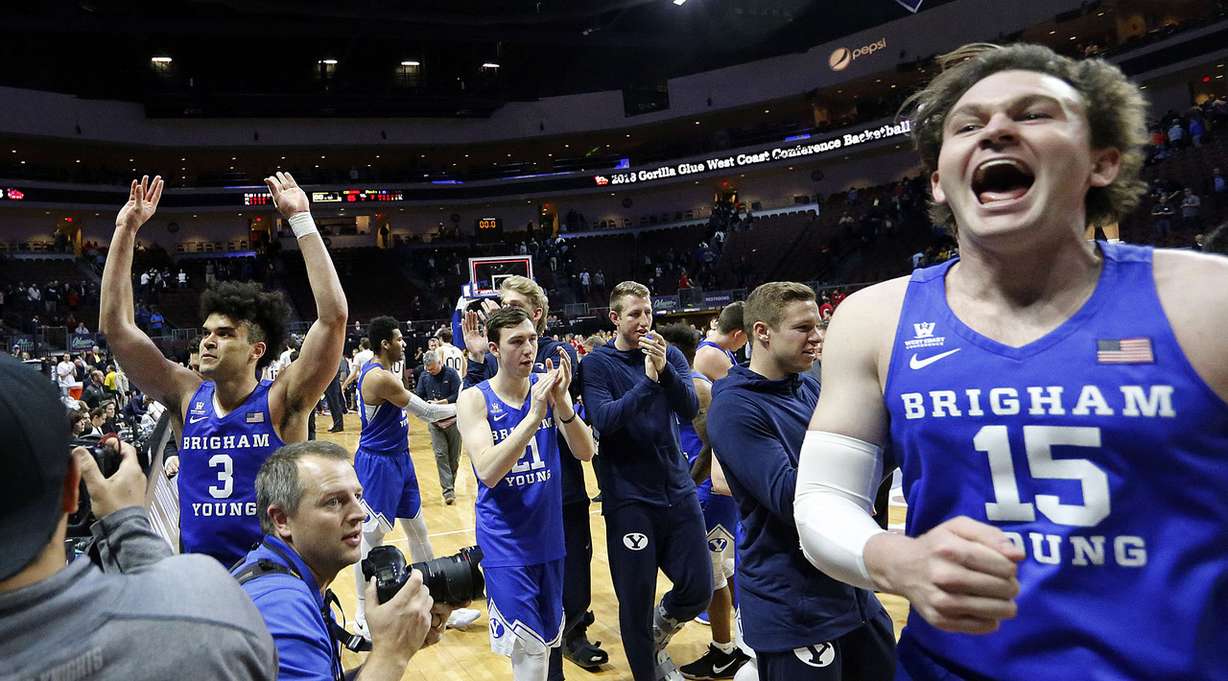 Saint Mary's head coach Randy Bennett agreed with his player.
"We were not very good defensively. I don't know why; we just weren't," Bennett said. "We got out-hustled. It's just effort. When you play good teams at this stage in the season, you can't give up that.
"We weren't even close to being on top of our game defensively."
BYU advanced to its first conference tournament final since 2015, when they lost back-to-back championship games to Gonzaga.
Saint Mary's scooped up five offensive rebounds on its first 10 missed shots. But after the break, the Cougars held the Gaels to just four offensive boards.
"Rebounding is all about effort," Nixon said. "We all got together and decided to give it our best effort on the glass, and make sure they didn't get any second shots."
Childs tied a career high with 18 points in the first half, matching a mark set in the Cougars' 85-58 win Nov. 29 at Utah Valley. His 3-pointer in the final seconds of the half gave the Cougars a 41-37 lead at the break.
Saint Mary's made a run early in the second half, going to Landale on consecutive possessions and causing Luke Worthington to draw his fourth foul just four minutes in.
The Gaels trimmed the deficit as low as one with Worthington forced to the bench, but didn't take the lead. Nixon's 3-point play — a play that also gave Hermanson his third foul — highlighted a 10-0 run to give the Cougars a 64-54 lead with 9:08 remaining and helped them hold on for the highest-rated win of the year.
×
Photos
Most recent Sports stories