Estimated read time: 6-7 minutes
This archived news story is available only for your personal, non-commercial use. Information in the story may be outdated or superseded by additional information. Reading or replaying the story in its archived form does not constitute a republication of the story.
TAYLORSVILLE — Since the Utah High School Activities Association first recognized girls basketball prior to the 1976 season, there's been one mention of the East High program in the association's annual record book.
Perhaps it was the only noteworthy mention of the Leopards in the 42-year history of the sport, when on Jan 4, 2002, former Bountiful star Nancy Seljaas scored 21 points in a quarter against the Leopards, a mark that still stands as the fourth-most all-time.
East added another mention Saturday afternoon, after a lengthy battle with Timpview and a heavily accumulated foul count.
Rita Satini had 17 points and three steals, and Lani Taliauli and Lani Falatea each added 12 points and three assists to help the Leopards lift the first girls basketball state championship in school history with a 68-48 win over Timpview at Salt Lake Community College.
"We felt great energy from the start of the game to the end of the game," said Satini, who also had three rebounds and four steals. "We mainly focused on our defense and slowing the game down, doing us the whole time.
"We stuck together and had everyone's back."
Rae Falatea had 11 points and four rebounds for East (23-2), a school known more for winning boys soccer titles and its recent run of football success under current head coach Brandon Matich.
But in his second season directing the program, Olosaa Solovi, an assistant under Matich in the fall, completed an exceptional turnaround.
"These girls came from a lot of tough economic situations, but never made any excuses," Solovi said. "They bought into the offseason stuff and didn't want to do it. It was a commitment to the team.
"My hat goes off to Timpview. They did a great job. But I'm just overwhelmed with joy for these girls. I could have handled a loss — but I couldn't handle seeing them lose. That would've been hard for me. I'm so proud of them."
It's time to hang a completely different banner in the East High gymnasium.
"Basketball is our everything at East; our football boys were all here supporting us," said Taliauli, who shot 3 of 3 from 3-point range. "We're their No. 1 fans, too. At our school, we're like a family."
Shalyn Fano and Ella Pope each had 16 points to lead Timpview (20-5), and the Thunderbirds got eight points and four rebounds from Jazzy Espinoza, who returned from a season-ending knee injury a year ago to lead her team to the state final.
"We did the same thing in football, the same principles, and we just brought them to basketball," Solovi said. "There's no substitute for hard work and being committed to the team.
"We're not a basketball school. We obviously don't have girls who come up and play on a bunch of AAU teams. But they came to play, they bought in, and I'm proud of the girls."
The Leopards got out to a fast start, though. East scored the first seven points of the game, including a smooth 3-pointer from Taliauli.
The team in the home white uniforms took a 12-4 lead when Rae Falatea grabbed her own missed field goal for the put-back with 4:05 left in the first quarter.
Espinoza's first three of the game pulled the Thunderbirds within three, 14-11, with 43 seconds left in the quarter. But Satini and Falatea answered with back-to-back triples of their own and the Leopards took a 20-11 advantage after the first quarter.
Satini scored off one of her three first-half steals to cap a 15-2 run that gave East a 35-13 lead with 4:13 left in the half.
"Our starting five just came out and stepped up with leadership," Satini said.
5A semifinals
Timpview tried to cut into the lead before halftime. Kennedy White capped a 7-0 run with a 3-point play with 2:07 left. But East matched that effort, and a banked 3-pointer at the halftime buzzer lifted the Leopards to a 46-24 lead at the break.
The Thunderbirds committed 12 first-half turnovers, with East coming away with nine steals, to swallow the early deficit. Taliauli, the 6-foot center with a smooth 3-point shot and one of just three seniors for East that also include starter Liana Kaitu'u, had a game-high 11 points — including two of the Leopards' seven first-half 3-pointers for the 22-point halftime lead.
Timpview became the aggressor in the second half. The Thunderbirds went right at Rae Falatea on the first two possessions after the break, causing the East junior to pick up her third and fourth fouls on consecutive counts barely 1:16 into the half.
Fano scored six during an 8-0 run to start the third quarter as Timpview cut the deficit to 46-32 while the Leopards accumulated a heavy foul count in the first six minutes of the quarter.
With the starters drawing foul trouble at an accelerating rate and her sister relegated to the bench, Lani Falatea played like a veteran. The freshman raced in to score off a turnover with 2:32 remaining in the third to keep East's title hopes afloat, and the Leopards held on to an 18-point lead after three quarters.
"I think it's all about heart," Falatea said. "It wasn't just about me; it was the team building the momentum. It was really such a team effort.
"It was a lot, having our starters in foul trouble. But our bench really stepped up and came in ready to play."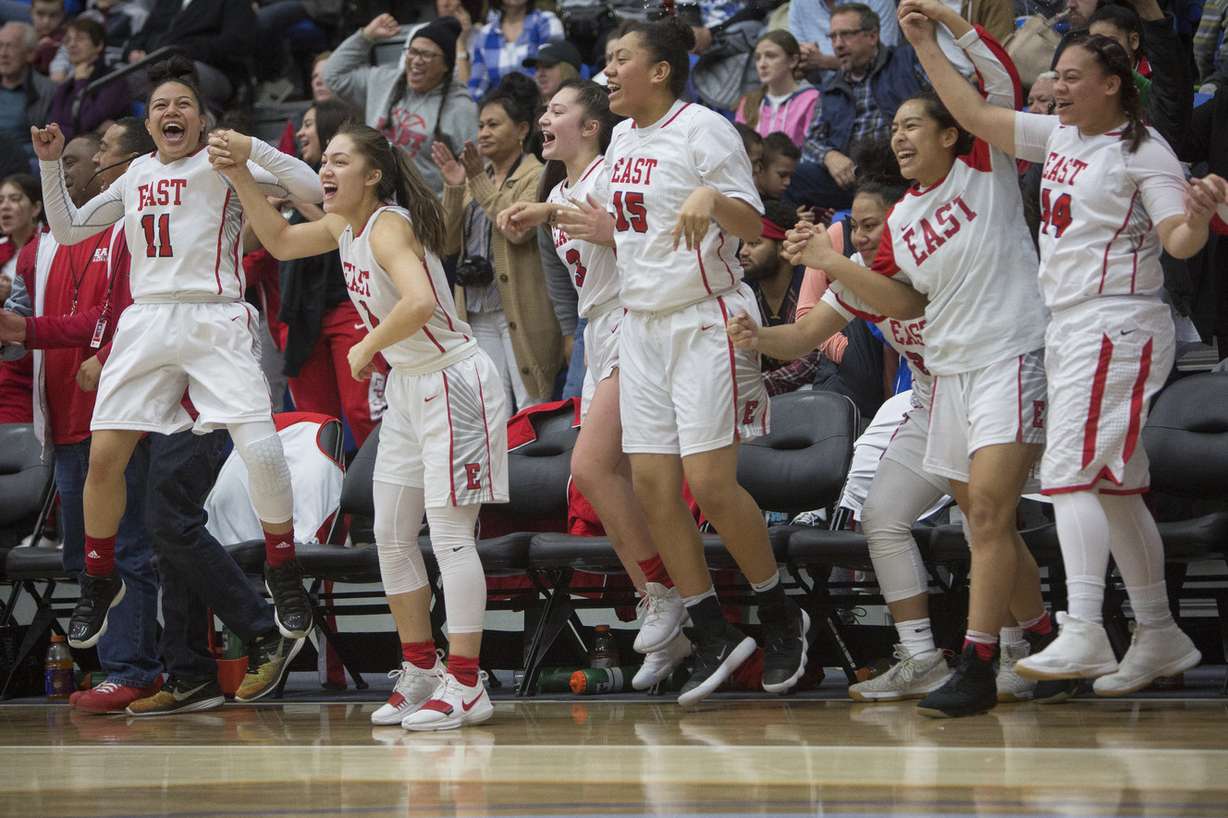 Through a combination of missed shots and the devastating loss of shooter Hannah Glazier to a knee injury, Timpview couldn't make a dent in the 20-point margin through the first half of the fourth quarter.
"Yesterday we came out of halftime and (Highland) came back into the game," Satini said. "We didn't want that to happen again, so we came out strong and finished the game."
It's likely this won't be the last time these two teams play. Timpview returns every starter for the 2018-19 season, while East loses just three total seniors.
Two of them, of course, are Taliauli and Kaitu'u.
"We didn't want to win region or anything else; the only thing we wanted to win was state," Taliauli said.
But that's a problem for another day. For now, the Leopards will celebrate a girls basketball breakthrough.
"Coming back next year, we'll work in the offseason and be back next year," Lani Falatea said. "After winning this, I know we will have high expectations and everyone will come at us next year.
"But I know if our team has the same heart and want as this year, then we can definitely do it again."
×
Photos
Related stories
Most recent Sports stories