This archived news story is available only for your personal, non-commercial use. Information in the story may be outdated or superseded by additional information. Reading or replaying the story in its archived form does not constitute a republication of the story.
SANDY — The Utah Royals' inaugural roster is nearing completion.
The Sandy-based National Women's Soccer League side announced five additions to the club Thursday morning, bringing in midfielder Meagan Kelly, forward Brittany Ratcliffe, midfielder Alexa Newfield, defender Sydney Miramontez and midfielder Lo'eau Labonta from the now-defunct FC Kansas City.
Utah acquired the rights to the five players via league allocation when Kansas City folded its franchise just days after the Royals joined the league.
Kelly is a native of Kansas City, where the 5-foot-5 dual American/Canadian citizen was drafted by FCKC in the 2015 NWSL college draft. After a year at UMF Stjarnan in Iceland and a brief stay in Finland, Kelly returned to Kansas City in 2016 to score five goals in 22 appearances.
A U.S. youth international, Kelly has appeared in three games for Canada's senior team, earning one assist.
Ratcliffe was drafted in the 2016 draft by the Boston Breakers but made the move to Kansas City in 2017. She scored once in 22 appearances for the two-time NWSL champions.
Newfield scored 38 goals during a collegiate career that began at Georgia and ended at perennial title contender North Carolina. A 2016 draft pick by Kansas City, she has two goals in her young career.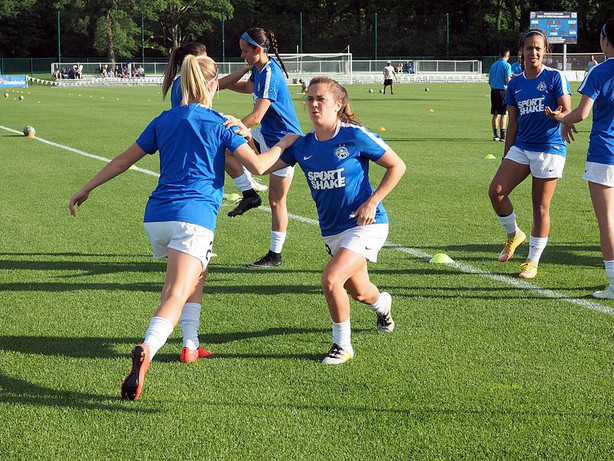 Miramontez was signed by FC Kansas City as a tryout player, but the Lenexa, Kansas, native made five appearances as a rookie in 2017. Following the season, she was invited to the U.S. Under-23 national team training camp, the first international experience of her career.
Labonta, who played at Stanford, was drafted by New Jersey-based Sky Blue FC in 2015 but signed with FC Kansas City in 2016. She appeared in 33 games over two seasons, scoring two goals. Currently playing on loan with Australia's Western Sydney Wanderers, Labonta will move back to Utah in mid-February in time for preseason training camp Feb. 19.
The Royals open their inaugural season March 24 at Rio Tinto Stadium.
Utah Royals FC 2018 roster
| Name | Pos. | Previous team |
| --- | --- | --- |
| Becky Sauerbrunn | DF | FC Kansas City |
| Desiree Scott | MF | FC Kansas City |
| Taylor Lytle | MF | Sky Blue FC |
| Kelley O'Hara | FW | Sky Blue FC |
| Gunnhildur Jonsdottir | MF | Valerenga (Norway) |
| Diana Matheson | MF | Seattle Reign |
| Nicole Barnhart | GK | FC Kansas City |
| Taylor Campbell Isom | DF | BYU |
| E.J. Proctor | GK | Duke |
| Erika Tymrak | MF | FC Kansas City |
| Mandy Laddish | MF | FC Kansas City |
| Brooke Elby | DF | Boston Breakers |
| Katie Stengel | FW | Boston Breakers |
| Abby Smith | GK | Boston Breakers |
| Amy Rodriguez | FW | FC Kansas City |
| Meagan Kelly | MF | FC Kansas City |
| Brittany Ratcliffe | FW | FC Kansas City |
| Alexa Newfield | MF | FC Kansas City |
| Sydney Miramontez | DF | FC Kansas City |
| Lo'eau Labonta | MF | FC Kansas City |
*announced to date
×
Related Stories