This archived news story is available only for your personal, non-commercial use. Information in the story may be outdated or superseded by additional information. Reading or replaying the story in its archived form does not constitute a republication of the story.
SANDY — Former BYU defensive standout Taylor Campbell Isom was watching the National Women's Soccer League college draft Thursday morning with her husband, former BYU outfielder Andy Isom, with intent.
The Alta High product had registered for the draft after wrapping up her college career last fall — two years longer than she originally anticipated.
She hoped to be drafted, but could've gone anywhere; maybe to New Jersey-based Sky Blue FC, or to join former teammate Ashley Hatch, now at Washington Spirit.
Then her phone rang. An international number popped up. Her heart rate doubled as she realized it was likely coming from new Utah Royals coach Laura Harvey.
Isom was staying home.
With its first-ever NWSL college draft pick and the No. 14 overall selection, Utah Royals FC selected Isom. She jumped up and down, screaming.
"I have always dreamed of being a professional soccer player, and now that is a reality," said Isom, who prepped at Alta High, just a few miles from Rio Tinto Stadium. "It is incredible that I get to play in a stadium that I've been visiting and watching games in since I was little.
"It's so cool that I get to call the stadium where I won a high school championship and played in, home. I used to come and watch games here, and now I get to call that stadium home."
In case you forgot how rock-solid Taylor's defense is, here's a reminder.

Good luck in the @NWSL draft tomorrow, @taylor_isom2! #BYUwSOC#GoCougspic.twitter.com/ToV1PSDkGZ

— BYU Women's Soccer (@byusoccer_w) January 18, 2018
BYU teammate Nadia Gomes was selected in the third round by the Orlando Pride. The transaction gave BYU two picks in the NWSL draft in consecutive seasons, joining former No. 2 overall pick Ashley Hatch (now with Washington Spirit) and No. 11 pick Michele Murphy Vasconcelos (currently with Chicago Red Stars).
Isom anchored a defense to six shutouts en route to a 7-8-4 record as a senior with a 4-4-1 mark in West Coast Conference play.
A three-time state champion, Isom won titles with the Hawks in 2008, 2009 and 2011 — all clinched at Rio Tinto Stadium under legendary Alta coach Lee Mitchell. After her all-state prep career, Isom moved on to anchor a Cougar defense that was ranked in the Top 25 for all four years of her collegiate career.
When Harvey was looking for a young, up-and-coming central defender who had "the potential to play in this league for a long time," she identified Isom quickly. And that she happened to have grown up down the street from the stadium was "a little icing on the cake."
"She has the athleticism and the pace to be very good in this league," Harvey said. "She's a lefty that I think adds balance to our back line. I pride myself in defending as a team, and I think she will do a very good job of that."
Isom finished her BYU career with two goals and an assist on just six shots on goal while playing out of the back and was an all-west region second-team honoree as a senior in 2017.
"When I was growing up, people would ask me what I wanted to do and I would always say I wanted to be a professional soccer player," Isom told KSL Sports before the draft. "It's very exciting, and I definitely want to play wherever. But Utah will always hold a very special place in my heart, and this (new NWSL team) is awesome."
Isom joins a defensive pairing that also includes Royals captain and U.S. international star Becky Sauerbrunn, who was the first-ever player to enlist with the NWSL expansion side that will begin play at Rio Tinto Stadium in March.
"Now that I have been drafted, I just want to go in and soak in everything I can. I want to learn," Isom said. "I grew up following Becky Sauerbrunn, Kelley O'Hara, and Desiree Scott, and I want to follow in their lead and do everything that the coaches ask of me."
The Royals traded a pick to New Jersey's Sky Blue FC in a transaction that brought U.S. international star Kelley O'Hara and Taylor Lytle to Salt Lake prior to the draft, making Isom's selection their inaugural pick. The Sandy-based NWSL expansion club had the No. 14 and 34 overall picks in the four-round draft.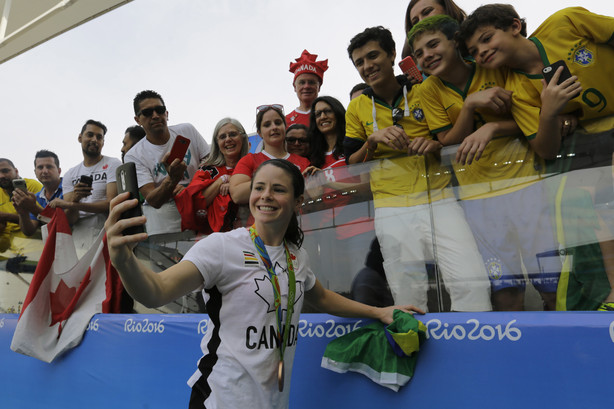 Utah also traded its third-round pick to Seattle Reign FC, sending Yael Averbuch to Seattle in exchange for midfielder Diana Matheson in a trade announced Thursday morning.
Matheson led Washington to the NWSL championship game in 2016, but sat out most of the 2017 season with a knee injury after joining Seattle.
The 33-year-old Canadian native has 169 caps with Canada, with 16 goals in her international career — perhaps the most exciting being the game-winner in the bronze-medal game of the 2012 Olympics against France. Since joining the NWSL in 2013, the 5-foot Matheson has scored 23 goals.
Matheson joins fellow Canadian international Desiree Scott in the Royals' midfield, and the duo should feed off one another's playing style.
"Diana offers the middle of the field, out wide, and the majority of her goals scored in the league have come from out wide. She's an unorthodox winger," Harvey said. "Desiree is the glue; she's the one who does all the horrible work so that people like Diana can shine. That balance between them will be vital throughout the season."
The Royals also added Duke goalkeeper E.J. Proctor with a fourth-round pick. A first-team all-Atlantic Coast Conference selection, the 5-foot-8 native of Wilson, North Carolina was the 2015 NCAA College Cup Most Outstanding Player on defense in helping the Blue Devils to a second-place finish nationally.
"I've never been to Utah, but I had a few friends from high school who went to BYU," said Proctor, whose full name is Emma Jane.
Proctor was one of 13 players from Duke selected in the 2018 NWSL draft. She'll join a goalkeeping reserve that includes U.S. international Nicole Barnhart, acquired by Utah as part of the now-defunct FC Kansas City roster.
"Any goalkeeper coming into this league has arguably the hardest position to get the start," Harvey said. "It's the most competitive league in the world, so you should have 10 of the best goalkeepers — and that's a huge challenge for collegiate players. But (Proctor) is great with her feet, and to play the way I want to play, you've got to be good with your feet."
Gomes had 23 goals and 23 assists in four seasons at BYU, including a career-best nine goals as a sophomore in 2015 when she earned West Coast Conference player of the year honors.
The 5-foot-6 former prep standout from Brighton High received numerous conference and regional awards, including all-United Soccer Coaches west region honorable mention honors as a senior.
"I'm really excited to start this new journey," Gomes said. "Thanks to my parents and my coaches for all their support."
In Orlando, Gomes will join U.S. international Alex Morgan and five-time FIFA women's player of the year Marta.
"I'm really excited to play with them and to learn from them," said Gomes, a native of Portugal.
Stanford midfielder Andi Sullivan, who has already been capped by the U.S. women's national team, was the No. 1 overall pick by the Washington Spirit. The 2017 MAC Hermann Trophy award winner led the Cardinal to a national championship after coming back from a devastating tear of her anterior cruciate ligament just over a year ago.
Considered the best college player since 2014 top pick Crystal Dunn, Sullivan was followed by South Carolina's Savannah McCaskill to Boston, Duke midfielder Rebecca Quinn to Washington, West Virginia forward Michaela Abam to Sky Blue, and Duke forward Imani Dorsey to Sky Blue.
A complete list of every selection can be found at nwslsoccer.com.
The NWSL kicks off its sixth season of play March 24.
×
Photos
Related Stories