This archived news story is available only for your personal, non-commercial use. Information in the story may be outdated or superseded by additional information. Reading or replaying the story in its archived form does not constitute a republication of the story.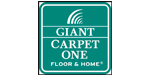 This story is sponsored by Giant Carpet One Floor & Home. The one store for your perfect hardwood, carpet, laminate, vinyl or tile floor!
Flooring strongly influences the presentation, ambiance and functionality of your home. By taking the time to explore the pros and cons of each style you can ensure your choice will fit your lifestyle and budget.
Flooring is typically the largest surface in your home and sets the tone for the entire space. Choosing the right flooring can add warmth, style and comfort to your living spaces. The following six categories are the most common flooring options.
Carpet
Carpet represents 51 percent of the total U.S. flooring market according to the Carpet and Rug Institute. Homes looking for softness underfoot often turn to this long-standing staple. Carpet can be budget-friendly, but higher-end products multiplied by the amount of surface you need to cover can drive up costs if you aren't careful. Carpet tiles can be easy to install but most opt for professional installation.
Some of the main concerns of carpet in homes are keeping them clean. Stain removal can be difficult. Carpets also absorb moisture so with spills or very humid climates (not a problem in Utah), you can have undesirable results.
Still, carpet has retained its place in the flooring industry through the years. In fact, it remains the most popular floor covering choice, according to the Utah Floor Covering Association.
Hardwood
Hardwood flooring is a classic choice of many homeowners and businesses. The sheer volume of hardwood flooring types, sizes and colors, coupled with its durability and charm, secure its place in the flooring market.
What makes hardwood so popular? The durability of hardwood and the ability to refinish or restain it to change or update the appearance makes hardwood an investment hard to top.
When sealed properly, hardwood is resistant to scratches, spills and the wear and tear of constantly moving feet.
While hardwood floors can add elegance to any room, they can do the exact opposite if not regularly looked after.
Things to watch out for include:
1. Soft woods can dent or scratch easily;
2. Certain stains show dust and dirt easily;
3. They don't reduce noise;
4. They respond to changes in moisture and temperature. Hairline cracks and minor variations in height or width can result when temperatures change;
5. Ultraviolet light can fade or change shades over time.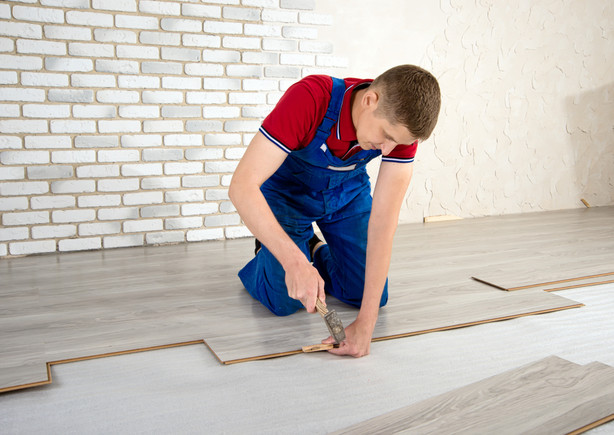 Laminate
Laminate is a manufactured product that has been growing in popularity because it can simulate the appearance of hardwood, tile, natural stone and many other types of flooring at a fraction of the cost and without some of the maintenance woes.
Today's laminate is highly resistant to daily wear, moisture, staining and fading caused by direct sunlight.
Easy installation allows them to float over a variety of subfloors, including concrete and radiant heating systems, according to the World Floor Covering Association.
What's not to love about laminate flooring? Watch out with water because laminate floors can experience irreversible damage and unlike real wood flooring, they can't be refinished.
Vinyl
Vinyl is referred to as the "great imposter" by the WFCA because of its unique ability to look like wood, tile, even marble. It is also one of the most versatile flooring options available.
Vinyl's resistance to mold, mildew and moisture, makes it a good option for areas prone to water such as kitchens, bathrooms and laundry rooms.
Vinyl is affordable and low-maintenance. Available in sheets, tiles or planks, today's vinyl flooring provides you with a plethora of colors, patterns and contemporary designs to choose from.
What discourages some from installing vinyl is the durability factor. Some lower-quality grades don't hide wear and tear as easily as other flooring types. Repairing damage to vinyl can be tricky as well.
Ceramic
Not all tiles are created equal, but ceramic tiles have many positives. "A properly installed ceramic tile floor will outperform and outlast nearly any other floor covering product created for the same application," reports the WFCA.
Ceramic tile is not only durable and low-maintenance, but it is a wise choice for moisture-prone, heavy-traffic areas like bathrooms, mudrooms, entryways and kitchens. Glazed ceramic tile resists stains, odors and dirt. Cleaning is a breeze with a simple damp mop or household cleaner.
What's not to love? Grout lines must be resealed regularly and kept clean to preserve their aesthetic appeal. If you are looking for a quiet floor option, ceramic will not reduce noise and can be hard and cold underfoot.
---
Stone lasts forever. There is a reason the most ancient structures built by humans that are still standing are made of stone.
---
Stone
"Stone lasts forever. There is a reason the most ancient structures built by humans that are still standing are made of stone — it's an incredibly strong, hardy material. If you are designing a home you hope to live in for many years to come, stone floors are a solid choice," reports Houzz.com.
While it is no secret that stone floors come with heftier price tag than some other options, advances in technology have helped decrease processing costs making stone much more affordable than in the past.
Stone flooring is an investment and one with a good return. It's almost guaranteed to add value to your home.
Worried about allergens? Houzz.com praises the hard, nonporous surface of stone flooring for its ability to seal out allergens. This gives stone flooring an edge over hardwood and carpeting.
Reasons some homeowners or designers shy away from stone are: 1. Cost; 2. It's cold nature (if you don't like cold floors); 3. Its slickness when wet; and its strength can present a hazard for elderly or children following falls.
Flooring options for homeowners and designers are vast, so involving a professional in the process can help you find peace of mind. Giant Carpet One Floor & Home specializes in the finest hardwood, laminate, tile, vinyl, carpet and stone for your particular needs. Let them help you design, install and enjoy your new space.
×