This archived news story is available only for your personal, non-commercial use. Information in the story may be outdated or superseded by additional information. Reading or replaying the story in its archived form does not constitute a republication of the story.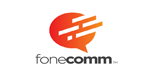 This story is sponsored by fonecomm.
If you were a fan of the 1960's cartoon "The Jetsons," you probably have been hoping and longing for the show's technology to become reality.
A car you can control with your brain? Autonomous driving on a long-term battery? The top trend in 2018's technology is the emergence of the smart car. You don't have to buy a Tesla, however, to get the smart car of your dreams right now. Discover how your irresistible new phone from FoneComm can turn your ride into a smart car with these five gadgets.
Wireless Charging Dock
While most standard cars come equipped with USB charging, the cable still gets in the way. With your irresistible new phone from FoneComm, take advantage of wireless charging with a smart dock. No more tangled cords in the car.
Smart Personal Assistant
While Nissan's "Brain-to-Vehicle" car won't be on the market for a few years, you still can let your car know exactly what you want. A Bluetooth-enabled charger lets you connect to Alexa to bring the world to your fingertips without leaving your car. Order groceries from the comfort of your car seat or double check gas prices at local gas stations.
e-Reader
You no longer have to leave your book behind when you get in the car thanks to e-Readers that transfer what you're reading into audiobooks. When they connect via Bluetooth, you can instantly pick up where you left off in your book. No more boring morning commutes.
Navigation System
If you're tired of hearing your cell phone boss you around with directions, your irresistible new FoneComm phone can connect straight to your car—no passive aggressiveness when you miss a turn. If you want to be even more connected, smart navigation systems offer more functionality by adding Alexa and entertainment controls.
Bluetooth Cassette Player
If your car doesn't have a USB port or auxiliary jack, don't worry — your car can transform into a smart car too. With a Bluetooth cassette player, you can stream music or audiobooks through your phone's stereo. You won't be able to resist the sound quality once you switch over.
With the irresistible new phone from FoneComm, it's easy to pretend you're living in the Jetson-era of automobiles. While it won't make your car fly, you won't be able to resist the smart technology when behind the wheel.
×