PROVO — The third-ranked BYU men's volleyball team probably expected to have a few kinks to work out Friday night in its 2018 season opener.
Losing standout attackers like Ben Patch, Jake Langlois and Tim Dobbert can be tough to overcome.
So, too, can unforced errors.
Dane Leclair had 15 kills, and BYU committed 21 service errors and 29 attack errors in losing to No. 13 Loyola-Chicago 22-25, 25-21, 20-25, 25-23, 12-15 in the Smith Fieldhouse.
"That was a little unfortunate," BYU coach Shawn Olmstead said. "I just felt we were hesitant and passive at times. I just didn't feel like we were communicating in the moments that we needed to.
"There was a hesitation and that's unfortunate. But it's also the first match of the season, and we've got to go from here."
Collin Mahan added 13 kills and six digs, and teammate Paul Narup supplied 12 kills and seven blocks for the Ramblers (1-0), who beat the Cougars in a non-conference match for the second-straight season.
Gabi Garcia Fernandez led BYU with 23 kills, seven digs and three blocks. Storm Fa'agata-Tufuga added 15 kills, five digs and three aces for the Cougars (0-1), and teammate Brenden Sander had 14 kills and four digs.
Leo Durkin dished out a team-high 45 assists and 10 digs for BYU, which will face No. 6 Lewis (0-1) at 7 p.m. MST Saturday night in search of its first win of the season.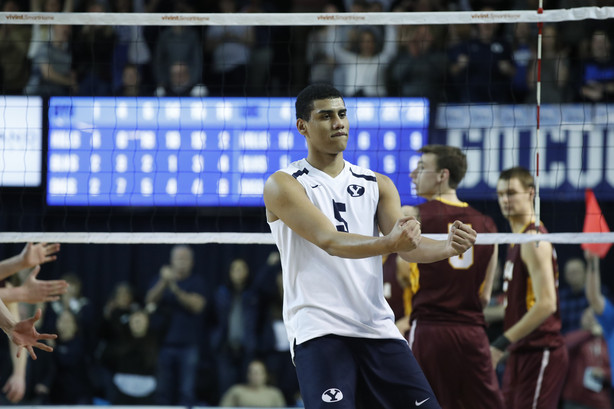 "You can't hesitate," Olmstead said. "You can't wait around for someone else to do something, or for your opponents to make an error. You've got to be proactive and get after it."
Mahan capped a 3-1 run for the Ramblers to give the visitors an 8-5 lead midway through the decisive fifth set.
BYU went on to pull within one, 10-9, on a block by Miki Jauhiainen, but unforced errors and a pair of kills by Narup forced match point for the Ramblers, 14-11.
The match ended with back-to-back service errors from both teams, a karmic ending for a season opener where both squads fired 21 miscues from the service line.
BYU countered the mistakes a bit with seven aces, while Loyola-Chicago had just three aces in a rocky road opener.
"We were feeling things out, trying to find a new rhythm," Olmstead said. "I thought there was a good service performance from some guys, but we're aggressive and assertive from the service line and not afraid to take chances when it is the right time."
After splitting the first two sets, Mahan capped a 5-1 run with a kill to put the Ramblers ahead 15-10 in the pivotal third set.
The Cougars responded with a 6-3 run of their own to pull within 18-16 with new substitute setter Wil Stanley.
But BYU struggled to put together a run, and Thomas Kovanic put away the third set with his only kill of the night, 25-20 for Loyola.
Garcia took over down the stretch of the fourth set to pull the Cougars back.
Fa'agata-Tufuga tied the set at 16-16 with his second-straight kill, and Garcia pounded out the 25-23 set-four victory with his 20th kill of the night.
"Gabri did really good," Olmstead said. "In this crowd, to be able to get out here and compete in his first match in the Smith Fieldhouse, it was really good for us."
×
Photos