Estimated read time: 5-6 minutes
This archived news story is available only for your personal, non-commercial use. Information in the story may be outdated or superseded by additional information. Reading or replaying the story in its archived form does not constitute a republication of the story.
PROVO — With one winning streak extended, Saint Mary's ended another in the Gaels' first trip to Utah in the 2017-18 season.
Jock Landale had a game-high 31 points and 12 rebounds, and Emmett Naar added 10 points, including the go-ahead 3-point in overtime, to help Saint Mary's extend its four-game winning streak over BYU with a 74-64 win Saturday afternoon in Provo.
Yoeli Childs led the Cougars (12-3, 1-1 WCC) with 29 points and 10 rebounds, and Elijah Bryant added 16 points, five assists and four rebounds for BYU, which was outscored 14-4 in overtime in front of 16,212 fans in the Marriott Center in the second game of the opening week of West Coast Conference play.
"The most important thing we learned is that we need to be consistent throughout the whole game," Childs said. "It's a good way for us to re-focus. We were on a good streak, but now that's done and we can just work our butts off and prepare next week."
Calvin Hermanson scored eight points, and Tanner Krebs nine for the Gaels (13-2, 2-0 WCC).
TJ Haws supplied seven points and five assists for the Cougars, who shot just 41 percent from the field and 5-of-13 from 3-point range — but led for most of the second half.
The Cougars assumed a gritty, defensive posture against the higher-rated Gaels, who entered the contest with a No. 29 KenPom rating to BYU's 59. After not reaching 40 points at the second media timeout of the second half, Saint Mary's coach Randy Bennett made a plea to his team to display toughness, claiming the Cougars were "out-toughing us" with a 40-37 lead.
Things changed in the overtime period, which Saint Mary's won by 10 points.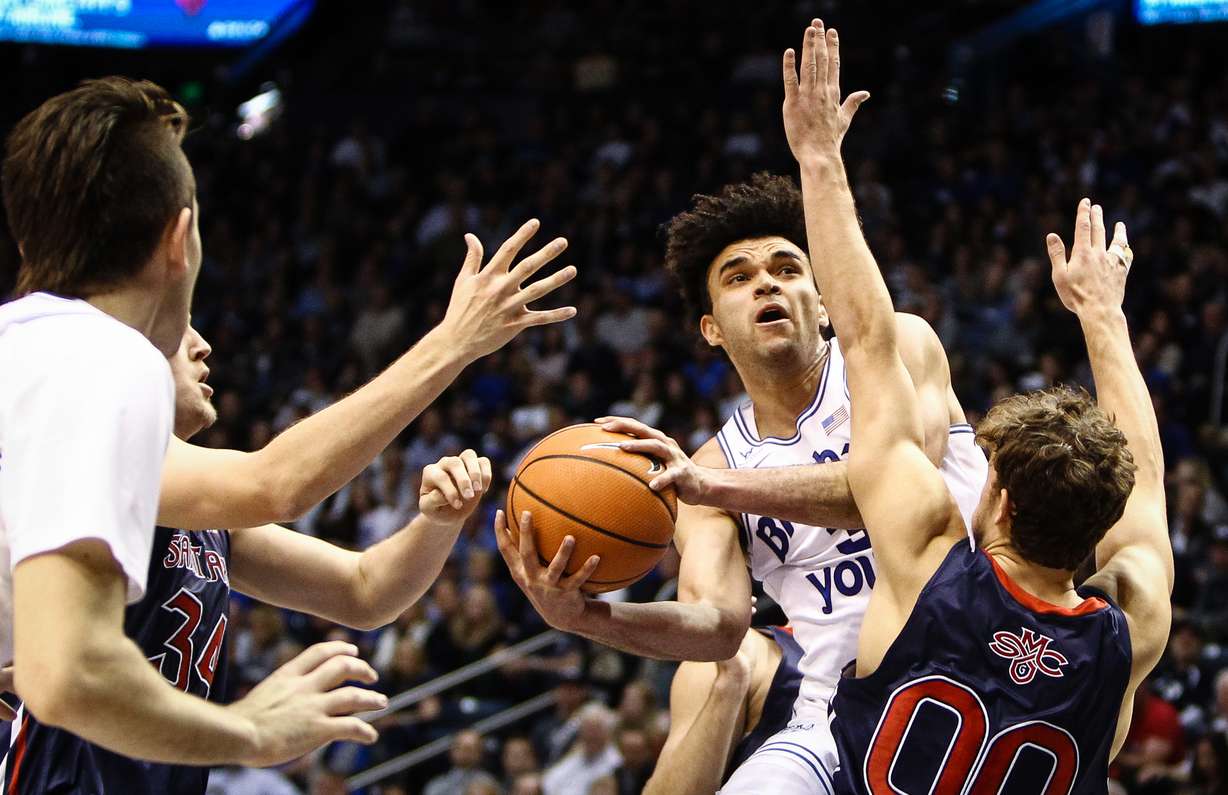 "Defensively, we weren't as locked in as we were early in the game," said Childs, whose team lost its first game in nine outings. "We were getting kills early, but towards the end, we couldn't get that second or third stop in a row. Offensively, I was missing bunnies; our team played a heck of a game, and I'm proud of how our guys fought. I put that one on myself on the offensive end."
Landale, the WCC preseason player of the year, converted on his first six shot attempts for 12 points. But the Cougars never let the visiting Gaels lead by more than five in the first half, and Payton Dastrup blocked Landale's first miss of the game to spur a run that led to the Cougars' halftime lead.
"He's able to move our guys off their mark, and then be able to finish at the rim," said BYU coach Dave Rose, who said his team is 'close' to competing for a league championship behind Saint Mary's and Gonzaga. "For most of the game, we did a pretty good job of guarding the 3-point line, and then they made some huge plays late.
"Sometimes you compete and go after it, and you just don't get the results that you want. That's how you'll describe this game. We played well enough to win, but didn't finish it off."
Haws and Bryant nailed back-to-back 3-pointers, and Childs added a dunk to cap a 10-0 run that gave BYU a 27-21 lead with 4:54 left in the half.
Saint Mary's ended the half on an 8-2 run, including Cullen Neal's 3-pointer at the buzzer to pull within tow, 31-29 at the break.
But the Gaels made just three of their first 17 3-point attempts, a suboptimal effort to complement Landale in the post. They finished on a run of 6-of-10 from 3-point range to close out the win.
"They are a great 3-point shooting team, and that was a big focus coming into this game," Haws said. "They really play off advantages, use the screen really well … but in the first half, I thought we came out really tough and made things hard on them.
"They continued to grind it out. That's who Saint Mary's is."
The Cougars opened the second half with a 7-1 spurt, fueled by Childs' transition dunk.
When the shots were falling, Saint Mary's looked like a better team. Hermanson pulled the Gaels within three, 40-37 on a 3-pointer midway through the second half.
Every Saint Mary's run faced another BYU stop or a run of its own until Evan Fitzner dropped a jumper to cap a 7-0 run for a 56-55 lead with 3:16 remaining.
Tanner Krebs canned his third triple of the game to put the Gaels up 60-58 with 1:39 remaining. Haws responded with a game-tying layup just moments later for a 60-60 draw that sent the game into overtime.
Zac Seljaas had an open look from the right wing at the buzzer, but the shot didn't fall en route to the extra period. Bryant drove into the lane through traffic, Saint Mary's came down to guard Haws, and left Seljaas wide open on the wing.
"I'd take Zac shooting that shot 10 out of 10 times," Haws said. "I thought it was going down, and Zac's a heck of a shooter. I'd give that to him again, any day."
But the shot didn't fall — and Saint Mary's found their shot again in the extra session.
"It was exactly the right play by Eli," Rose said. "He made the right play, got the ball there, and we'll take that shot every day to win a game."
Emmett Naar dropped in a 3-pointer to give Saint Mary's a 65-62 lead in overtime, and the Gaels never trailed again.
Hermanson's trey capped an 8-0 run that put the Gaels up 70-62 with 1:04 remaining, extending their win streak against BYU to four-straight.
"Saint Mary's is a very good team, very experienced," Haws said. "Give them credit. But I think we're learning, and I wouldn't doubt us down the road."
×
Photos
Most recent Sports stories