Estimated read time: 3-4 minutes
This archived news story is available only for your personal, non-commercial use. Information in the story may be outdated or superseded by additional information. Reading or replaying the story in its archived form does not constitute a republication of the story.
PROVO — BYU posted an eight-game win streak and an 11-2 record heading into the first game of West Coast Conference play Thursday night.
But none of that would've mattered if the team didn't start out 1-0.
Fortunately for the Cougars, it still matters.
Yoeli Childs and Elijah Bryant each recorded a double-double to help BYU win its ninth-straight game, 69-45 Thursday night over Portland in the Marriott Center.
Bryant posted his first double-double of the season, finishing with 22 points and a career-best 15 rebounds, as BYU (12-2, 1-0 West Coast Conference) out-rebounded the Pilots 46-28.
"We've been talking all year about how no matter what the defense does, it's wrong," said Childs, who scored a career-high 26 points and 13 rebounds for his sixth double-double of the season. "Their big was coming over our guards, and I was getting easy dump offs. When they started to take that away, Eli had a couple of easy cuts to the lane.
"We're a really frustrating team to guard when we play like that — when we are unselfish."
McKay Cannon supplied seven points and three rebounds off the bench for the Cougars, who outrebounded the Pilots 46-28 that included a 40-22 advantage on the defensive glass.
JoJo Walker led Portland with 11 points, including three 3-pointers for the Pilots, who shot just 25.9 percent from 3-point range after averaging 41.3 percent during non-conference play. Josh McSwiggan and Franklin Porter supplied nine points apiece for Portland.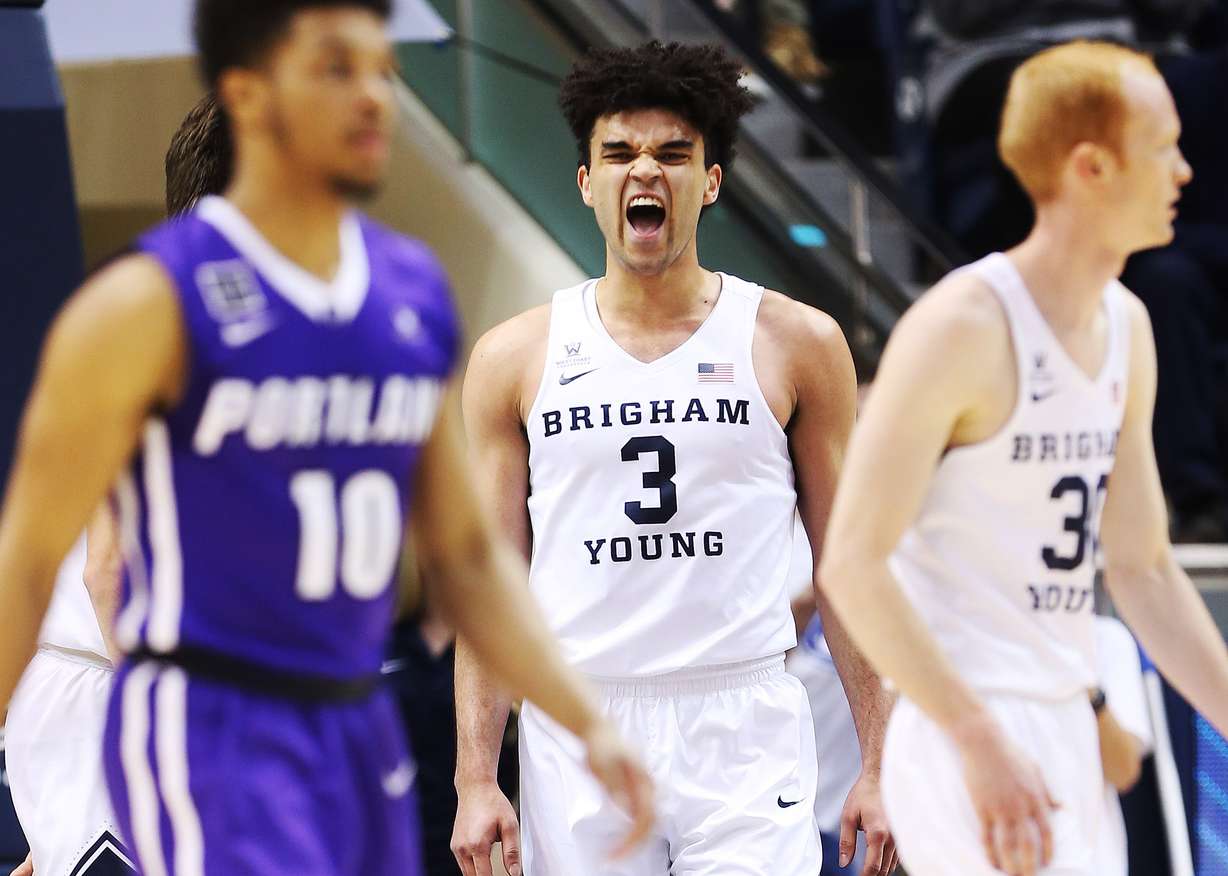 "Our guys were really committed on the defensive end," said BYU coach Dave Rose, whose team held the Pilots to a season-low scoring output in the Marriott Center. "Rebounding the ball is key, and a lot of those long rebounds, we turned into advantages and transition plays. We couldn't convert on all of them, but in the second half, we did a much better job."
Portland kept it close in the early minutes until TJ Haws capped a 6-0 run spurt with a transition bucket that gave the Cougars a 12-8 advantage with 13:06 left in the half.
The Pilots (6-8, 0-1 WCC) missed their first five attempts from the field but stayed close through the first half thanks to a barrage of 3-point shooting. Averaging 10.1 3-pointers per game, Portland led the WCC with 317 attempts from beyond the arc in non-conference play.
"I think we contested a lot of threes, but they made a lot of tough shots," Bryant said. "But we tip our hats off to them.
"We'll work on that and be ready Saturday."
While the Pilots stood within seven at halftime with five of their nine first-half field goals coming from 3-point range, Childs scored back-to-back dunks to end the half 31-24 in the Cougars' favor.
Portland pulled within one, 36-35 when Walker drained his third 3-pointer with 16:16 left in the half.
But the Cougars used an 18-2 run, holding the Pilots off the scoreboard for more than six minutes, to help put the game away when Bryant drove into the lane for a 54-39 lead with seven minutes left.
"Tonight, what we saw was a really aggressive, driving Eli, which is really good to see," Rose said. "He's feeling a lot more confident in how he feels."
BYU next turns to a home contest against Saint Mary's, the preseason pick to win the league by WCC coaches, at 2 p.m. MT Saturday.
The Cougars were swept by the Gaels (12-2, 1-0 WCC) in 2016-17 — but Childs hopes for a different result in his second season.
"I think they are going to come out and see a totally different team — a team that shares the ball better and plays at a different pace," the rising sophomore star said. "We've worked really hard on the defensive end at being able to guard what they do, and I think it's going to be a different outcome."
×
Photos
Related stories
Most recent Sports stories