Estimated read time: 4-5 minutes
This archived news story is available only for your personal, non-commercial use. Information in the story may be outdated or superseded by additional information. Reading or replaying the story in its archived form does not constitute a republication of the story.
TWIN FALLS, Idaho — Matt Matthews got an early Christmas present Tuesday, thanks to donations from his neighbors and a Twin Falls nonprofit.
His neighbors paid for a wheelchair ramp leading up to his house and Interlink Volunteer Caregivers installed it.
Matt is using a wheelchair as he recovers from plantaris tendon repair surgery in his left leg. And normally, he uses a walker to help with his mobility due to Parkinson's disease.
Now, he'll be able to more easily get in and out of his Twin Falls home.
It may seem like a remarkable act of kindness — and it is. But it's just a normal part of life on Princeton Drive, an older, established Twin Falls neighborhood near the city pool. Residents describe as an idyllic place where they take care of one another.
Helping people in need
Edie Schab, executive director of Interlink Volunteer Caregivers, said she has never heard of something like this happening before where neighbors raised money to pay for a ramp. It can cost $5,000 to $7,000 to have a ramp installed if you hire a contractor, Schab said. For the nonprofit, it typically costs about $300, thanks to discounted materials and volunteer labor.
Interlink Volunteer Caregivers provides volunteers to help elderly, disabled and chronically ill community members with home needs, chores and transportation to help them continue to live independently in their homes.
A former board member, who still volunteers for the nonprofit, emailed Schab last week about Matthews and his need for a ramp. The nonprofit is tight on funds for these types of projects, Schab said, so the volunteer said he could round up donations. He and his neighbors donated their own money — a total of $190 — last week to cover the cost of materials for the ramp.
As volunteer Carl Nellis installed the ramp outside Tuesday afternoon, Matthews was sitting in his living room in a reclining chair with his foot elevated. Matthews hadn't heard it was his neighbors who made the donation. "It's extremely nice," he said.
Outside, Nellis was sawing wood and hammering it together to create a ramp. "It's just amazing how fast he's going at it," said Matthews, who was impressed by the workmanship.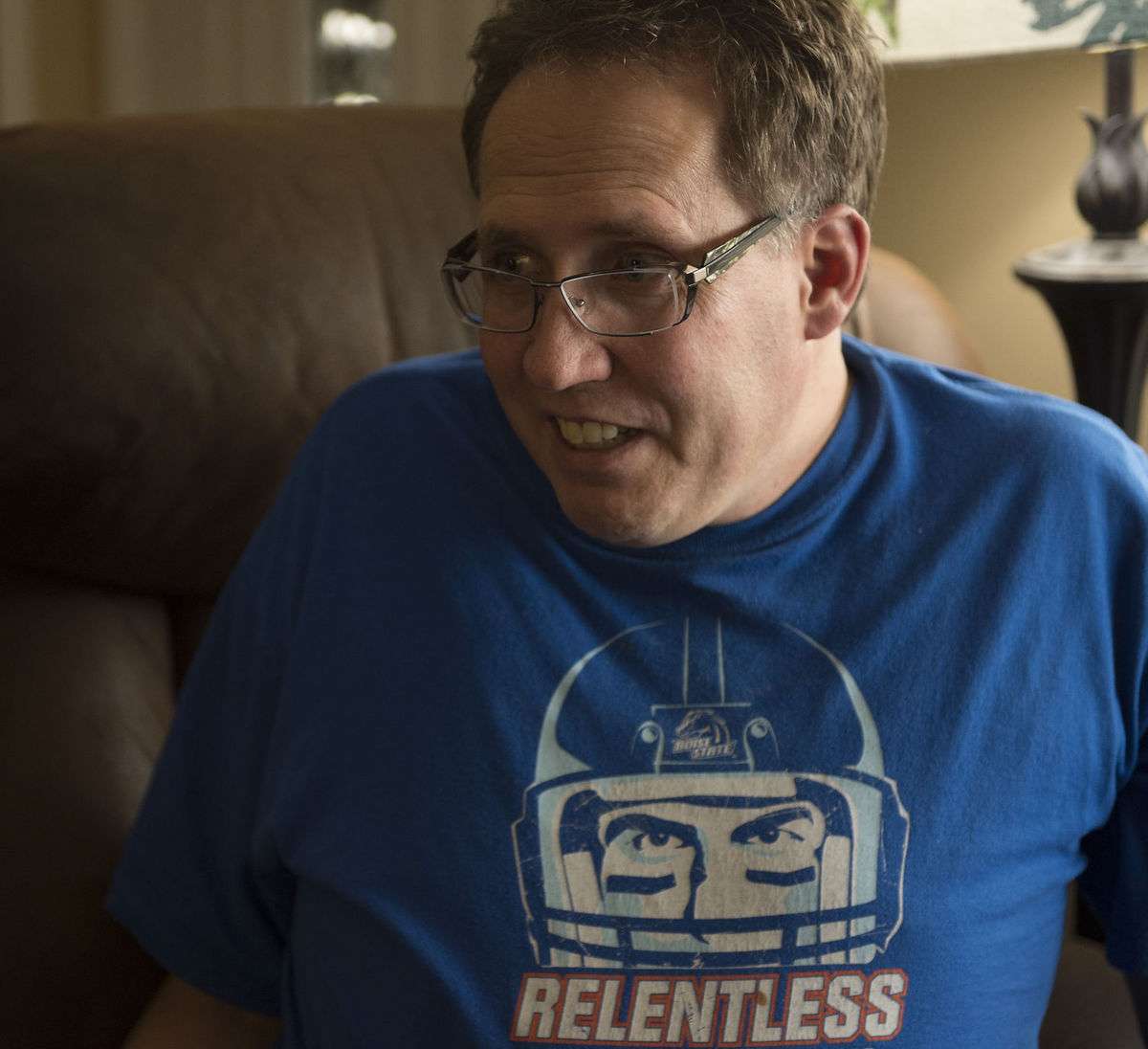 #matthews_pic
Matthews' health
Matthews had surgery Nov. 28 in Salt Lake City to have a tendon repaired in his left leg. He has been instructed by doctors not to bend his leg until Jan. 18. With a few stairs leading up to his front door, "it's been hard," he said. He was relying on his wife and neighbors to lift him up in the wheelchair in order to get in and out of the house. And since he's 6 feet 8 inches, that's not an easy task. It usually takes three people.
Normally, Matthews uses a walker to get around due to his Parkinson's. "My gait's kind of off," he said. He also uses an electric scooter, which he keeps in the garage, to get out onto grass so he can watch his daughters' soccer games.
Matthews was diagnosed with Parkinson's more than 10 years ago when he was 35. A couple of years ago, he became unable to work and is now on disability. If he sits for too long, he falls asleep. If he stands for too long, he develops blood clots in his legs.
Matthews and his wife, Sarah — who works at an accountant's office — have two daughters, ages 5 and 7.
Despite the challenges, he keeps a good attitude. "Someone has to endure it," he said.
He said his wife thinks he has bad luck. But he said he has good luck because he's married, has two great children and wonderful neighbors.
'Good spirit of community'
Princeton Drive is an unusual neighborhood — one that's almost a glimpse back in time. Residents know each other by name and take care of each other.
If someone is outside, others come out to chat. Children play together and ride bicycles up and down the street. Residents ask each other to close their garage door if they accidentally leave it open, or pick up a package off their front porch if they're not home. If someone in the neighborhood is sick, they bring over food.
"There's a really good spirit of community," said Lindsay Clark, one of Matthews' neighbors who lives across the street.
Her husband, who didn't want to be named, was the one who contacted Schab asking about a ramp for Matthews.
"We obviously know about Sarah and Matt's struggles," Clark said.
The Matthewses help others and don't complain about their situation, she said. She and her neighbors wanted to do something tangible to relieve some of the family's burdens.
Clark and her family contacted their neighbors by phone and knocked on doors starting Dec. 12 to ask for donations. Six people said "yes" right away and one said they'd pay for whatever amount was leftover.
During the Christmas season, it's a way to do treat a neighbor as Jesus would, Clark said.
She hopes the story will be a spark for others to help those who live near them. "I hope it will inspire people to be neighbors."
×
Photos
Related links
Most recent Idaho stories