Estimated read time: 4-5 minutes
This archived news story is available only for your personal, non-commercial use. Information in the story may be outdated or superseded by additional information. Reading or replaying the story in its archived form does not constitute a republication of the story.
PROVO — After a one-year layoff, the BYU men's basketball team put its losing skid to rival Utah on hiatus.
With only two players who had faced the Utes, the new-blooded Cougars made the unfamiliar rivalry game count.
Elijah Bryant poured in a season-high 29 points, including five 3-pointers, to lift BYU to a 77-65 win over the Utes, snapping a four-year, three-game losing streak Saturday night in the Marriott Center.
Yoeli Childs added 15 points and five rebounds for the Cougars (9-2), who held six-straight opponents under 70 points for the first time since 2008-09.
The Utes (7-3) shot just 46 percent from the field, and made a mere 5-of-22 3-pointers, including a 2-of-6 effort from forward Tyler Rawson.
"Two years ago, I was sitting on the bench. I was redshirting (for the last game at Utah)," Bryant said. "I think it was still high emotion. But I think we played better defense from what I saw two years ago.
"Defense will keep you in games, and offense will eventually win you the game."
With Childs in the locker room with cramps, Payton Dastrup took over in the post. The returned missionary sophomore scored on a putback, took a charge on the other end, and drained a 3-pointer — all in a one-minute span — to give the Cougars a 56-46 advantage.
"Ultimately I just had to do it for my guys," Dastrup said. "They've got my back, I've got their back, and we're in this together."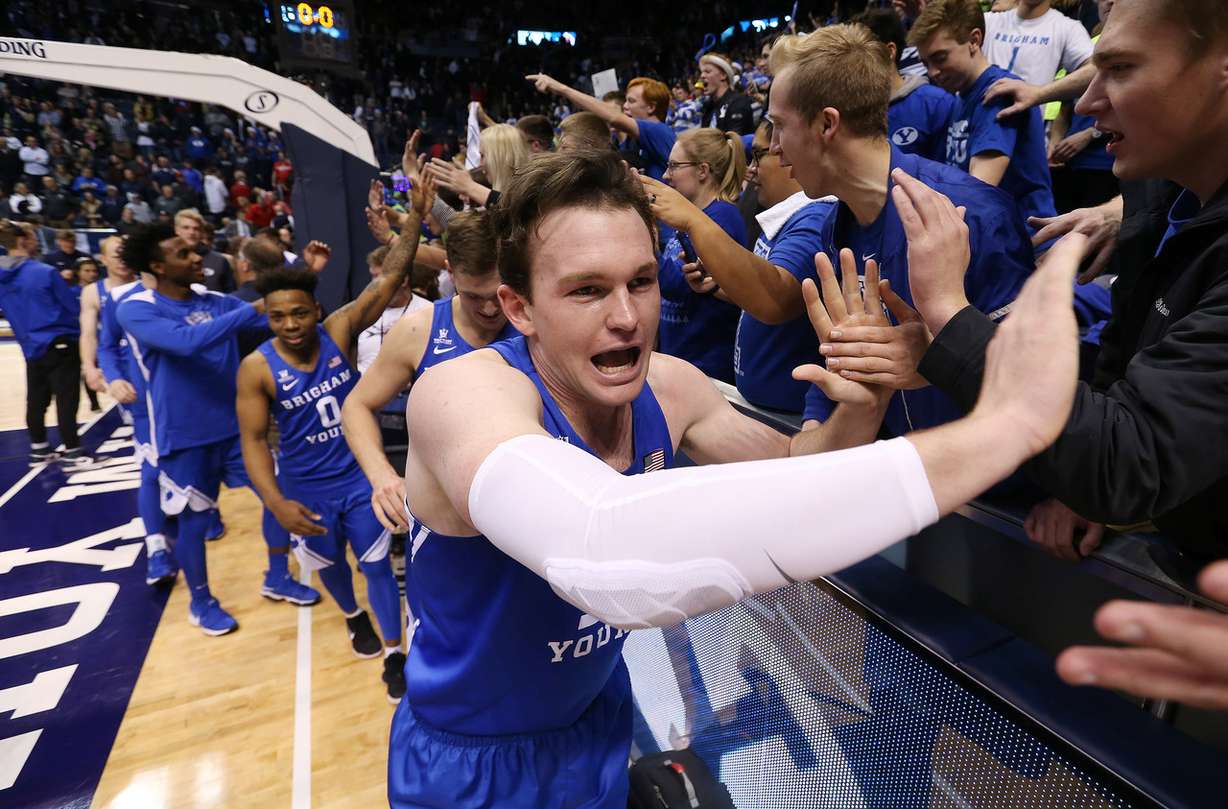 The sophomore from Mesa, Arizona had been waiting for his crack at the Utes "since he was three," Bryant joked. When he got his first shot at the red rivals, he made sure it counted.
"Last night, I'm surprised I slept so well. Today was something special," said Dastrup, who made 3-of-5 shots and grabbed four rebounds in 10 minutes off the bench. "I've been a bleed-blue guy since birth, and to be able to experience the rivalry first-hand, to come through for my team and hit a couple of shots was a special moment.
"I'll never forget this moment. I'm just glad we got a signature win against a really, really good team."
Dastrup's second 3-pointer put the Cougars up 63-50 with 7:52 remaining, and BYU made 13-of-17 free throws to finish out the win.
Tyler Rawson had 15 points, 10 rebounds and eight assists to lead the Utes (7-3), while playing in his first game in Utah County since graduating from nearby American Fork High.
"It was a treat. It really was; you can't make this atmosphere up," Rawson said. "I had a lot of fun. You wish for a better result, but it was a memory of a lifetime."
David Collette added 12 points and six rebounds, and Sedrick Barefield had 11 points for the Utes, who host Northwestern State next Wednesday, Dec. 20 in the final game before Pac 12 play.
But turnovers spelled doom for the visitors. Utah turned the ball over 13 times, and though they recouped 14 off BYU, the Cougars scored answered every run from their rivals in front of a hostile crowd of 16,272 — including a packed BYU student section donning hard hats, bright orange vests and traffic cones and spraying chants like "safety first" and "that's not safe" whenever a Ute player would foul.
"We know that when they come, they come in abundance," Dastrup said of the fans. "I give credit to the ROC; they are the best in the nation, hand's down. When they come out in full force, it's wonderful to play with a nightmare to play against."
After a slow start from both teams, BYU capped a 15-2 run with back-to-back buckets at the rim by Childs to go up 23-11 with 10:03 left in the first half. The Utes pulled within five about five minutes later, but Bryant drained back-to-back 3-pointers to push the lead back to 13 points en route to a 37-28 halftime lead.
Utah made just 2-of-12 3-pointers in the opening 20 minutes, while BYU shot 55 percent from the field, out-rebounded the Utes 13-10 on the defensive glass, and grabbed four steals.
Utah erupted out of the halftime break, using a 7-3 run to pull within five, 40-35 on Kolbe Caldwell's 3-pointer just under two minutes into the half. Bryant hit a three, and Childs' dunk gave put the Cougars back in control with 15:25 remaining — but the game changed on a non-contact injury moments later.
"At halftime, we got some stops, pulled it to five — and then had three-straight turnovers," Utah coach Larry Krystkowiak said. "It's been our M.O., and coming into an environment like this against a quality team, it's simple … we've got a ways to go."
BYU hosts Idaho State next Wednesday, Dec. 20 during finals week, before welcoming winless Texas Southern to the Marriott Center on Saturday, Dec. 23.
The Cougars open West Coast Conference play with back-to-back home games against Portland and league preseason favorite Saint Mary's.
×
Photos
Most recent Sports stories