Estimated read time: 7-8 minutes
This archived news story is available only for your personal, non-commercial use. Information in the story may be outdated or superseded by additional information. Reading or replaying the story in its archived form does not constitute a republication of the story.
PROVO — Jeff Grimes admits there is one thing at the forefront of his mind.
Beat Notre Dame — but also, put an offensive staff in place for long-term success at BYU.
BYU's newest offensive coordinator was introduced to the media Saturday morning at LaVell Edwards Stadium, just hours before the current Louisiana State offensive line coach was scheduled to board a flight back to Baton Rouge to help the Tigers prepare for the Citrus Bowl against the Fighting Irish on Dec. 27.
While he was in town, Grimes gave his responsibilities as the next leader of the Cougar offense all of his focus. He spent more than 30 minutes with the media, answering questions about his offense, his return to Provo, and his relationship with head coach Kalani Sitake in a Saturday morning chat where he strayed from one side of the podium to the other, and addressed each reporter by name.
"He gets the most out of players, both on and off the field," said Sitake, who first met Grimes when he worked at Utah. "I look forward to him making that impact here at BYU football. He brings with him 25 years of solid experience in the coaching profession, many of those years at the highest level of college football, and I'm really excited for the direction of our offense."
Then after the formal press conference, Grimes stuck around the interior room at LaVell Edwards Stadium to shake hands with every reporter, broadcaster and booster club invitee in attendance. Former BYU coach Lance Reynolds made it to the press conference, as did veteran BYU booster Keith Nellesen, CEO of Nuvi.
He'll need to be as familiar with the ins and outs of the BYU program as his players, too; the once-proud BYU offense was reduced to a shadow of its former self — for a variety of reasons — in 2017 when it ranked in the bottom 10 nationally en route to a 4-9 regular season before dismissing former offensive coordinator Ty Detmer.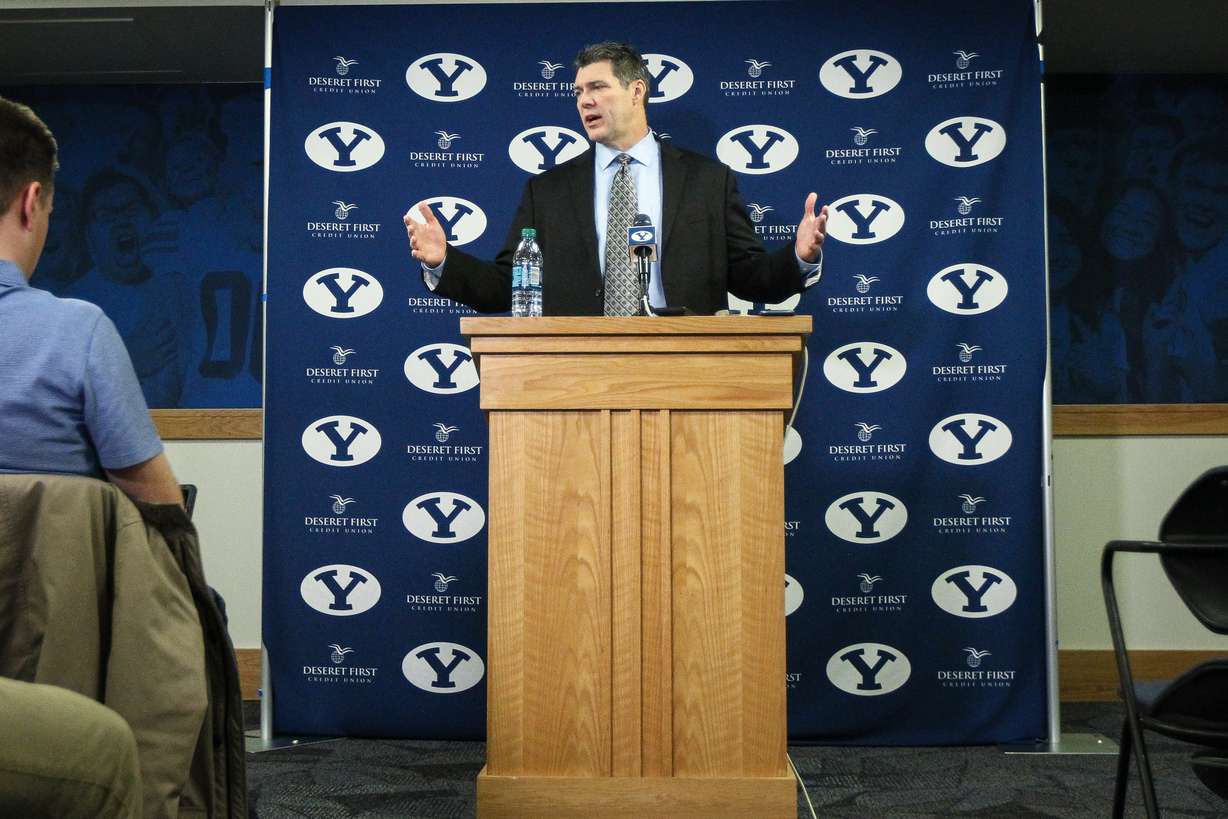 But Grimes doesn't feel the pressure of turning around BYU's offense.
"You know when I feel pressure? I feel pressure when I watch my daughter play volleyball," he said. "I feel pressure when I'm watching my son play sixth-grade football, or my ninth-grade son play lacrosse, or little Jada play basketball. I get nervous watching them play.
"I'm too busy on game day to be nervous, and we're going to be too busy building a great offense to worry about pressure or influences from the outside."
BYU will be Grimes' first time calling the plays, after serving as offensive line coach and run game coordinator at a variety of stops over the past 25 years. Coaching at Colorado, Arizona State, Auburn, Boise State, Texas A&M and Rice — in addition to a spot on BYU's coaching staff from 2004-06 — Grimes has been at LSU since 2014.
Brought in under former coach Les Miles in 2014, Grimes was retained by current LSU coach Ed Orgeron and became one of the higher paid position coaches in the Southeastern Conference with a $550,000 salary, a top-75 salary nationally, according to the USA Today Sports database of assistant coaching salaries.
But after a decade away from Provo, it was time for him to come back. His daughter Bailey is graduating from high school after four years in Baton Rouge, and the time and place finally felt right to take the next step in his career.
"It was right for my family, and the right time for them," Grimes said. "When we moved to Louisiana, it was her seventh state in 13 years. But she had the ability to go to the same high school for four years. The fact that she'll be graduating this year helps.
"But the timing is right for me to do this. The knowledge that I have gained over the past few years has given me a lot of time to design game plans, and that really added to the knowledge base I had prior. The timing is right for BYU to have a guy like me come in."
Grimes' offensive scheme isn't set in stone. He wants to spread the field, both vertically and horizontally — but he also doesn't want to be glued to one particular system.
Players are more important than play calls, he said. Grimes' offense will adapt to his players, both the ones currently at BYU and the ones he intends to recruit to the LDS Church-owned institution.
"There are a lot of different ways to score points," he said. "The ones who do well are the ones who do things a certain way. They execute, the way they take the field says something about who they are, and the way they break the huddle and get to the line of scrimmage. … You play hard and you play physical, and you establish your will in the fourth quarter.
"Hold the players accountable, and let them know that when they carry that football, they are carrying the entire program in their hands. Those things will make us successful, and good offensive coordinators I've been around have demanded that."
Grimes has never been the full-time play caller at any school, but he's learned from some of the top offensive minds in college football. His training started early, learning when he was coached by BYU graduate Andy Reid at Texas-El Paso, and he's also learned under names like Frank Beamer, Dan Hawkins, Mark Helfrich, Dirk Koetter, R.C. Slocum and Kent Hatfield.
He's never coached from the press box before — he's spent exactly one half above the field as an assistant at Auburn when they played LSU no less — but he's open to making it a habit at BYU, if need be.
"I've never believed that an offensive line coach should be in the press box, regardless of the situation," Grimes said in explaining then-offensive coordinator Gus Malzahn's insistence. "But ultimately, I think it's a great situation for a coordinator to sit up top and see everything from a bird's eye view.
"I think it will depend on some of the personalities that we have on the staff, both in what can get done on the sideline and what can get done in the box."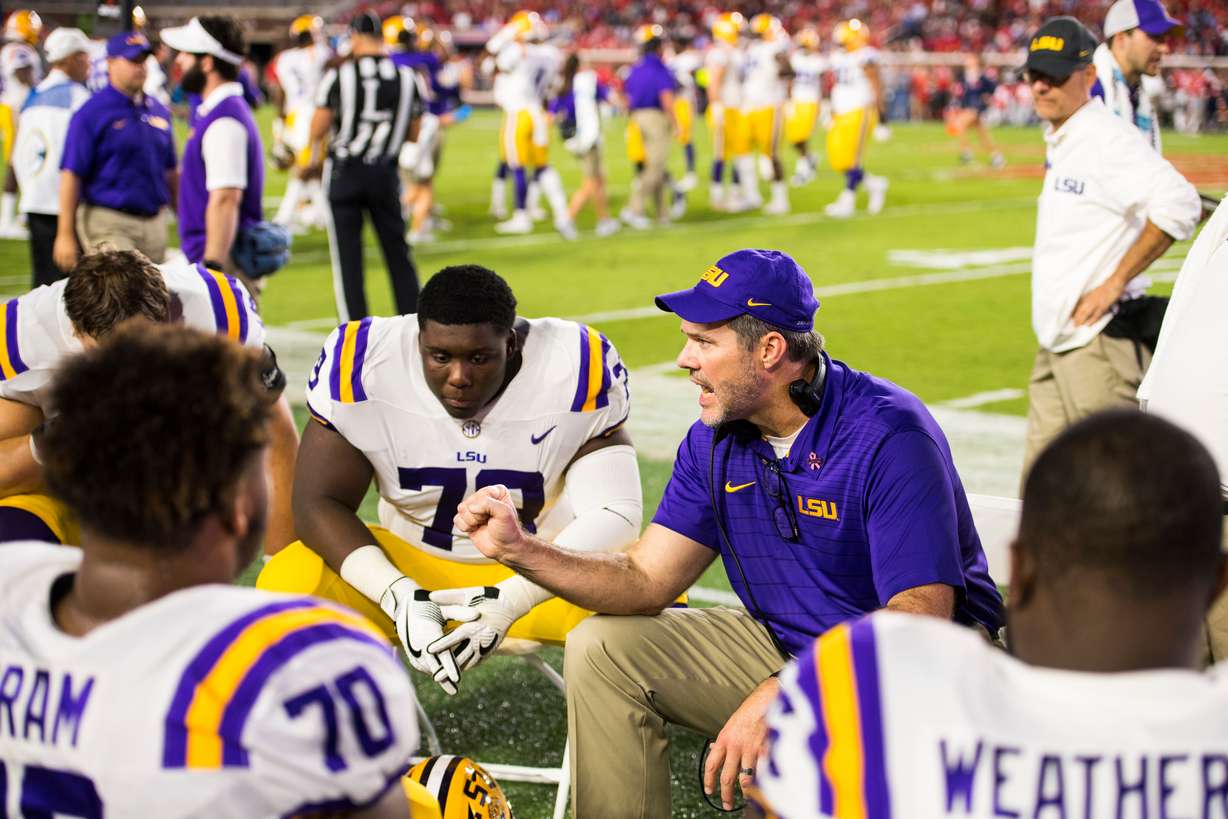 He also hasn't met with his staff of assistant coaches, which may (or may not) include offensive line coach Mike Empey, running backs coach Reno Mahe, wide receivers coach Ben Cahoon and tight ends coach Steve Clark when BYU opens spring camp in March.
But there will be time for that. First, there's that matter of Notre Dame.
"I have great respect for Coach O (Ed Orgeron) and the opportunity he gave to me," Grimes said. "I want to go back and finish the job, and then look forward to being here sometime shortly after that bowl game."
Grimes' former players have given a resounding vote of confidence to the first-time offensive coordinator, from former BYU proteges John Beck and Jake Kuresa to current LSU tackle Karl Malone Jr.
"We're going to be very demanding, but we're going to love the guys, too," Grimes said. "Through that, we'll have the opportunity to build trust. And the end result is a guy who is willing to go out there and play — because you've invested in him.
"I think that combination of love and demand creates a player with self-worth and confidence. That's the real magic to making any team or organization work."
There's little doubt he's ready for the first coordinator job of his lengthy career, they all say.
"The message from everyone that I talked to (at BYU) was that the program is heading in the right direction," Grimes said. "Kalani is an awesome dude, and a great coach — there is no doubt in my mind."
After wrapping up his stay with the Bayou Bengals, Grimes is ready to get to work with the Cougars.
"I realize there are a lot of people who have a large stake here, and that I recognize — the responsibility to Cougar Nation, to the BYU family, to the administration and the other coaches — I recognize that responsibility, and will do everything in my power to live up to the responsibility of the job," he said. "But no one will put more pressure on me or the offensive staff than we will put on ourselves."
×
Photos
Related stories
Most recent Sports stories