This archived news story is available only for your personal, non-commercial use. Information in the story may be outdated or superseded by additional information. Reading or replaying the story in its archived form does not constitute a republication of the story.
IDAHO FALLS — He won consecutive gold medals at the X Games in 2014 and 2015.
He has competed in Munich, Barcelona, Estonia, Brazil and other cities across the globe.
He's considered one of the best BMX bike riders in the world and he's consistently ranked in the top 5 among Big Air Triple competitors.
Pocatello native Colton Satterfield is at the top of his game but now he's making headlines for a different reason.
The 28-year-old announced he's leaving Monster Energy, one of his major sponsors, due to his religious beliefs, EastIdahoNews.com reported.
"I have chosen to part ways for personal religious reasons. Some of the marketing and logos that are meant to be edgy simply are edgy in areas that I personally could no longer support," Satterfield said in a statement. "This was not a decision I made lightly. Getting such an energy drink sponsor is a big achieving step in action sports; they provide more than just financially, they help their athletes in many ways…I regret something seemingly so small, to some, as logos and various marketing, has to divide us; but I know it is the correct decision for me.""
Satterfield is a member of The Church of Jesus Christ of Latter-day Saints and admits his decision to leave Monster Energy may seem "wild or crazy" to non-religious people.
"It was a decision that I felt was right for me personally," he told EastIdahoNews.com. "Some people can look at it different. Other athletes that are Christian still ride for them and that's totally fine. But for me, this was a personal decision."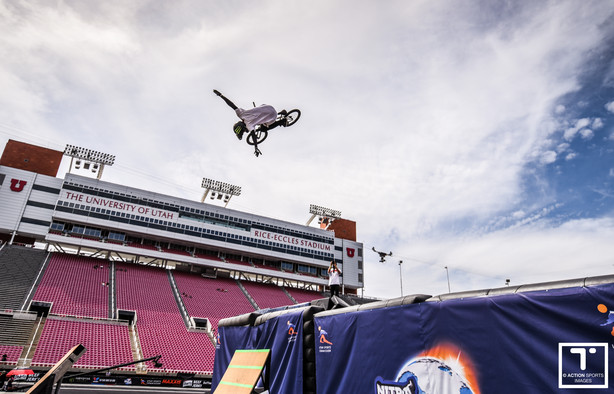 VitalBMX.com first reported Satterfield's decision and the athlete sent the website this unedited statement explaining his actions:
"I can imagine some non religious people thinking this is wild or crazy, and not that long ago I would have been one of those people. Previously I had been a far too logical person in life to go deeply into religion and still am that logical minded person. But I had a strait up real and wildly profound experience that shockingly confirmed serious religious truth to me. I had always been one to learn as much as I can. This experience was at the end of a knowledge or a deep world wisdom, most don't find, that seemingly discounted it; then that 'wisdom' was confounded as the bible describes and had my eyes opened in a real profound way. Some perceived 'wisdom' of the world is certainly a stumbling block that ensnares if one is not careful. There is an actual dark side of things that deceives. Most who find this 'knowledge' sit in their pride of having it and don't actually step back and analyze it and can be pulled down into darkness; those who analyze it fully are already – or then become – Christians. My experience was profound. Whole countries don't allow missionaries or other religions because their leaders trust this false or highly partial wisdom so hard. It is also wild to later read prophets of old, like Paul and many many others, who were wise dudes that essentially described every step of this knowledge that leads 'wise men' away and then describes each step up to the confounding and true light for those who seek. These were real, and actual very wise dudes of old.
So for me, I do my best to walk uprightly before a very real and good God and, with some of their marketing and logos, it just wasn't something I could keep supporting. God is very real, Christ in actual reality lives. That's from a dude who has to logically understand things all the way around. Christianity is actually totally real. I was furthermore blown away to see the LDS religion understands literally everything in a very clear way. I know them to have the entire fullness of the gospel of Christ. It is His church. Something not long ago I would have sadly laughed at. But it is in actual true reality. God can show you this far better and more profound than even logically getting it. The highest form of wisdom is being humble before God. Everything else falls. It's true. A truth that is sadly scoffed at by many before ever given a fair shake. A truth too precious not to share. Love is what's up. It's real."
×
Photos