This archived news story is available only for your personal, non-commercial use. Information in the story may be outdated or superseded by additional information. Reading or replaying the story in its archived form does not constitute a republication of the story.
PROVO — No, this is not an excuse to speed.
However, freeways with speed limits of 70 mph may be safer than those with a limit of 60 or 65 mph, a Brigham Young University study suggests.
The study, commissioned by the Federal Highway Administration, assessed a variety of highway features that make accidents less likely. Most were intuitive — paved right shoulders and concrete barriers both correlated with a fewer number of crashes — but the statisticians were perplexed after discovering that faster freeway speeds actually decreased the number of accidents.
The Federal Highway Administration was unsurprised by the findings, noting that lower speed limits were usually reserved for high-traffic areas, which would increase the number of crashes. But the researchers found that the correlation held, even when controlled for traffic.
"That one obviously caught us by surprise. It wasn't something we were expecting," said Matthew Heaton, assistant professor of statistics at BYU and co-author of the study. "We had to dive into it further, accounting for things like how much traffic flow is going through and everything like that. But even after accounting for all those features, that persisted."
Heaton believes the findings are worth further research since higher speed limits may not be as risky as once believed.
The researcher and his fellow statisticians also looked at high-crash areas and found that roadside attractions are often the cause of freeway accidents. It's not just our phones that distract us, Heaton noted. Construction zones also greatly increase the risk of a crash.
Wide road shoulders, straight roads and concrete medians decreased overall crash risk, the study showed. The findings were recently published in the journal "Statistical Modeling."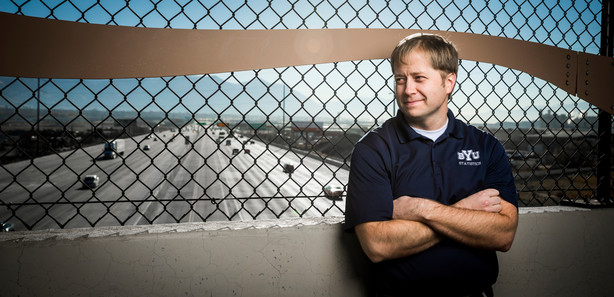 Utah's I-15 is an example of a well-constructed, lower-risk freeway with low curvatures, separated medians and wide left shoulders outside the HOV lanes, Heaton said. Colorado's I-70 is much riskier with grass shoulders, rolling terrain and high curves as it ascends to mountainous areas.
"Obviously the study's not perfect and it's not an end-all to the discussion," Heaton said. "It's a result that came up, and we honestly did everything that we could to figure out why that was the case, and everything we looked at, this signal just kept coming through."
And while higher speed limits may be safer, exceeding the speed limit is not. The Utah Department of Transportation reminds travelers to be cautious while leaving for the holidays.
Wasatch Front drivers should plan ahead for Thanksgiving holiday travel and expect heavy delays of up to 45 minutes on I-15 this Wednesday.
UDOT anticipates a 25 percent increase in cars on the road Tuesday and Wednesday evening but will suspend all construction and open lanes to improve traffic Wednesday through Sunday. Traffic will be heaviest Tuesday from noon to 9 p.m. and Wednesday from 11 a.m. to 7 p.m.
×