This archived news story is available only for your personal, non-commercial use. Information in the story may be outdated or superseded by additional information. Reading or replaying the story in its archived form does not constitute a republication of the story.
SALT LAKE CITY — A potent preventive treatment for people at enormous risk of colorectal cancer works not only by preventing new precancerous polyps from growing, but by causing existing ones to recede, according to findings published this week by Huntsman Cancer Institute researchers.
The findings are the latest in the institute's line of research into how to prevent colorectal cancer among the 1-in-10,000 people who inherit a condition called familial adenomatous polyposis (FAP).
"This is one little baby step in the kind of long-term goal of trying to prevent this cancer," said Deborah Neklason, a professor of internal medicine at the University of Utah and investigator at Huntsman Cancer Institute who led the study.
Currently, people with FAP develop hundreds and even thousands of precancerous polyps and have a virtually 100 percent chance of developing colorectal cancer in their lifetime without medical intervention, Neklason said.
Surgery to remove the colon — also called the large intestine — removes a great portion of this risk, but those with FAP still retain a roughly 10 percent chance of developing cancer in their small intestine, she said.
Unfortunately, Neklason said, "pretty much the only treatment is surgery" to remove the small intestine for those who develop precancerous polyps there.
And while removal of a colon is difficult but manageable for a typical patient, small intestine removal "really affects your quality of life because that's where you really absorb your nutrients," according to Neklason.
"Your quality of life and nutrition really goes downhill and (there are) a lot of complications," she said.
New treatment
But a treatment that Huntsman Cancer Institute researchers have clinically tested, combining the drugs sulindac and erlotinib, was found last year to be highly effective in suppressing the number and severity of precancerous polyps in human patients.
Huntsman Cancer Institute's new study, published Monday in the peer-reviewed Cancer Prevention Research, discussed examining clinical subjects' results more in-depth and finding the reasons for why the drug treatment was effective.
"We really wanted to understand the biology about why this was working and why it was working well," Neklason told KSL. "Were (interactions between drug and subject) doing what we think they're doing, were they doing anything else?"
Upon further examination, the combination drug acted not only to suppress harmful biological pathways that promote polyp growth, but also enhanced the body's immune pathways, Neklason said.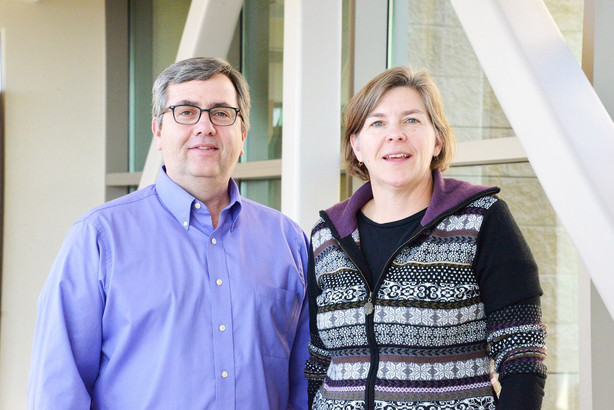 "We thought treating the patients with this combination of drugs would stop the polyps from growing, and stop new polyps from developing," she explained in a statement. "But what we actually saw was polyps shrinking. We saw them start to go away."
She told KSL that her research team "saw something different that we didn't expect and that was that we see the reactivation of your immune system."
"We didn't expect the polyps to shrink," Neklason said.
"A comparison of gene expression in tissue from patients who received the treatment versus those who did not revealed that the drug combination led to a near complete blockage of pathways involved in polyp growth," Debby Rogers, Huntsman Cancer Institute spokeswoman, said in a release. "Additionally, the scientists observed activation of immune pathways in polyps from treated FAP patients.
"These findings suggest that the sulindac-erlotinib treatment activated natural defense responses aimed at polyp eradication."
Encouraging results
Don Delker, assistant professor of internal medicine at the U. who oversaw the tissue sample analysis for the study, said "it was encouraging to see such a strong response in these tissues and the blocking of pathways from which cancer develops."
"We hope to use this information to help us find better treatments for patients with precancerous growths that can develop from these pathways," Delker said in a statement.
The precise way in which the treatment is effective is important to discover, Neklason said, because researchers hope they can isolate what it does well and seek other treatments that could do the same thing.
"We know if we can target (the right pathway) … we can try to find better drugs or better doses of the drug," she said.
---
We didn't expect the polyps to shrink.
–Deborah Neklason
---
Finding a better drug or a better dosage is needed because the regimen of sulindac and erlotinib has significant side effects, according to Neklason. That includes a "pretty robust acne-like rash that's pretty uncomfortable" and diarrhea, she said.
Neklason added that "right now this drug is outrageously expensive and insurers wouldn't cover it."
Further clinical studies are planned at Huntsman Cancer Institute, the Mayo Clinic and elsewhere as researchers zero in on the ideal preventive treatment, Neklason said.
"That's definitely our hope and that's what we're working toward," she said.
The study published Monday was funded by the National Institutes of Health, National Cancer Institute, Huntsman Cancer Foundation and National Center for Advancing Translational Sciences.
×
Photos
Related Stories