Estimated read time: 3-4 minutes
This archived news story is available only for your personal, non-commercial use. Information in the story may be outdated or superseded by additional information. Reading or replaying the story in its archived form does not constitute a republication of the story.
PROVO — Last year, Troy Warner was a new guy — a standout freshman cornerback looking to make his mark on the defense.
As a returning starter, he won't be able to surprise anyone again.
Warner, who played in 10 games as a freshman and racked up 21 tackles and seven pass breakups, has been working to leave his mark as a returning veteran in a secondary lined with experience.
"If you look back at where we were last year, I think we are way ahead," Warner said after Tuesday's practice. "I'm expecting big things among this defense this year."
The freshman entered BYU as the younger brother of star linebacker Fred Warner. But he quickly made a name for himself. A Semper Fi All-American at Mission Hills High School in San Marcos, California, Troy Warner started nine games as a freshman, and though he still laments several near-interceptions, he did recover a fumble against Boise State as he tried to force key turnovers among his team-high seven pass breakups.
"I'm just glad that I was able to get some experience last year, and my teammates as well," he said. "We all just feel more comfortable and more confident this year."
The familiarity and cohesion of the secondary has helped defensive coordinator Ilaisa Tuiaki, too, as he is tasked with rebuilding a defensive line. While the secondary returned starters like Warner, Dayan Ghanwoloku and safeties Micah Hahnemann and Matt Hadley, the defensive line lost seven starters, including current Patriots linebacker Harvey Langi.
"There are a lot of reps to be had so that those guys can start learning how to play and react to blocks," Tuiaki said. "It takes a lot of time."
Time to learn and reload may explain why head coach Kalani Sitake felt the offense got the better of the defense in the Cougars' opening scrimmage of fall camp last Saturday — a point to which Tuiaki agrees.
"I thought they got us good," Tuiaki said. "They ran the ball at the end of the scrimmage and we gave up a lot in the run. It opened up things in the pass game, and I thought they executed well."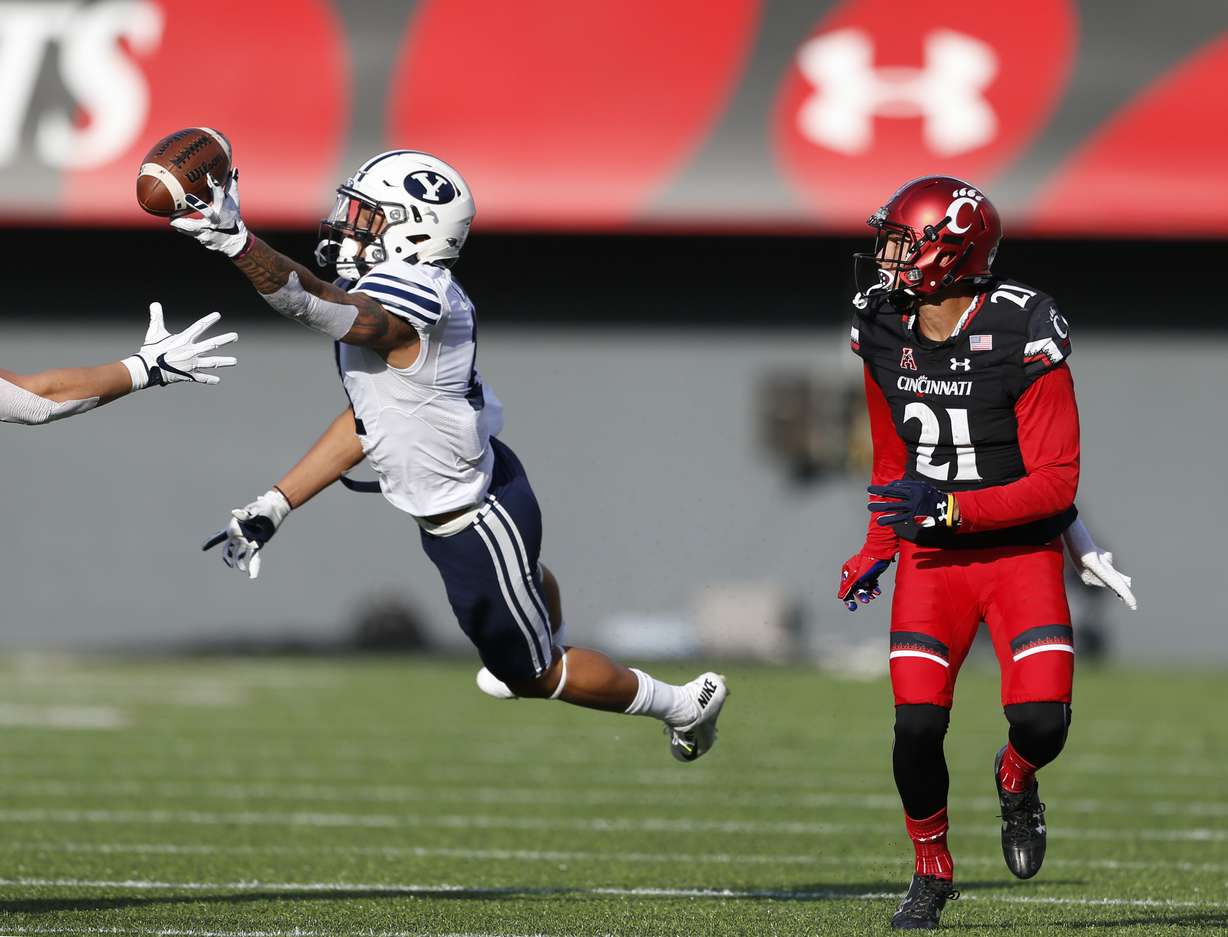 Mo' publicity
BYU's incoming 410-pound freshman defensive lineman Motekaia Langi has been attracting a lot of attention during fall camp.
He's hard to miss to any media member or former player as he lumbers off the field, and he's been picking up the scheme quickly, too.
National media are picking up on it, too, like in Yahoo Sports' latest feature on the oversized former rugby player who served a two-year mission for the LDS Church in Arizona.
"Our linemen are tough, but he's big and strong," Sitake said of Langi. "It's hard to block him; when Mo wants to go, he usually goes wherever he wants. The goal is to teach him to do that every time."
Tight end conversion
Moroni Laulu-Pututau's conversion from wide receiver to tight end has been in the works for a while, and the 6-foot-4 pass catcher is taking to it nicely.
"I'm just comfortable, and having fun blocking," said Laulu-Pututau, who bulked up to 235 pounds in the offseason. "It's a lot of adrenaline instead of just running streaks all day. I like it, and running in the flats. I love tight end."
×
Most recent Sports stories