Estimated read time: 6-7 minutes
This archived news story is available only for your personal, non-commercial use. Information in the story may be outdated or superseded by additional information. Reading or replaying the story in its archived form does not constitute a republication of the story.
SALT LAKE CITY — Cornerbacks and safeties are never shy about being among the most talented on a team.
Nor should they, since they have to compete against receivers — some of the more vocal players on a team — that try to flash and dazzle with their skills. It's a coveted one-on-one matchup that is either highly competitive or a one-sided affair.
The Pac-12 features many teams with a pass-heavy offense — Washington State and Cal both finished the season in the Top 5 nationally in passing offense last year — and the chance for a one-sided affair in favor of the receivers is likely in any matchup. But Utah's fresh-faced secondary hopes to level out the competition and force opposing teams to beat them another way.
Utah lost its entire starting unit, save Chase Hansen, to graduation, or in Marcus Williams' case, declaring early for a chance at the NFL — a decision that has seemingly paid off as a second-round pick. It was a secondary unit that was in the top 10 nationally in interceptions and top 15 nationally in passes defended — an incredibly skilled unit worthy of praise. Also despair in their absence.
The incoming class, though, has something to prove and has a collective chip on its shoulder.
"They come in and they're new, but they're ready to work. That's what I like about our (defensive backs) this year is they come in with a chip on their shoulder," linebacker Kavika Luafatasaga said, speaking about trusting in the unit behind him. "As of last year, (the secondary) kinda thought they already had it in the bag. This year our mentality is different and we want to come and bring it every game."
Nothing is "in the bag" for Utah's secondary, though. The challenge is steep and will come at them fast, particularly once Utah starts Pac-12 play where the program will play at least four of the top quarterbacks in the country — UCLA's Josh Rosen, USC's Sam Darnold, Washington's Jake Browning and Washington State's Luke Falk.
But don't call Utah's secondary weak, just inexperienced.
"We're far from weak," junior college transfer and starting safety Corrion Ballard said. "We've got some good long corners, good safeties and we're far from weak. They're going to see."
"We got some guys, that's what I'm excited about," added defensive coordinator Morgan Scalley. "I don't know if I'd call them the weakest unit, they're just the most inexperienced and we've got to find a way to catch them up mentally."
Already, Utah's coaches are impressed with what they've seen from the secondary. Head coach Kyle Whittingham even said this year's secondary could be as good or better than last year's — an incredible declaration given that Utah has yet to play a down of real football with the new talent. But Whittingham said it's all about the potential.
"If they keep working hard and they stay healthy, then we can potentially be better than last year. That statement is not a reach," he said. "We have a corner group that looks like a corner: 6-feet tall and 190+ pounds, fast — they're almost all sub 4.5 (40-yard dash). It's the best looking corner group we've had in a while here."
In the offseason, Utah recruited with precision and secured players in the secondary with high upside and near immediate playmaking abilities. Already, freshman Jaylon Johnson, a four-star corner out of California, has impressed coaches and players with his ability to defend the ball.
"Jaylon Johnson is a true freshman — holy cow," Scalley said, speaking about the level of play in his first week of practice.
From the beginning of camp, Johnson has been paired up against Utah's best receivers, including star receiver Darren Carrington II, and has looked like a seasoned pro. Receiver Demari Simpkins said Johnson is patient in his approach and "gets hands on the ball."
"He's a really nice newcomer," Simpkins said. "He stepped in and he looks like he's already been here before."
Utah picked up another four-star talent in Marquise Blair, who is also getting some praise from coaches early on. The Ohio native has already moved up the depth chart at safety with junior Chase Hansen out for an extended period of time due to a lingering injury. Hansen's absence has given Blair extended playing time and experience with the team.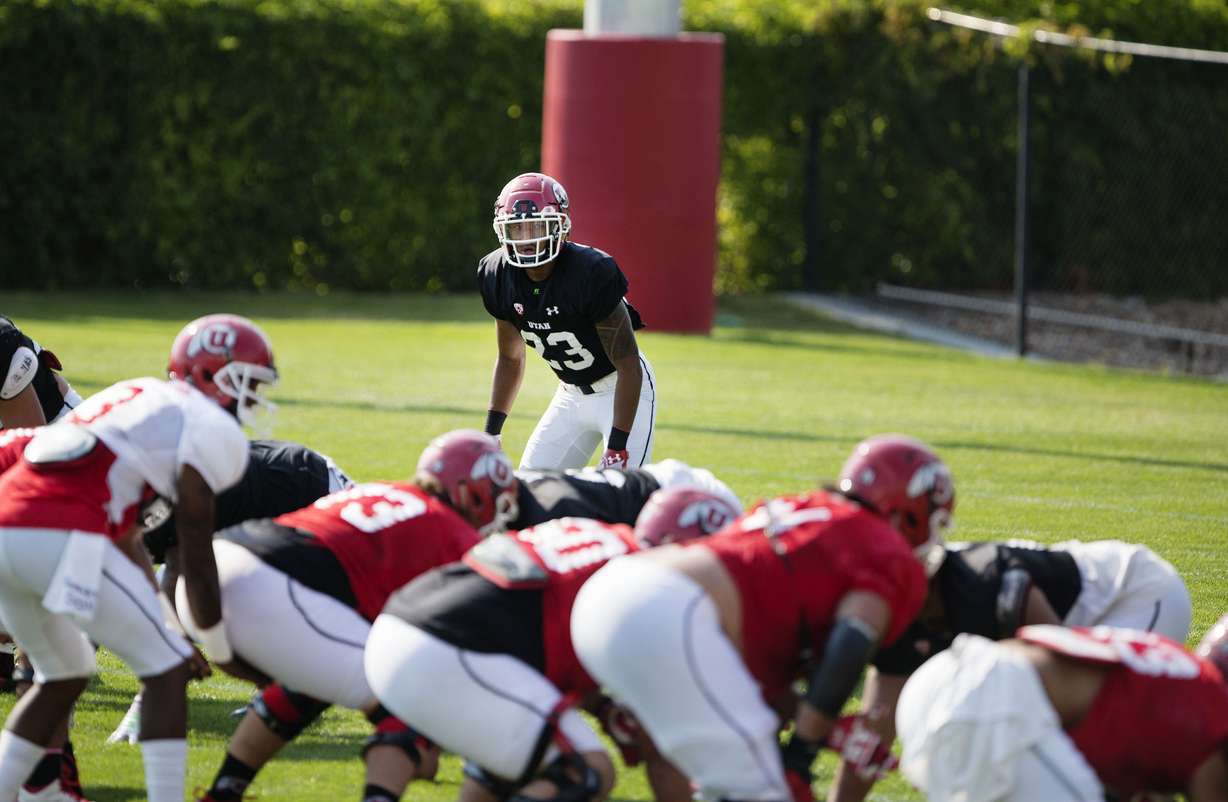 Ballard, who was slated to start at free safety, has been shifted over to strong safety in Hansen's absence and is capable of filling that role while Hansen is out. Although new to the program, Ballard joined the team early this year and participated in spring camp. Through that experience and getting an opportunity to know the defense, Whittingham said Ballard knows the defense "inside and out."
"Corrion is a leader of the secondary," Whittingham said. "In the absence of Chase Hansen back there, he's taken control."
Although Ballard said he loves the opportunity to be a "bruiser," he said he thinks he's a "ball hawk first" — a much-needed replacement to the knack Marcus Williams had for picking off passes.
"These guys wouldn't have recruited me if I couldn't step up to the challenge, so I think I fit in perfect with this team — perfect with the defense, perfect with the scheme," Ballard said.
At corner, Julian Blackmon and Casey Hughes have been some of the most consistent players at camp, and coaches have noticed. Blackmon stood out in the spring for his ability to knock down passes, and in the early sample size of fall camp, he's been able to continue to get his hands on footballs and is making a case for a starting spot.
Scalley called Blackmon one of the guys he's most excited about and Whittingham said Blackmon and Hughes have been "outstanding" this year. Add to that depth two, four-star corners, Javelin Guidry from California and Tareke Lewis from Florida, and the secondary is filling out to be a stable counterpart to the defense.
Lewis has not officially joined the team but is expected to in the coming days pending academic eligibility.
The secondary may have an uphill battle ahead of them, but the position group has performed well in practices, according to coaches. Over the years, the defensive staff has been able to get the most out of its secondary, even if they're inexperienced. Most recently, Utah was able to take a former wide receiver in Brian Allen and turn him into a talented corner, who was drafted in the fifth round of the NFL draft.
The inexperience will undoubtedly show throughout the season, but the outlook and future appears bright if potential is able to match reality.
"They're very talented," Whittingham said. "Short on experience, but long on talent."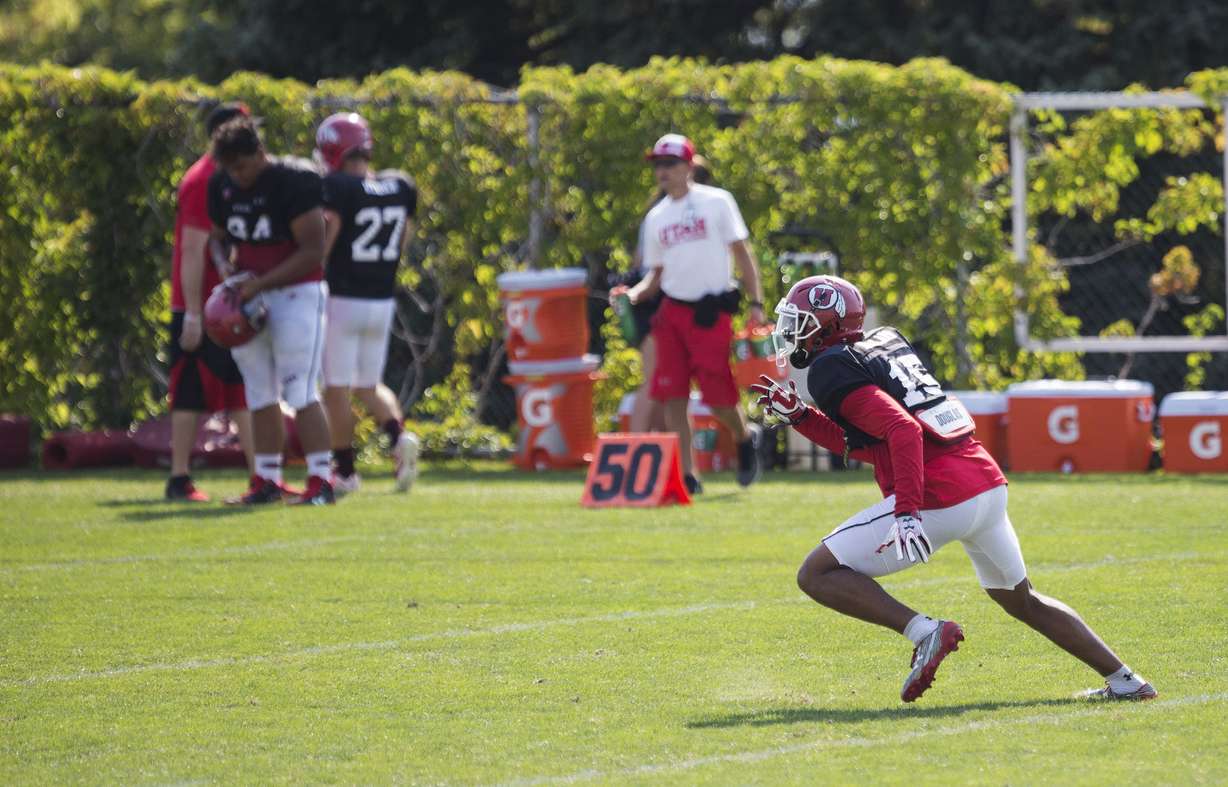 ×
Most recent Sports stories