Estimated read time: 4-5 minutes
This archived news story is available only for your personal, non-commercial use. Information in the story may be outdated or superseded by additional information. Reading or replaying the story in its archived form does not constitute a republication of the story.
SALT LAKE CITY — Days before fall camp started in 2016, Kavika Luafatasaga was thrust into a new football program without a familiar face and with lofty expectations placed upon his shoulders.
The transfer from Arizona Western College had been heralded and highly recruited for his physicality as a linebacker at the JUCO level. He was expected at the U., maybe unfairly, to become a sort of cure-all to an inexperienced position group reeling from the losses of dynamic linebackers Jared Norris and Gionni Paul to graduation.
But Luafatasaga wasn't ready.
Coaches said he was out of shape. He was inexperienced with the new defense and his role within in it due to joining camp days before because of a summer class he was required to finish.
"At the beginning of the season I was trying to get ahold of the defense," Luafatasaga said, now a senior at Utah. "I knew it, but it was probably only 50-60 percent of it. I wasn't comfortable."
In the first half of Utah's 2016 season, Luafatasaga was a nonfactor on the defense — a warm body in a linebacker position that looked slow and soft in his approach. He continued to put in the work each day to get better, but only made marginal progress for much for the season.
But then Luafatasaga woke up.
"The light switch seemed to go on for him at the end of the year," head coach Kyle Whittingham said.
The so-called light switch ignited a hunter — a changed player on the prowl attacking opposing offenses.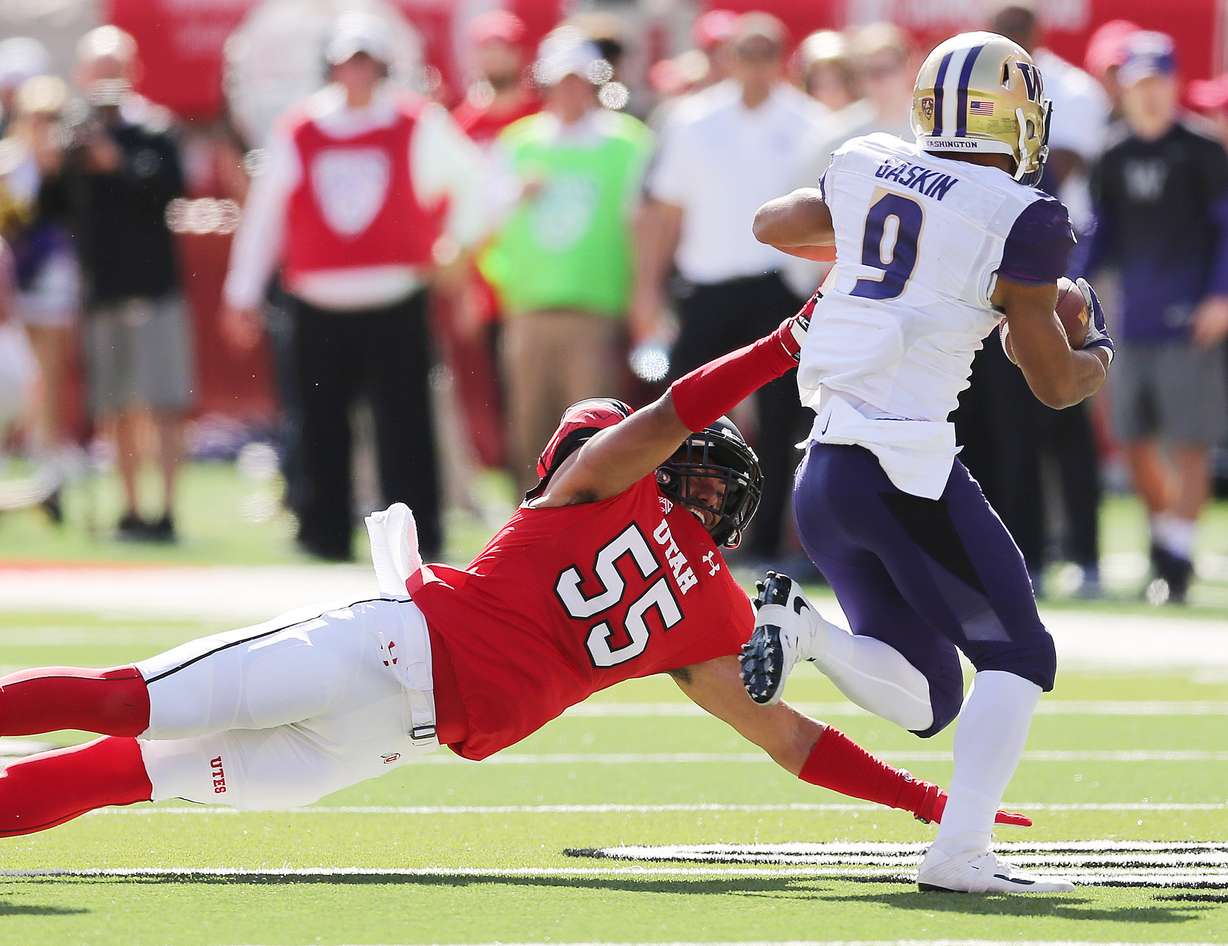 In his final two games of the season, Luafatasaga had 22 tackles — 18 solo and four for a loss — and got his hands on the ball, forcing a fumble against Colorado and a pass breakup in each of the two games. His performance accounted for nearly half of his season total of 52 tackles. Whittingham said he "was playing at an all-conference level at the end of the season."
Luafatasaga said something clicked, and he "started getting more of the calls" and was able to predict more the offensive play-calling. He said he "became more comfortable where I didn't have to think more coming onto the field, and I knew what I could do.
"It just took me a little while, but I'm glad I got it down."
Linebacker coach Justin Ena said he's been pleased with the "time and investment into linebacker play" by Luafatasaga, adding that the final two games of the season Luafatasaga "probably played the best out of all the linebackers."
With a year under his belt — and actual playing experience in Utah's defense — Luafatasaga is hoping to emerge as a leader among a talented group of linebackers, which includes senior Sunia Tauteoli, junior Cody Barton and sophomore Donovan Thompson.
"I feel more comfortable on defense and being more vocal out there when I come out to the field. I just try to be a leader now," Luafatasaga said. "This year I'm trying to make a statement."
A once-inexperienced group has emerged as a stable complement to the defense, making Utah's front seven a nightmare for opposing offenses to thwart.
"We all know the defense now, so we just feed off each other and we can learn off of each other more," Luafatasaga said.
Ena calls the transition with his linebackers this season a "night and day" difference.
"It's nice to have some depth, but not only depth, really game-time experience," Ena said. "All those guys have played a lot of snaps last year and have had great springs and great offseasons. It's a 180 from last fall in camp for sure."
Ena said Luafatasaga has emerged as a likely starter and is playing with an increased fierceness. Couple that with Tauteoli's "striker" ability and Barton's increased physicality and size, and Utah's linebacker lineup looks particularly strong coming into the 2017 season.
Ena added that Tauteoli has developed into the "leader of our backers," with Barton as the team's "number three." However, he said "the top three guys, it's like 1A, and 1B, and 1C," with Thompson "pushing" the players ahead of him for playing time.
Utah finally has the depth and playing experience again at the linebacker position in what Ena calls a "red-line defense," referencing the red line — or maximum power — of a vehicle's engine.
"I'm telling my guys to play physical," Ena said. "We've just got to stay in the red line and we're revving at top engine speed and we're doing all we can to be a bunch of hard-nosed football players."
For Luafatasaga, it's becoming the best he can in his senior season.
"I want to be one of the best linebackers in the Pac-12 and lead the team in tackles," he said. "I want to be a leader out there and come out every game and play my best. It's my senior year and I want to go out with a bang."
×
Most recent Sports stories