Estimated read time: 5-6 minutes
This archived news story is available only for your personal, non-commercial use. Information in the story may be outdated or superseded by additional information. Reading or replaying the story in its archived form does not constitute a republication of the story.
SALT LAKE CITY — Football is back and the University of Utah looks to improve upon last year's success.
Utah opened up its fall camp Friday night, a little more than a month away from its first game against North Dakota on Aug. 31. And while there are several new faces, the players and coaches are confident the season will be a success.
The following are a few takeaways from Utah's first day of fall camp.
Buying into the offensive game plan
Utah decided to go in a different direction with its offensive game plan at the conclusion of last season, firing longtime coach Aaron Roderick. The hiring of former Eastern Washington coach Troy Taylor as Utah's new offensive coordinator has already been met with optimism by the players.
Several players said there has been more of a buy-in to the offense this season, despite camp just starting. Sophomore quarterback Tyler Huntley said the team trusts the plan more than last season.
"I feel like we're more efficient and everybody just trusts the plan. I feel like everybody has bought in more than they bought in last year. It's way more consistent this year," he said. "We trust the plan, we trust the coaches, we trust the plays."
Huntley said the difference between this year and last is that the team was not able to "catch a rhythm" and that they didn't trust the plan. "You can't go off of that. You've got to be able to trust something," he said.
Receiver Raelon Singleton added that he feels there is "more of a sense of urgency than last year."
Quarterback Troy Williams said he was "extremely excited" to have a coach that has played the game, particularly at quarterback, and can help improve the offense.
"Coach Taylor has been there and he's played the position. He's played in big games. He's been coaching for a long time and he knows the game of football, especially when it comes to QB play and offensive play," Williams said. "It just makes it easier for players to connect with him, especially with the guys that have already done it."
Williams added that he's researched Taylor and his track record and "his system proves to put a lot of points on the board."
"His quarterbacks seem to do very well when they're running his system, so I'm excited to run his system," he said.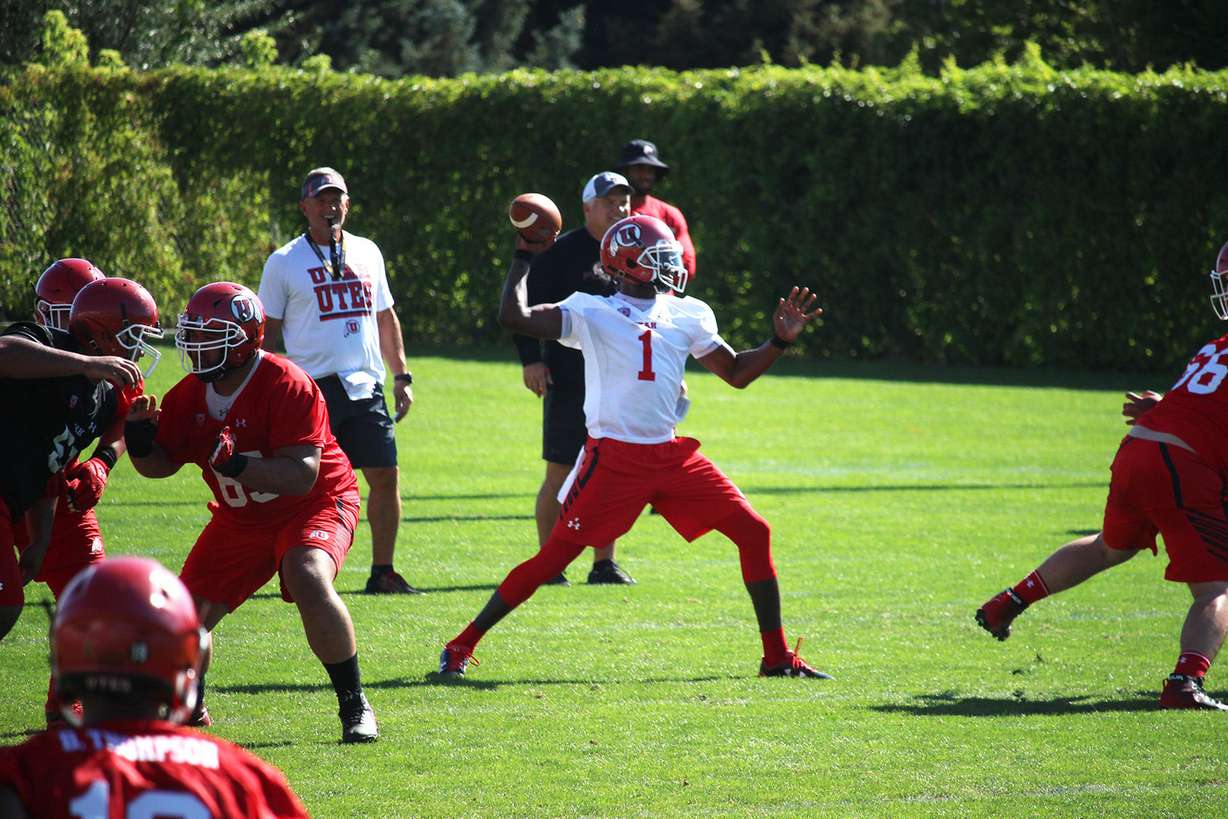 Quarterback competition?
Although Williams was the starter at quarterback last season, head coach Kyle Whittingham opened up the competition for the starting job for at least the first week of camp. It's Williams' position to lose, but early indications have him as the second-year starter over Huntley and University of Alabama transfer Cooper Bateman.
"I think the pecking order was correct," Whittingham said. "I think Troy probably had the best day, without looking at the film and grading it. Tyler was next up and Cooper was right behind him."
Offensive coordinator Troy Taylor said the quarterbacks are coming along well considering that they had spring and summer to get much of the offense down. He added that the three quarterbacks will battle it out for the next four or so days before the coaches start separating giving more reps to a starter. Regardless, Taylor said he's encouraged with the progress.
"I think we've got three guys that are talented, three guys that we can win games with, and now somebody has got to separate themselves," he said.
Is the secondary weak?
Coming into the season, the secondary appeared to be the unit that had the most questions surrounding it, considering all of the starters are gone due to graduation except for Chase Hansen. However, defensive coordinator Morgan Scalley believes the secondary will not be a weak aspect of the team.
"We've got some guys, that's what I'm excited about," he said. "I don't think I'd call them the weakest unit. They're just the most inexperienced and we've got to find a way to catch them up mentally."
Whittingham shared Scalley's excitement, saying he believes "we have a chance to be pretty darn good back there once we get everything situated."
Both Scalley and Whittingham pointed out Casey Hughes, Julian Blackmon, Corrion Ballard and Jaylon Johnson as standouts so far. However, it was Johnson that stole the show on the first day of camp.
"Jaylon Johnson is a true freshman — holy cow, really good, a really good first day," Scalley said.
"Jaylon Johnson looked really good on three or four reps that were impressive," Whittingham added.
The freshman has the size and confidence to make an impact early. Whether that will translate when the team practices with pads on is yet to be known.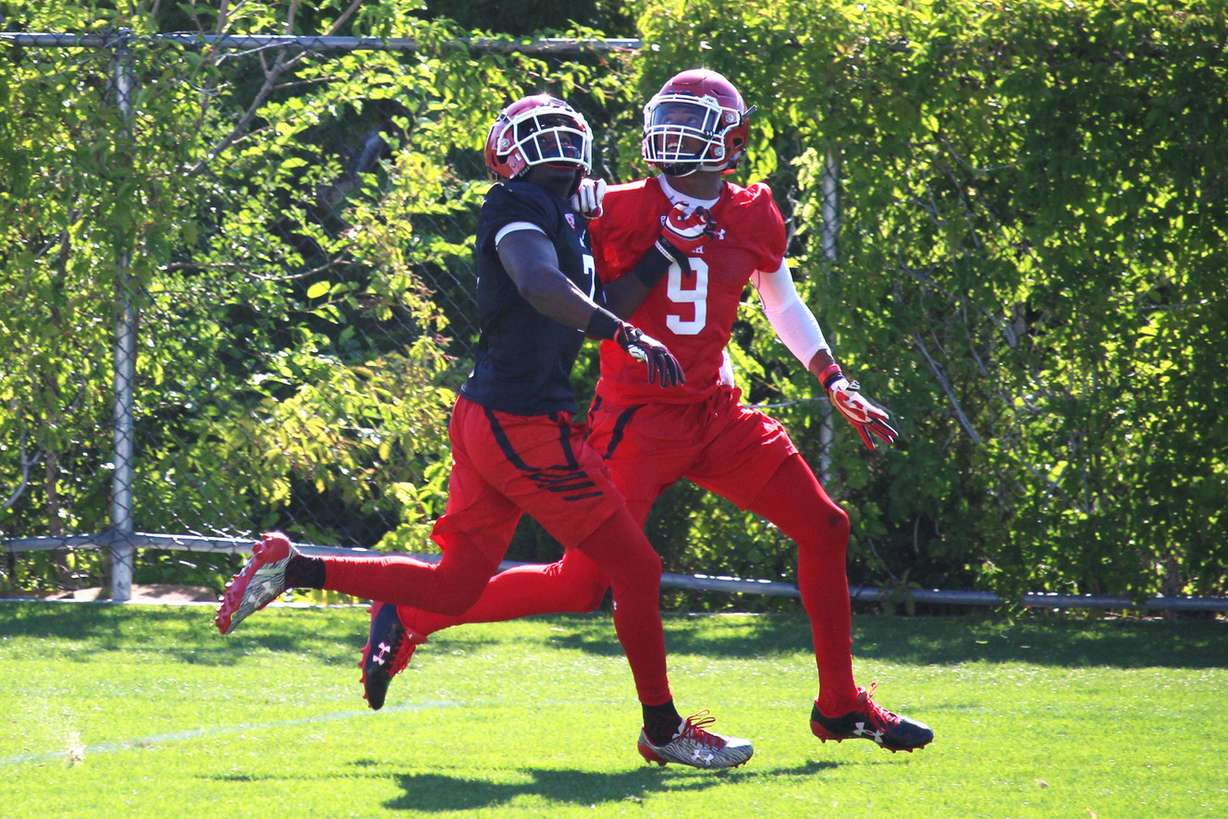 Carrington practices with the team
It seems like Darren Carrington II is all people can talk about lately. Suffice it to say that there is good reason considering his talent on the field. Carrington is with the team and practicing, but will not be made available to the media throughout fall camp. It's too early to tell if Whittingham will allow him to play the first game of the season.
Whittingham did say, however, that Carrington has "great work ethic and it was evident today." He added that Carrington is "very, very talented."
Singleton said the team is already treating him like a brother and they were happy to have another player to "make the team better."
Carrington stayed after practice to work out with several players and appears committed to doing whatever he can to help the team win games.
×
Photos
Most recent Sports stories