Estimated read time: 10-11 minutes
This archived news story is available only for your personal, non-commercial use. Information in the story may be outdated or superseded by additional information. Reading or replaying the story in its archived form does not constitute a republication of the story.
This story is sponsored by KSL Jobs. Look forward to Monday. Find your dream job.
"Personal Branding." It feels a little gross to say, like something only a person who has other people take their selfies would be concerned about. But think of it this way: Do you brush your teeth before a job interview? Do you wear clean clothes, or at least iron your dirty clothes? Do you try to look like an upstanding, productive member of society? If the answer to these basic questions about how you present yourself is "yes," please read on. You understand personal branding even if you don't use that term.
Social-media/professional-life hygiene. That's really what we're talking about here. What you do and don't do on social media and how that affects your job prospects. We obviously live — and document — more of our lives online these days, and how you groom yourself for an interview is much like your online persona in the message it sends to prospective employers. (With one major difference: It's easier to tidy up your personal appearance than your Instagram history on the day of an interview.)
Here's a quick perspective on what employers are looking for when they look at you. First, the fact is that by and large they absolutely do look at you. In fact, one study via Workopolis reports that 93% of employers say they check out candidates on social media at some point during the interview process.
Here are a few other stats from that same survey:
51% of hiring managers are looking to see if you mesh with their corporate culture.
45% of those people looking at your social profiles are digging for qualifications.
44% of employers are looking to see if you use social media creatively.
That last one is important. Sure, the quickest way around all the social media sins of commission is to make all of your accounts private.
But the problem with the blackout approach is that it can potentially be a sin of omission, implying you don't know how to leverage social media to your advantage and/or that you have something to hide.
Here's a place to start across all the platforms you're using: Ask yourself what your profile photo communicates. Not to the people who know you, but to the people who don't know you. If your answer is, "I know it's a dumb photo, but the people who know me think this is funny or will understand why it's relevant," chances are a stranger is just going to be confused — not a feeling you want someone with hiring power to associate with you. There really aren't any inside jokes on social media. Remember that.
Now, pretend you're a future employer and get into the specifics of all your platforms. Be your own stalker for a little while.
Facebook: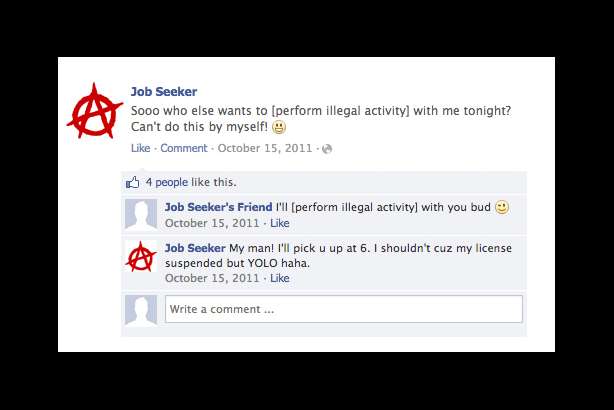 We're going to spend some time on this one because if you've been on Facebook for a few years and would like to remain so while you look for a job, it can get really complicated. If you're not on it, make sure you're really not on it. (Maybe you created an account freshman year, posted a picture of yourself mooning the Grand Canyon and then totally forgot about it.)
The upside of Facebook is that so many people use it. The platform can seem like a long, comprehensive, human portrayal of who you are and who you've been over a significant period of time. It's a long form picture of your life. The downside of Facebook is that same thing. Some people have made a consistent effort to keep everything they put on Facebook professional, but most of us use it to vent, brag, tell jokes and stay in touch. It can be a lot more personal than you care to be with prospective employers.
Do: Curate your friend list. Yes this can take a while if you haven't been careful over the years. On Twitter and Instagram your followers don't necessarily mean you endorse them. On Facebook your friends can implicate you. Take for example: You're still friends with an ex-employee of the company where you're interviewing. A recruiter for a given company might stay connected to a problematic person just to see who else interacts with them.
Don't: Assume someone looking to hire you will spend much time considering the merits of each individual post. It may be unfair for them to interpret something the wrong way, but you don't want to take any chances right now. They're skimming. Just trying to get a sense for you overall.
Do: Go to your privacy settings and do some tweaking to make sure things are set how you want them.
Do: Review your "Timeline and Tagging" settings to control who can post to your timeline. At least for now while you're looking to land that job. A rogue meme posted to your wall about getting hammered on Christmas with a bunch of cats, even from someone you don't know, even if it has nothing to do with you, can cast you in a questionable light just by being there.
Do: Get into the "Public Posts" setting and see if your profile is linked to twitter and if so, make sure that twitter account is covered. (More on that in a minute.)
Do: At the bottom of "Public Posts" click on "Want to know what followers can see? View your public timeline." This is the best way to see what your Facebook looks like to the public, to people who aren't friends with you.
Don't: Neglect the apps you have connected to. This is also in your settings. Make sure they are set to private unless you want your employer to see that you regularly use the "Good Citizen / Useful Employee" app. (Just kidding. That's not a real app.) Employers can see which apps you log into. Many apps are harmless, but some could implicate your religious or personal views. Or just paint you as a slacker.
Do: Look at the pages you've liked. See if they send a message. For example: Do like the Better Business Bureau; don't like the Fans of the Anarchists Cookbook Closed Group.
Twitter: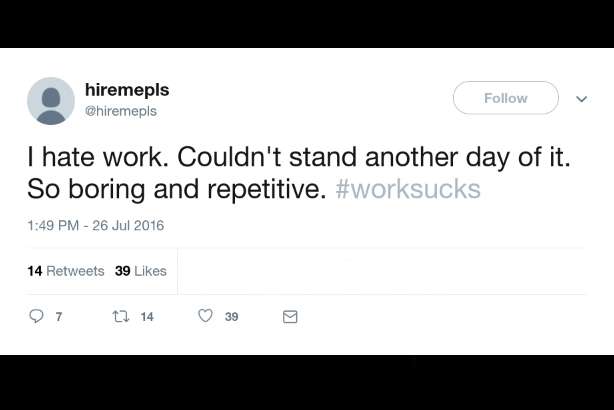 It seems like there are more stories about people getting fired for tweets than for missteps on any other social platform. Maybe it's because the people getting fired have a high amount of visibility/followers? Not necessarily. See the massive viral shaming campaign that utterly destroyed Justine Sacco's life in 2013. She didn't have many followers when things went South.
Do: See if your tweets stand on their own if they were taken out of the context of your feed. Try to go through and read them all that way. On Twitter there's more of a possibility for your mistake/provocative tweet to get picked up and go viral. To be viewed in the wrong context. That's the nature of the platform.
Don't: Leave an abandoned handle out there for someone to find, even if it's from a long time ago. We recommend you either go big or go private. Make that Twitter account show your best/professional side or save the dark/ironic side of your personality for those who get you.
Do: If you're funny, be funny, but make sure you're actually being funny. Being medium funny (or pithy or insightful) is often a liability in the eyes of potential employers. Constantly bombing on Twitter (zero likes or retweets) is like being the person in real life that seems to have a massive blind spot for seeing how they aren't getting laughs.
Instagram:
The most visual of all the social media channels: Instagram posts show people so, so much about you in a very short glance. Do you look like you've been on vacation for two years? Like you never leave the house? Do you look like a lush? Does the photo of your desk make it look like you're not careful with sensitive workplace information?
Don't: Think, "My account is just pictures of me hiking or my cats with stuff on their heads. What's wrong with that?"
Do: Think about whether your Instagram is a net-positive look for you. If not, and you don't feel like editing it, make it private. You can even set up a separate public account while you're doing the job search that looks kosher.
Don't: Post screen grabs of text conversations with friends. That could mean you have boundary issues. An employer might think about that in light of a potential contractual relationship, because beneath all the rules and paperwork is trust. To an employer, if you're sloppy about boundaries on social media it probably means you're going to take too many liberties at work, too.
LinkedIn:
Yes, it's the boring one, but it's often the first platform that employers look at. And if you nail it they might even stop there. Some employers print out a candidate's LinkedIn résumé to use as a guide during an in-person interview. Here are two quick tips:
Do: Keep things current. Update your employment history, including your latest promotion at a longtime job. All the hard work you put into your résumé and cover letter don't matter if they look at an out-of-date version on LinkedIn.
Do: Think of your presence on LinkedIn as a live version of the workplace you. It's not the place for your funny jokes or your memes. Though some personal stuff is okay just to show you are human.
Don't: Be the person who spams everybody for connections. Act like you would at a work event. You wouldn't yell at everybody at once to request they connect with you. Don't do it on LinkedIn. Mingle. Send personalized messages when you connect with someone.
Snapchat: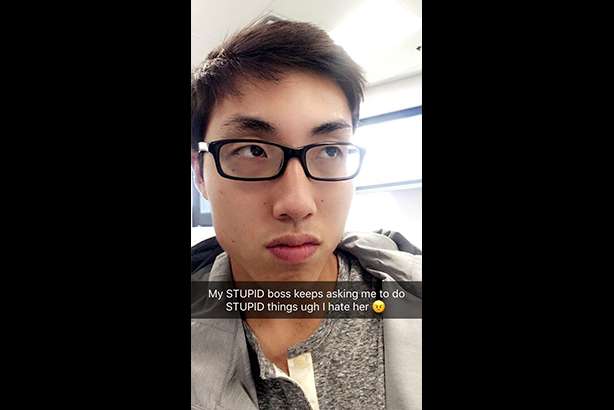 What the heck is Snapchat? Go ahead and move along. However, unless you're a major brand or celebrity, Snapchat is a little less public and way more personal than other platforms. No, it's probably not the first thing an employer is going to look at, but remember: if it's out there you're being judged on it.
Do: Make sure to fix your settings so only friends can contact you. Watch out for random users you don't know. Ignore or block them. Unless you really want it out there, don't share your username other places online.
Do: Remember that people can screenshot what you send them even though pictures and videos default to expire. Snapchat will notify you if someone took a screenshot of your content, but all it takes is one picture in the wrong hands to make you the wrong kind of famous.
Don't: Forget that you need to take the added step of controlling who can see your stories. (This is also something to watch out for on Instagram as well.)
Sigh. It's a lot, right? There are probably as many do's and don'ts on social media as there are do's and don'ts IRL (that's online speak for in real life). We've really only scratched the surface here, but these are some basic principles to get you started polishing up your social brand. It could just be the factor that gets you that dream job.
×