Estimated read time: 4-5 minutes
This archived news story is available only for your personal, non-commercial use. Information in the story may be outdated or superseded by additional information. Reading or replaying the story in its archived form does not constitute a republication of the story.
PARK CITY — When former Utah assistant coach Jay Hill was named head coach at Weber State in 2014, the Wildcats struggled with a 2-10 record.
In the two years since then, they've won 13 games and qualified for the FCS playoffs a year ago.
Now the Wildcats find themselves in the upper tier of the Big Sky Conference, which held its annual football kickoff in Park City this week. Weber State was picked to finish fifth in the league, and Southern Utah seventh.
And though the Wildcats have come a long way in Hill's three seasons with the program, the one-time Ute cornerback knows they still have a long way to go.
"When I first took over, I wanted to get into the FCS playoffs," he said. "I wanted to get this program winning. We've done that. Now the key is to take the next step, to be a consistent contender, to go in now and not just get into the playoffs, but win playoff games. We still have one big step to take, and I think we're on the right track."
The Wildcats need to add depth, Hill said, but they can start the season well with former Bingham High quarterback Stefan Cantwell. The junior led the Miners to back-to-back state titles in 2009 and 2010, then went on to throw for 2,708 yards and 22 touchdowns in one season at Snow College following an LDS Church mission in Spokane, Washington.
And then there's the defense, which loses players like Tre'von Johnson but returns players like leading tackler Landon Stice (103 tackles, 1 interception) and senior cornerback Taron Johnson.
"We have a lot of kids that have played football for us in this program," Hill said. "We've been good in the past. I expect us to be that again. For the first time, I feel like our secondary is more solidified than it's been since I've been here — in all aspects."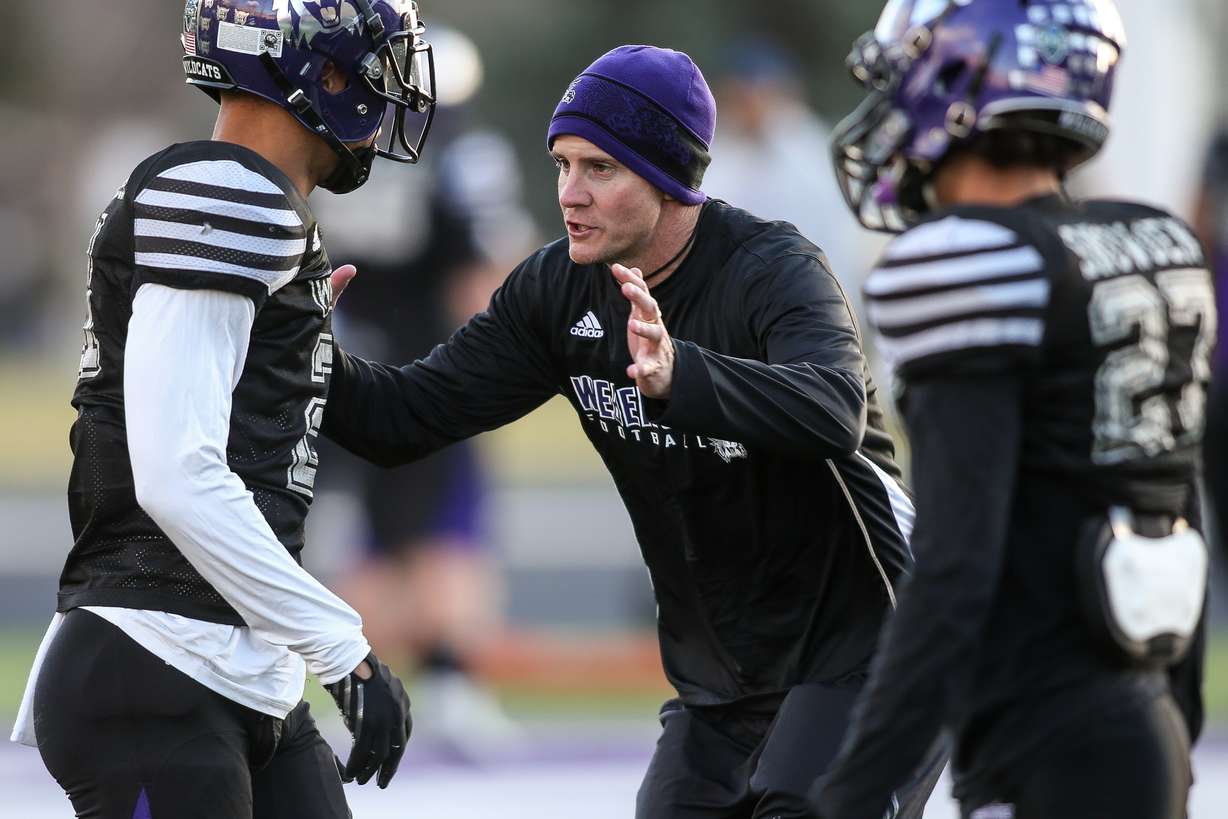 The Wildcats caught a break with the 13-team Big Sky schedule by not facing North Dakota or Northern Arizona. But they still have road games at contenders Eastern Washington, Montana State and Cal Poly.
"We've got some tough road games," Hill said. "If you look at the rankings, we've got to go on the road and play two of the top four teams, so that's fun.
"That's good for us."
Sara Hill update
Hill also gave an update into his wife's battle with cancer. Sara Hill's courage captured national attention when she was diagnosed with Hodgkin lymphoma in August 2016.
Sara Hill finished her first round of chemotherapy last January, but the cancer returned. After another round of chemo and a bone marrow transplant, she underwent three weeks of radiation, and has doctors optimistic that the cancer will return to remission.
"I can't say enough about her toughness," Jay Hill said. "She shows up at practice all the time still, so the players can see that it's not affecting her much. You just never see it. You never see that she really has cancer except the fact that she doesn't have hair. She is very optimistic, she is very positive and that's helped me a lot."
Related:
T-Birds picked 7th
Southern Utah was picked to finish seventh in the Big Sky by the league's coaches and media prior to head coach Demario Warren's second season.
"There were so many lessons that we were able to grow and learn from last year," said Warren, whose team went 6-5 in 2016, which included trips to Utah and BYU. "I think the biggest lesson is that every single day, you have to try and get better. No matter how hard you work and no matter what you do, you can only give yourself the best opportunity to be successful. Success is not guaranteed."
Among the Thunderbirds' 2017 opponents are road trips to Oregon and Stephen F. Austin to open the season, as well as a road rivalry game at Weber State on Oct. 14.
"We've got an opportunity to put Southern Utah on the map," Warren said. "We've been wanting to do this for a long time, and I'm hoping that we don't have to go seven games in a row to finally get ranked."
×
Related stories
Most recent Sports stories